Late Works, a permutable collective of artists, musicians, film-makers, writers, dancers and designers known for their nomadic series of live intermedia events and monthly radio show on Resonance EXTRA, recently announced the limited edition vinyl release of 'Late Works: of Noise' on Slow Dance Records. The album will be released on vinyl and digital on December 18th 2020.
For the eclectic compilation album, six hand-picked groups of musicians, including members of black midi, 404 Guild, Goat Girl, Sorry, Powerplant & Curl Recordings, improvised songs with original instruments sculpted by artists Mathilda Bennett-Greene, Joseph Bradley Hill, Angus McCrum & Jonas Pequeno. The groups had six hours each to record their tracks, with the whole album being recorded over the course of a week.
Joseph Bradley Hill's concept for 'of Noise' takes its inspiration from Luigi Russolo's 1913 Futurist manifesto "The Art of Noises" and his six classifications of noise:
Roars, Thunderings, Explosions, Hissing Roars, Bangs & Booms.
Whistling, Hissing & Puffing.
Whispers, Murmurs, Mumbling, Muttering & Gurgling.
Screeching, Creaking, Rustling, Humming, Crackling & Rubbing.
Noises obtained by beating on metals, woods, skins, stones, pottery etc.
Voices of animals and people, Shouts, Screams, Shrieks, Wails, Hoots, Howls, Death Rattles & Sobs
The musicians were selected for their diverse range; With 404 Guild's sprawling rap verses, GG Skips' experimental electronic mumblings, Aga Ujma & Silkarmour's fantasy-based features on black midi's tribute to American TV show 'Forged in Fire', Goat Girl's textured ritualistic chant, Martha Skye Murphy & Kiran Leonard's layered multilingual prose & Jacob Samuel's conducting of Bianca Scout-led choral/instrumental piece, the album spans multiple genres, yet feels like one complete sound.
Most of the musicians joined us in the middle of a busy touring/release period: DJ Dairy & MC Spritz of black midi were in the middle of their worldwide Schlagenheim tour (their debut album which was nominated for the Mercury Prize in 2019), Goat Girl are still looking ahead to their sophomore album on Rough Trade, Glows was touring as the newest member of Sorry for their debut album 925 on Domino, 404 Guild are releasing several new albums already after their sophomore album last year & new Martha Skye Murphy is on the horizon.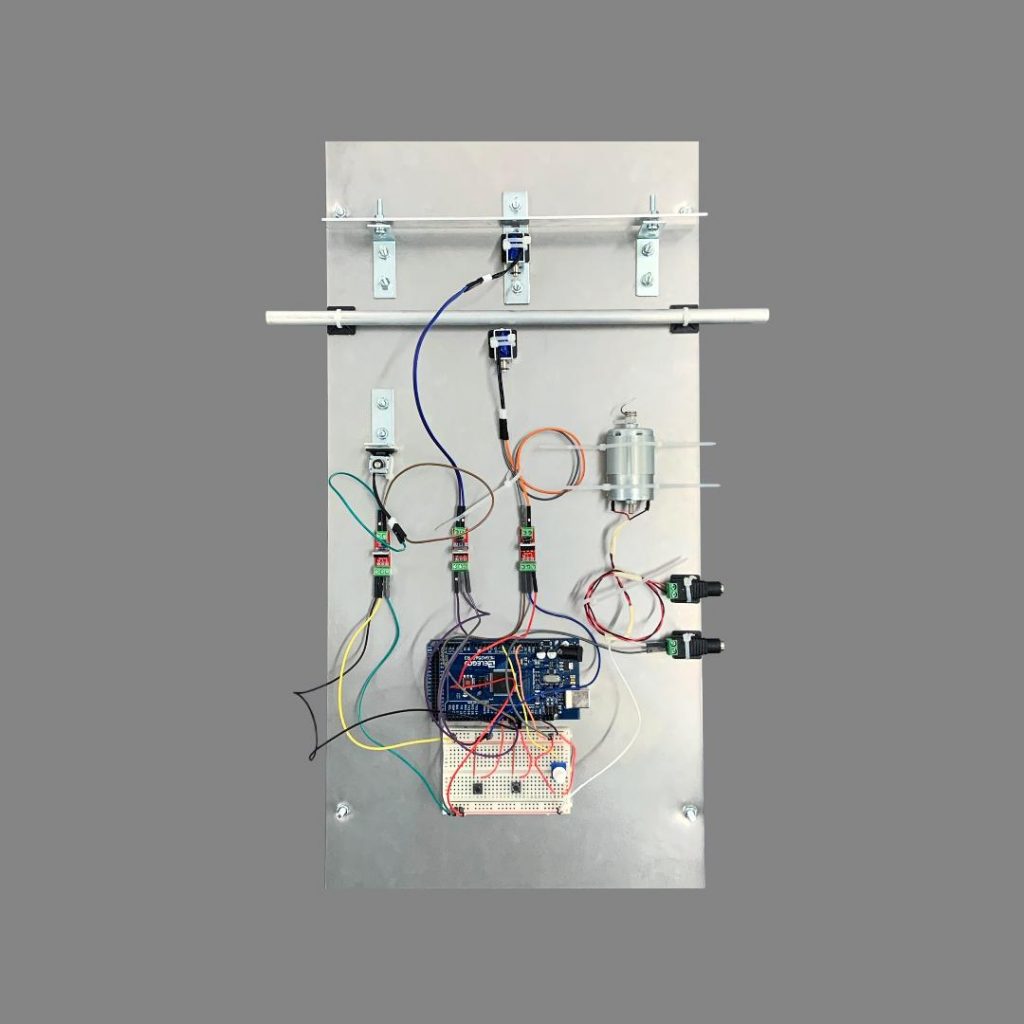 The entire EP was recorded at Slow Dance HQ in London Fields, between the 25th & 29th February 2020 – the studio rules were as follows:
Musicians may only bring things that modify sound, not make sound
themselves.
Vocals are allowed, but any lyrics must be written in the studio time.
The tracks must only use noise sampled from the sculptures and the voice.
The tracks must be completed within each respective six-hour session
More about the artists who made the instruments:
Mathilda Bennett-Greene produces sculptures akin to machines that occupy speculative future environments. Parallel worlds in which action and durability have renewed significance. Within these material fictions tools and devices are made, proposing new use value based from the repurposing of former objects. Mathilda compares the capability of material to the capability of the body, forging tangible relations between the body and the formulaic properties within the work. She is also 1/5 of BLOAT, a collective exploring the powers of co-art: together creating a visual language beginning with the word 'bloat'.
Joseph Bradley Hill's practice surrounds the themes of interpretation, permutation, participation, improvisation and communication: how people experience the same thing completely differently, and the infinite (or finite) ways of doing "the same thing". He makes works using materials found on meandering flâneuristic walks through real and digital space, allowing his finds to dictate the outcome. Joe is also the founder and host of Late Works.
Angus McCrum's work is motivated by the stories and materials that connect people with the land. His assemblages, carvings and found objects attempt to scrape back some kind of meaning beyond their status as artworks in a system of value and exchange.
Jonas Pequeno's practice is made up of concepts of violence, intervention, implication, linguistics and syntheticism. Jonas is also the founder of 'COUNCIL', a peer-to-peer symposium space for new graduates and emerging practitioners from a variety of practices. He was selected as one of the Bloomberg New Contemporaries in 2019, joining a prestigious list of artists (including David Hockney, Derek Jarman & Anish Kapoor) dating back to the late 40s.
Categories
Tags