The exhibition is an overwhelming, audiovisual celebration that attacks the senses with an uncompromising energy.
As you enter the gallery you are faced with an alleyway of sight and sound, a percussive journey through the morning after the night before. 'Pub Crawl' maps the artist walking through the streets of the East End, early, on a weekend morning; tapping and stamping out rhythms on the evidence of heavy drinking strewn through the city.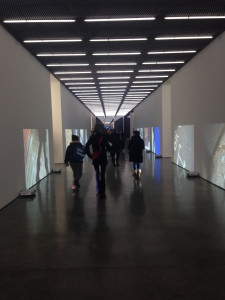 The work is a comment on how the audio influences the visual and vice versa.
Marclay's collaboration with The Vinyl Factory introduces the opportunity to witness the beautiful process involved in converting performance into a physical object.
There are 10 performances over duration of the show and each will be recorded and pressed onto vinyl on site, in The Vinyl Factory's pressing plant.
The plant itself is a work of art. Built in to a 7 tonne shipping container that fully opens out so the audience can see the inner working of the machine. Each piece of vinyl is then screen printed on beds in the gallery to produce a run of 500 records per recording, at £25each, with each one truly being a unique piece of art.
The innovation of producing affordable art like this from a mind blowingly thoughtful and unique process is life affirming. The fact that it is so well thought out shows the level of love and care that the artist has put in to his work. His need to involve the audience to the extent that its almost having an insight into his studio practice.
All the work is immaculate. The works on canvas, which are, in my opinion, the most conventional part of the show, are beautiful representations of the sounds made when creating. Each picture is presented in graphic forms that correlate more with graffiti writing and street art than contemporary art.
These graphic representations continue in a huge, disorientating, video installation. A large black room with comic book type rushing across the four walls bombarding you with information and visual noise as the letter shapes contort and and try to knock you off your feet.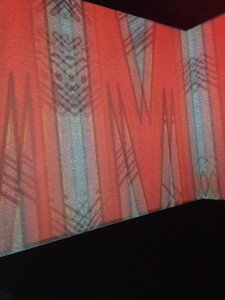 Being able to see the processes involved in creating such wonderfully satisfying art is replenishing for the soul and the idea of owning a part of it for 25 quid is unquestionably brilliant.
The show runs until the 12th April and the performances are every Saturday. The next performance will be on Saturday 7th Feb and will feature special guests  Thurston Moore of Sonic Youth and Mica Levi. Check out times etc.  HERE
Categories
Tags