Thorp Stavri: 'Five Hides' at Manor Place, Walworth, London SE17
3-16 October, link to free tickets via booking system at Eventbrite
It's not a criticism of the art in 'Five Hides' to say that the biggest wow moment is seeing the space, a vast Victorian hall close to Kennington tube station which is hosting its first exhibition. The soaring 800 square metres of Manor Place, which has been left empty over the last decade, has a colourful history. It opened in 1898 as a community baths and launderette, became a famous boxing venue – Henry Cooper and the Kray brothers fought there, a concert hall and latterly a waste management facility. Some attractive remnants – notably massive stones and an old staircase laid on its side à la Monica Sosnowska – could not be moved, and might plausibly be mistaken for artworks given that the phone-only listing of works isn't easy to follow.
So, you might well enjoy a visit irrespective of the contributions of the artists brought together by curatorial duo Eric Thorp and Nicholas Stavri. The show's title derives from the Manor of Walworth, described by The Domesday Book (1086) as being 'five hides' in area: enough land to support five families. That leaves the content open: I would describe the work as mostly by emerging artists, mostly sculptural (though with some painting) and mostly looking as if it might once have belonged on the street – or as the curators put it with a little more purpose 'this exhibition is actively conscious of the role contemporary art has to play in the wider world'.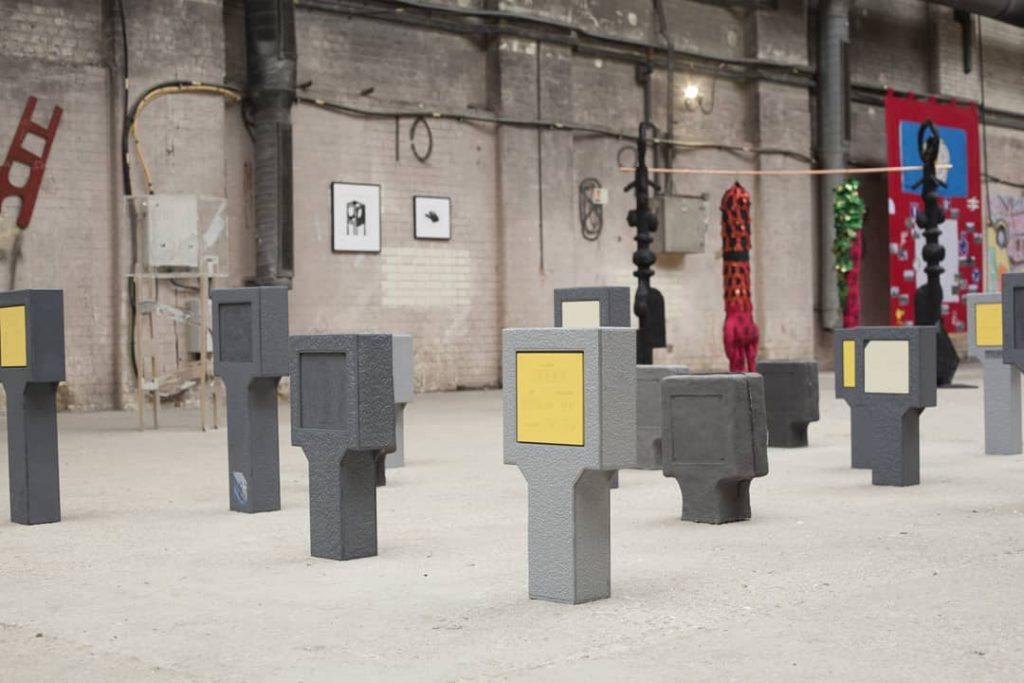 Charlotte Dawson: 'Under-side, Under-stood', 2019
Charlotte Dawson's Under-side, Under-stood takes that play between outside and inside the furthest. She gathers faithful jesmonite reproductions of the cathodic protection markers used over gas pipelines, complete with their location references – but then covers them with flock wallpaper, confusing industrial and commercial registers.

Josephine Chime: 'Flesh Market', 2020
The meat hanging from Josephine Chime's market-stall-like construction proves to have comically human characteristics. Does Flesh Market make the case for cannibalism, I wondered, or is she a vegetarian critiquing the exploitation of non-human species as the moral equivalent of eating people? There again, the surfeit of breasts and penises suggest there might be a feminist angle to this particular display of meat.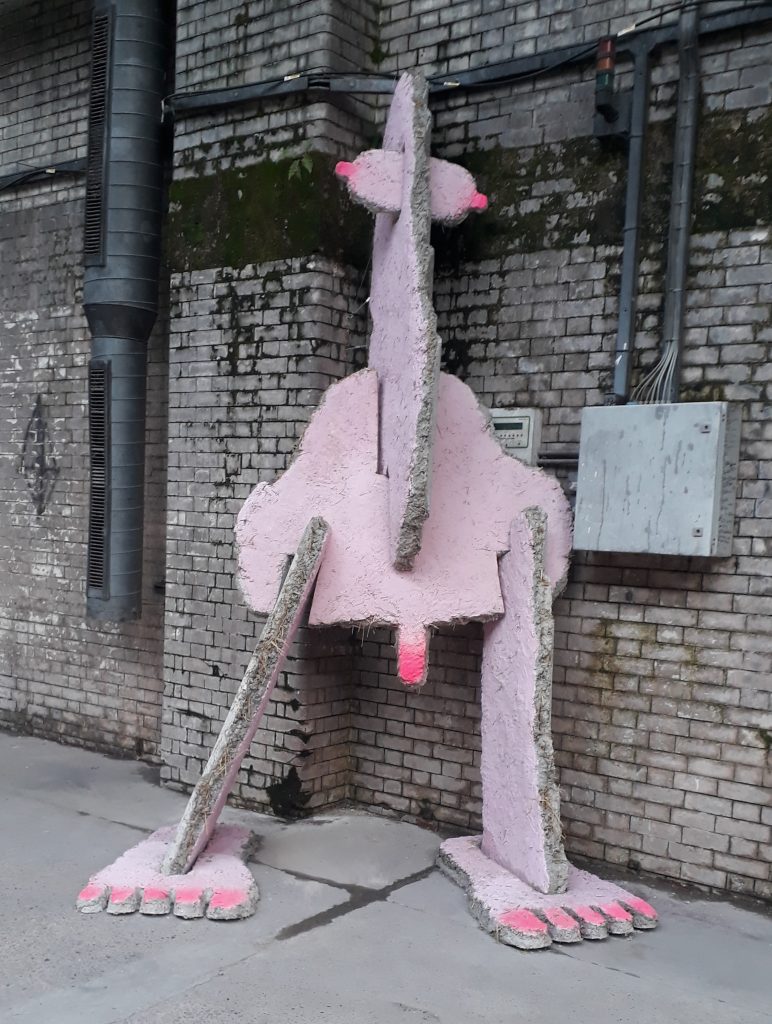 Ally Rosenberg: 'Homunculus', 2020
The combination of body parts chimes with Ally Rosenberg's 12 foot tall Homunculus, a cartoonish pink-painted cobbling together of Papercrete and straw made on his parents' farm during lockdown, which allowing him the space to work on a scale which makes the most of Manor Place. The lumbering figure sports both a cock and face-forming tits in a novel confusion of the sexes, and seems equally unsure whether it belongs in two or three dimensions.  Rosenberg also plays around with shapes cut out of in Papercrete walls as if a cartoon character has passed through them.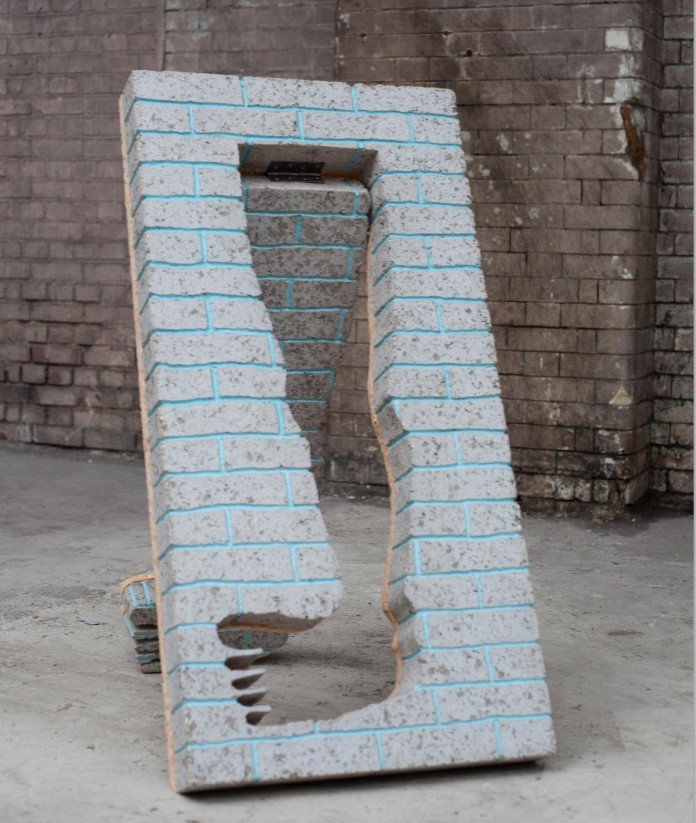 Ally Rosenburg: 'Some Compliments Aren't Worth Accepting', 2020
A leg emerges from Some Compliments Aren't Worth Accepting, illogically supporting the section of wall it has seemingly walked through; and a monstrous mouth appears to have bitten chunks out of It Will Only Cost You Your Appetite.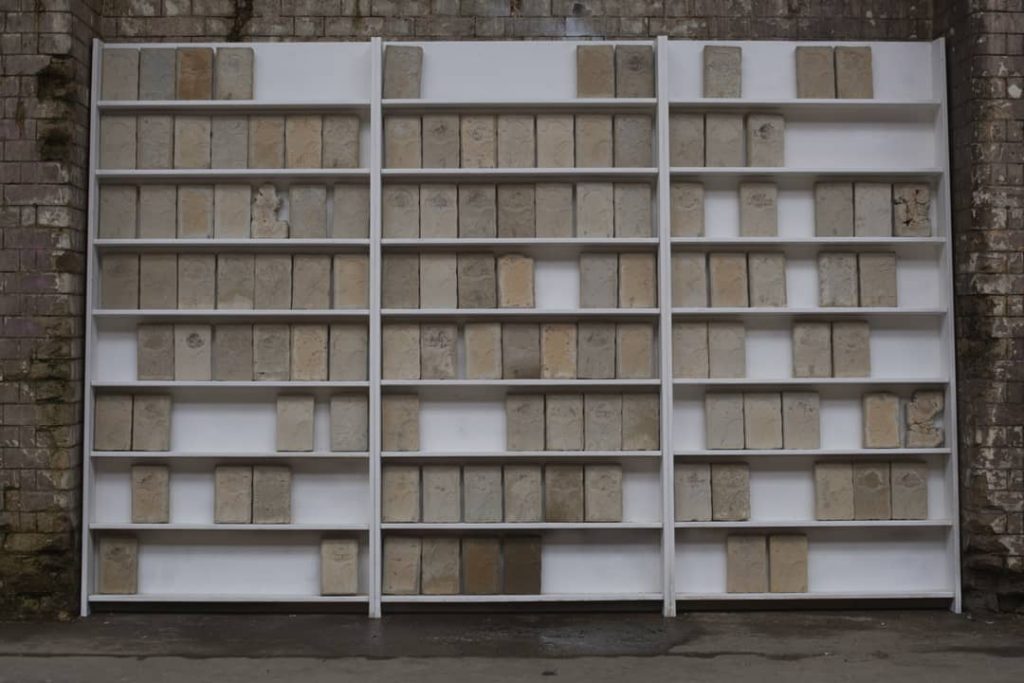 Jack Evans: 'The Land That Time Forget', 2020
Perhaps it was a dinosaur's. Blockbuster video ceased operations in 2010, but some places – Portswood in Southampton comes to mind as I live nearby – still have a disused shop unit featuring its signage. That came to mind seeing Jack Evans' The Land That Time Forget, in which the VHS technology which drove the chain's early years appears to have fossilised its display of tapes for hire, all of them concrete copies of Jurassic Park, variously distressed in their time warp.
Intermittent music is provided by Shepherd Manyika's For Francis, 2020, a colourfully-covered upturned shopping trolley which contains a sound system. Thomas Langley contributes two of his Spring Bangers paintings of beaten-up cars and See Saw, 2018, knocked up out of scaffolding and plywood and ready for visitors to ride.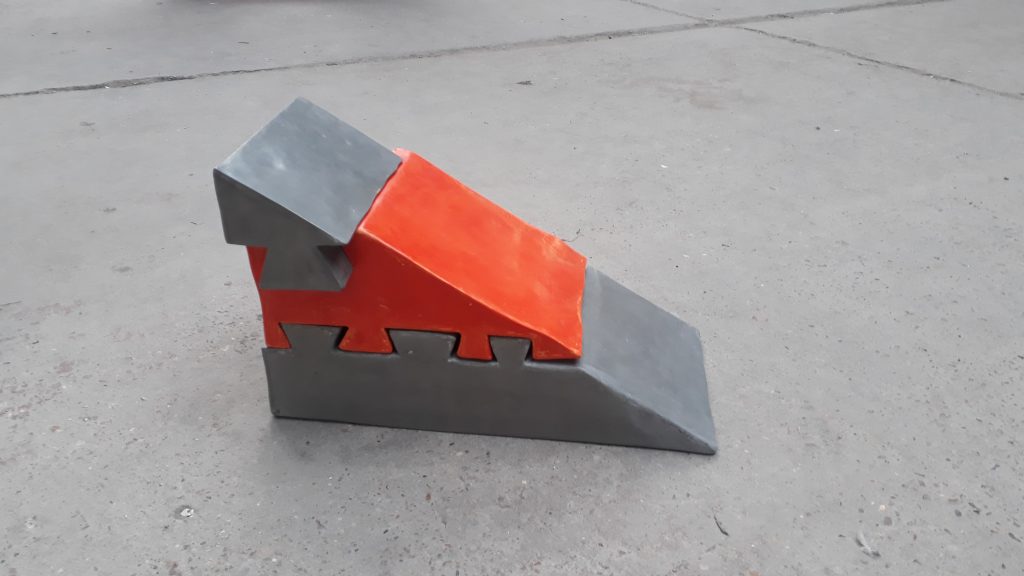 Ellie Hayward: 'Doorstop, Putting the Pieces Together', 2019
Ellie Hayward's practice moves neatly between print and sculpture, and in Doorstop, Putting the Pieces Together she finds an ingenious way to combine steps into a geometrical orange and black form which has a little bit of Escher in it and also incorporates an etching plate used to make other work.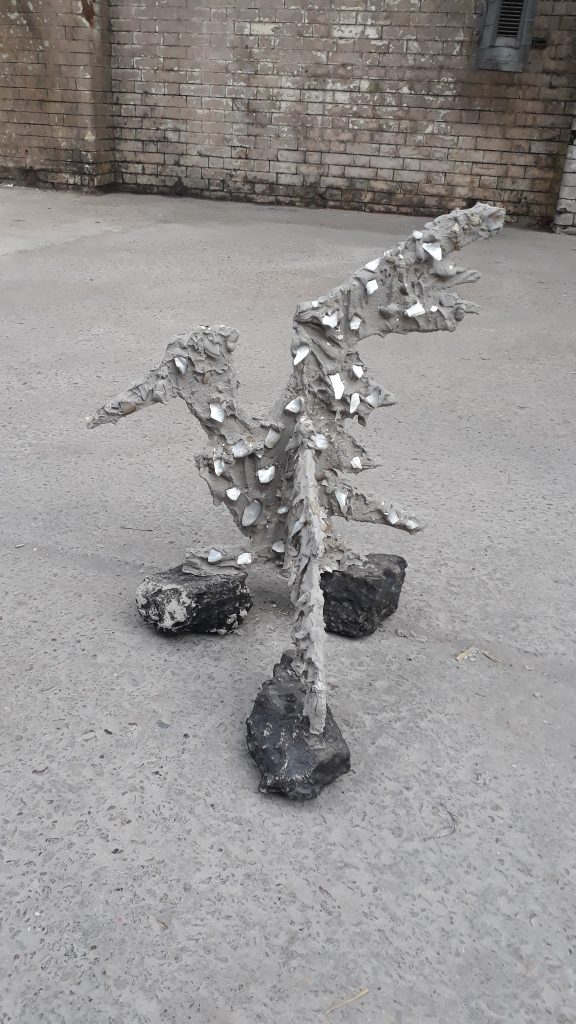 Anna Reading: detail from Feeding Frenzy, 2020
As for wildlife, Anna Reading provides a Feeding Frenzy of cormorants, made mainly from concrete, shells, sand, bitumen and wire. Life blend with architecture to suggest both decay and regeneration, even if seagulls are commoner than her avian choice on the average High Street. And another bird – Anna Perach's tufted wool Mother of Egg, 2019 – perches ready to perform – a ritual egg laying, perhaps – in the middle of the space.
In case I make this all sound too coherent, there are also works I liked which have less of the outside coming in about them –  Enam Gbewonyo's charged use of nylon tights, Anousha Payne's ceramic explorations of how to imbue an object with spirituality, Kate Howards poppy purple desacralizing of monumental sculptural tradition. And there are works which engaged me less. But who's going to like everything in an anthology of nineteen early career artists? Overall, the location, the work and the palpable energy with which materials are explored make 'Five Hides' well worth a visit.
Paul Carey-Kent
Categories
Tags