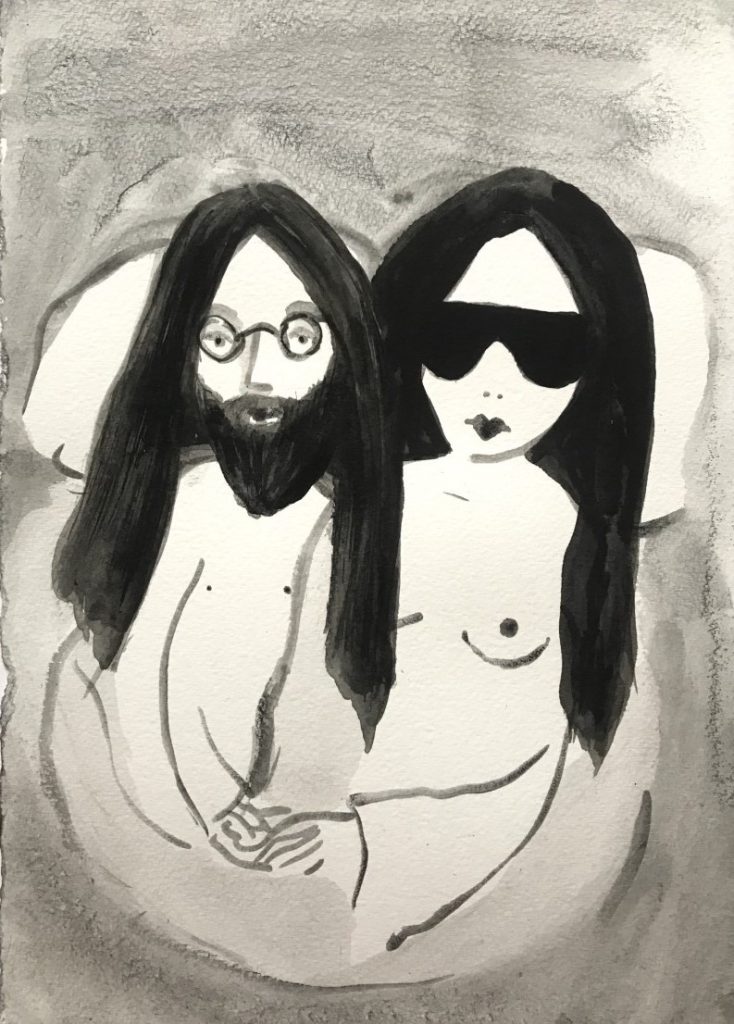 Alice Herrick
John Lennon was born on October the 9th 1940 to mark his 80th anniversary 80 artists have either made a new artwork or unearthed something special. John Lennon's Not Dead will feature; drawings, paintings, photography, and collage. There will also be some specially made music and animation and some surprise performances. Amongst those taking part in the exhibition are award-winning artists such as Chantal Joffe, musicians such as Jerry Dammers, artists who've exhibited at the Venice Biennale such as Francis Upritchard, cartoonists such as Tony Husband, and photographers such as Chalkie Davies. A splendid time is guaranteed for all.
The exhibition's curator Harry Pye explains the title of the exhibition:
"Some people believe you die 3 times. The first time is when your heart stops beating, the second time is when they put you in the ground, and the third time is when everyone stops saying your name. I still say his name and still turn to John Lennon when I need cheering up or feel in need of inspiration, and because I'm not the only one, I feel it's reasonable to say, John Lennon is not dead."
This celebration of John Winston Ono Lennon is unauthorised and 100 % unofficial. It's a show made by fans of Lennon for fans of Lennon. Because of social distancing there will be 4 Fab gatherings in October (some of which will be filmed and then shared on You Tube) rather than one big opening party. The happenings will take place at The Stash Gallery which inside Vout-O-Reenee's, The Crypt, 30 Prescot St, E1 8BB. Info on how to book tickets vout-o-reenees.com/events/john-lennon-is-not-dead-hes-80/
9 artists talk about their contribution to 'John Lennon's Not Dead'.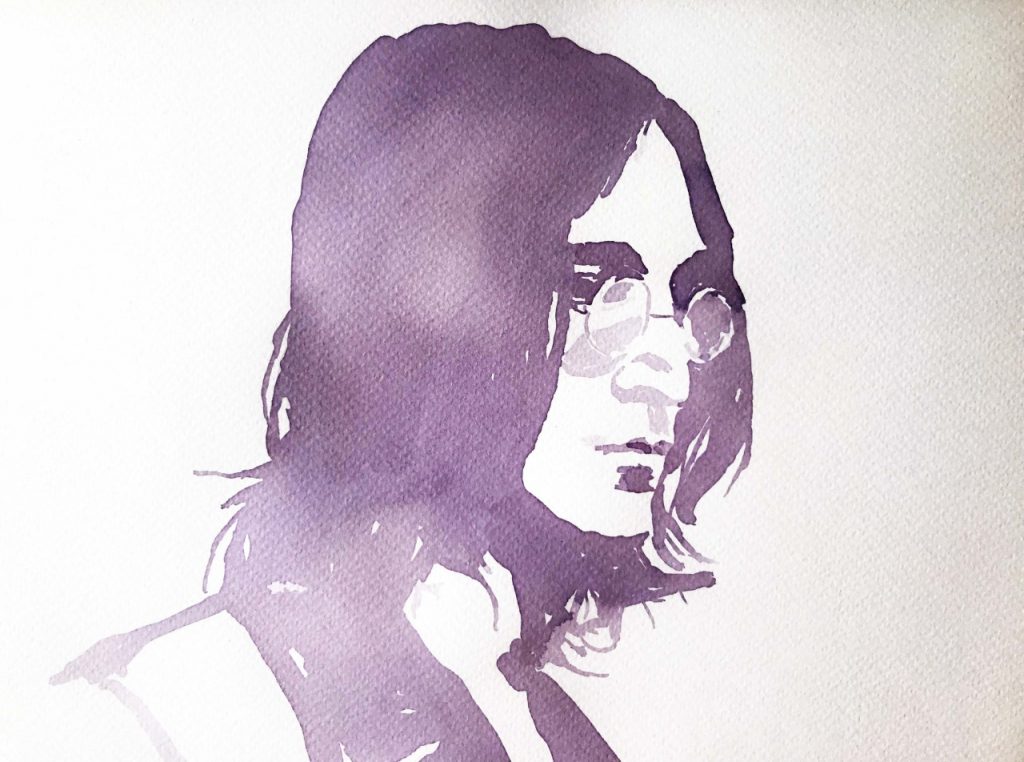 Peter Harris (artist, musician and Bomb Art member) "My painting is of John from The White Album era when he seemed a bit lost and was taking heroin to deal or not deal with the stresses and strains that Yoko and he were experiencing ( police raids, miscarriages, spiritual disappointments and Beatle infighting) I have painted him using red wine as a kind of transubstantiation, a play on the Martyr saint John that he became after his assassination."

John Moore (artist, musician, writer. Former member of The Jesus & Mary Chain and Black Box Recorder) says that his work is called, "Fun, fun, fun on the Reeperbahn" and adds: "my contribution to the show is a tribute to the beautiful, anarchic black leather days in Hamburg, where John Lennon once played with a toilet seat around his neck. This was my favourite period of The Beatles. By the time they were smiling on TV, they had already done the bad stuff…as every rock and roll band should!"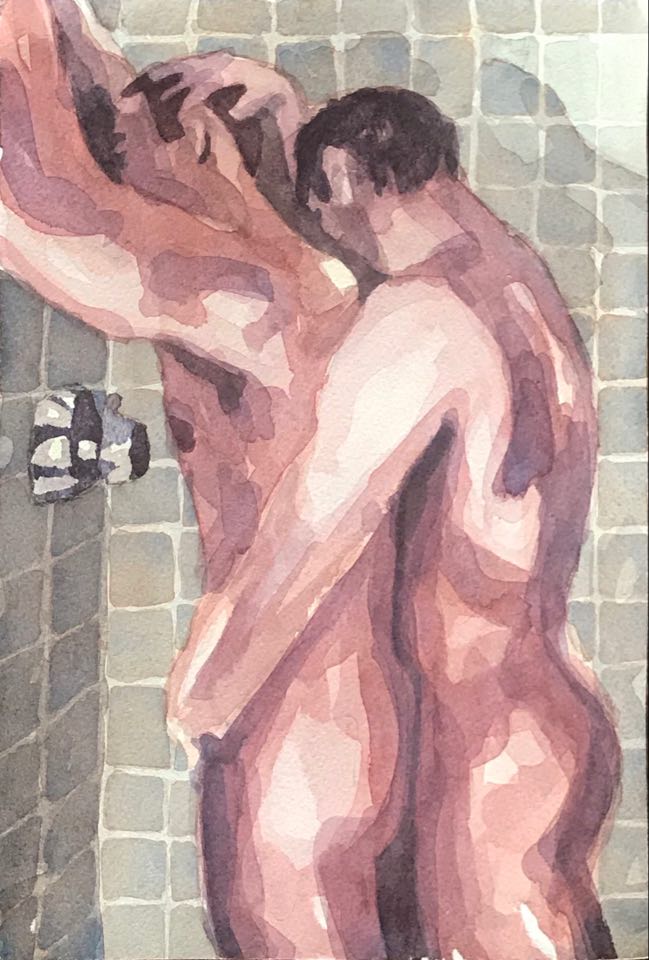 David Lock  (award winning artist) says: "I have made a watercolour painting called, 'Up Against It' which was the name of the screenplay Joe Orton wrote for The Beatles which Brian Epstein rejected. I have a feeling that if Mr Epstein saw my artwork in relation to the fab four he'd be appalled."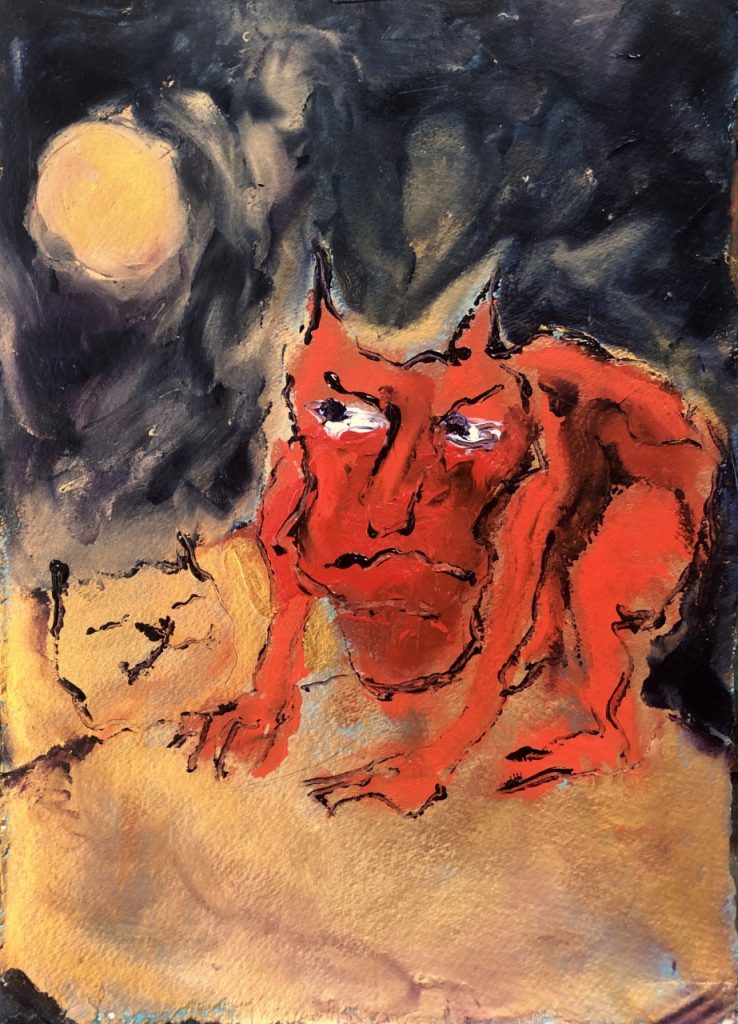 James Johnston (artist and former member of Gallon Drunk and Nick Cave's Bad Seeds) says: "My painting is entitled 'How Do You Sleep?', which comes from a song Lennon wrote about Paul McCartney. I did some research into why Lennon wrote the song, and what he thought about it a few years later down the line."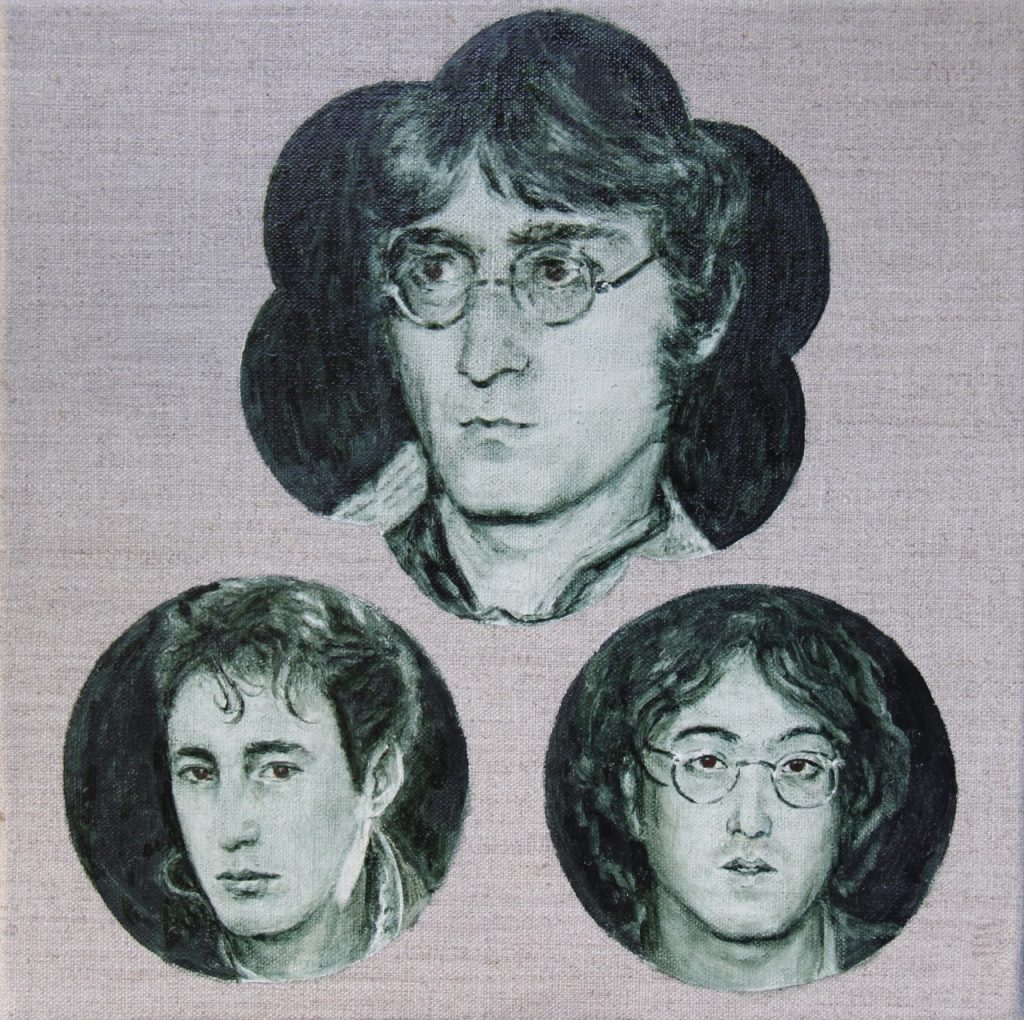 Marguerite Horner (artist and winner of the British Women Artist Award 2018 and MS Amlin Prize 2017 ) states that her practice is concerned with notions of 'transience, intimacy, loss and hope' and says of her contribution to the show 'Ol' Brown Eyes': "I was thinking about what we leave behind when we are gone, and how part of our DNA fuses with part of someone else's DNA at conception to become a separate human being with its own unique DNA – a zygote- so although Lennon had two boys with different mothers, his brown eyes were passed on to them both and they also looked very like him at a certain age. The title 'Ol' Brown eyes' refers to another singer – Frank Sinatra, who was sometimes known as 'Ol' Blue Eyes'."
Alice Herrick (artist & curator) "made especially for the exhibition this work is entitled, "Imagine Peace". I had a vision of John & Yoko in their famous 1969 honeymoon bed-in and made this work from memory, only checking online to see if John had a beard! I think it expresses the tenderness and eternal essence of their love and a gentle approach to politics. John Lennon is a kind of mythical character in my mind, with Yoko Ono carrying forward their message for imagining peace…"
(see image at top)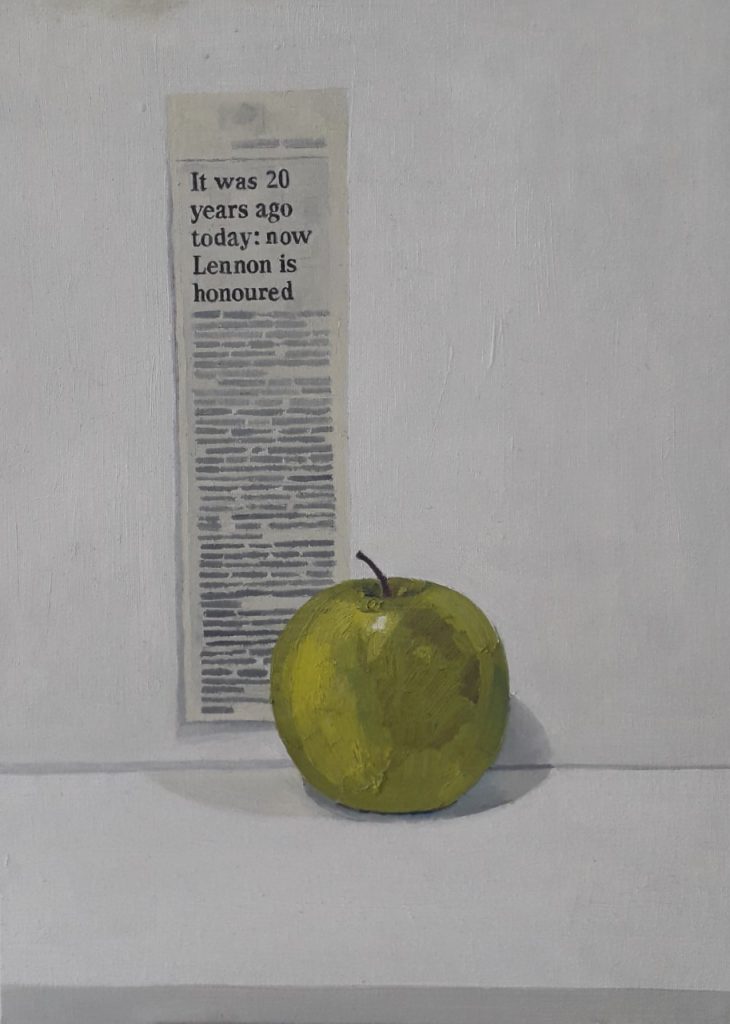 Hugh Mendes (Artist based in London, with work in many International collections) says that his work is called "20 years ago today" and: "This painting was made during my MA and was the first time I incorporated a newspaper clipping into a still life painting. It was a memorial as well as a Still Life/Vanitas piece. It led directly to my working with Obituaries, which became an ongoing project and one I am still working with 20 years later. This is the first time it has been shown publicly. Thanks John, and Harry!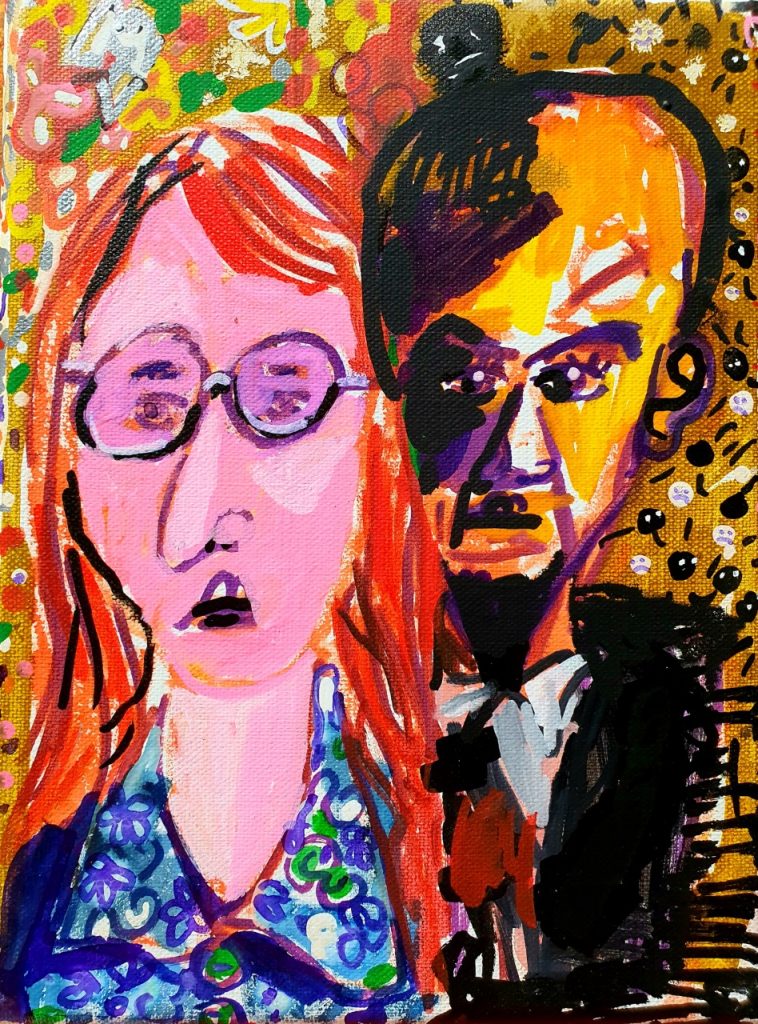 Jasper Joffe (painter and publisher Joffe Books). "Lenon (sic) is on linen. On one edge, it says give peace a chance. On the other, revolution by any means necessary."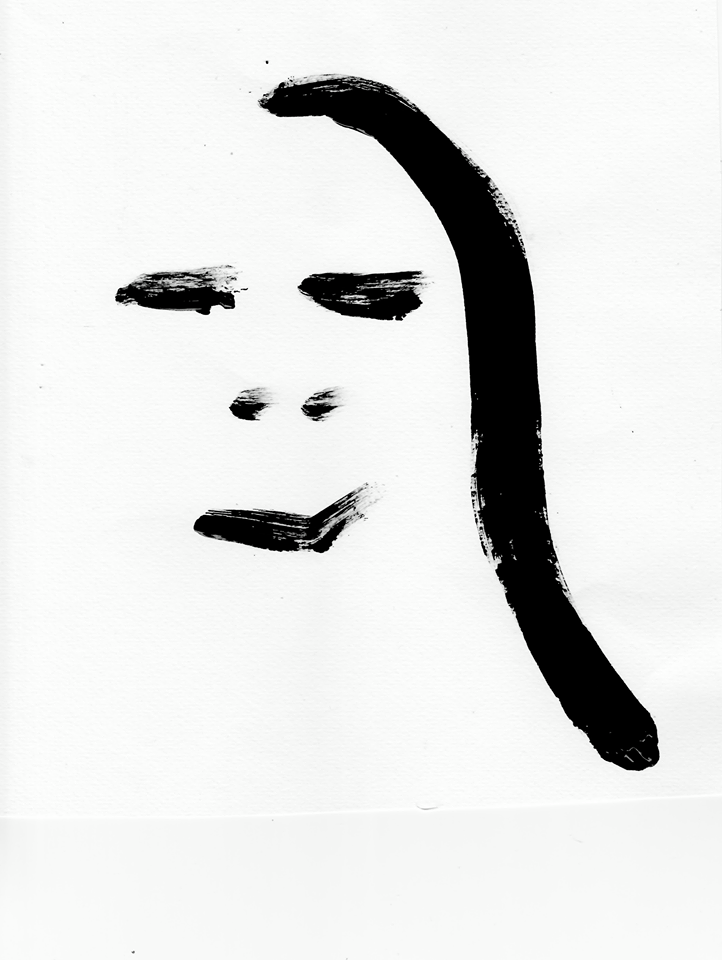 Phil King (Artist, writer and editor of Turps Painting magazine) "Oh Yoko" Cheap Imitation (after John Lennon and John Cage)' My impression of Yoko is presented as a regular inkjet printout of a drawing that I abstracted from one of John Lennon's linear depictions of Yoko from 1969. Both drawings/paintings were clumsily inspired by Chinese brush paintings. Cheap Imitation is a piece for solo piano composed in 1969 by Yoko's friend and colleague John Cage in laborious imitation of a composition by Eric Satie and I'd like viewers to somehow imagine the rhythmic sound of the printer, while Harry prints it out, as also somehow included in this over-elaborate collection of ongoing gestures and inspirations … this avant-garde/rock n roll party …
Categories
Tags