Love and Loss is the third Inside Job Tate staff Biennale exhibition to take place at Tate Modern. The curators of the show are; Jasmine Kee, Lou Montignac, Cristina Petrella, Kenneth Price, and Andrew Wyatt. The location of the show is Tate Exchange, Level 5 Blavatnik Building. On Thursday 17th – Wednesday 23rd. The Inside Job exhibition will be open to the public between 12 to 6pm. 
Over 100 artists are featured in the show FAD has selected Six of the best…
1  Miriam Luehrs who works in the book shop at Tate Modern.
"Puppy Love is a ceramic piece, illustrating the love and connection of humans to pets. Our human desire to be loved by dogs, this loving relationship that eventually ends in loss. A loss of a pet is by many described as the loss of a family member, a dear friend and companion. The love of a dog is unconditional, whatever the conditions. This piece has been inspired by the great Staffordshire spaniel dog figurines, the quintessential Victorian bourgeois status-symbol ornament: no mantelpiece was complete without a pair of spaniels standing guard. It has been handmade by me using ceramic clay and glaze."
miriamluehrs.com  @miriluh etsy/miriluh
2 Pierre Julien, who is a Visitor Experience Host has contributed a self-portrait called, 'All Is Lost'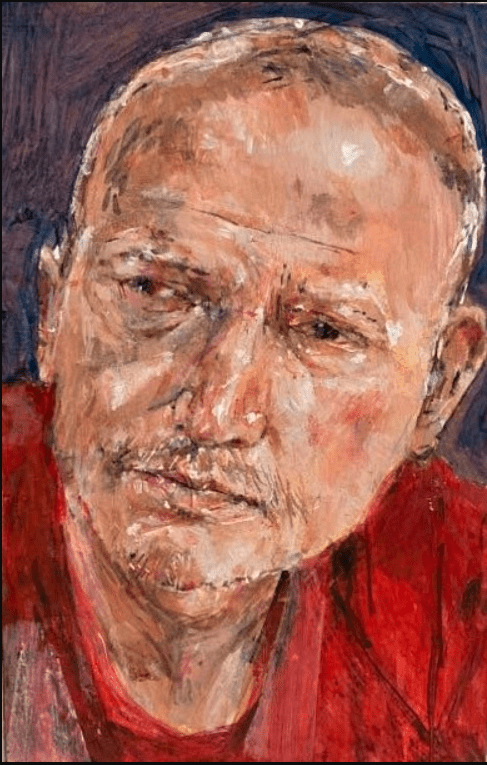 Pierre studied at The Slade School of Art from 1995 to 1997. Pierre explained,
"Last year I lost my mother to Covid. I thought about doing a painting of her but that was too hard so I thought I would submit a self-portrait instead." See more of Pierre's amazing portraits on Instagram @pierreshaped1
3 Nicky Bryant is from Barry, Vale of Glamorgan, she works in the main book shop of Tate Britain.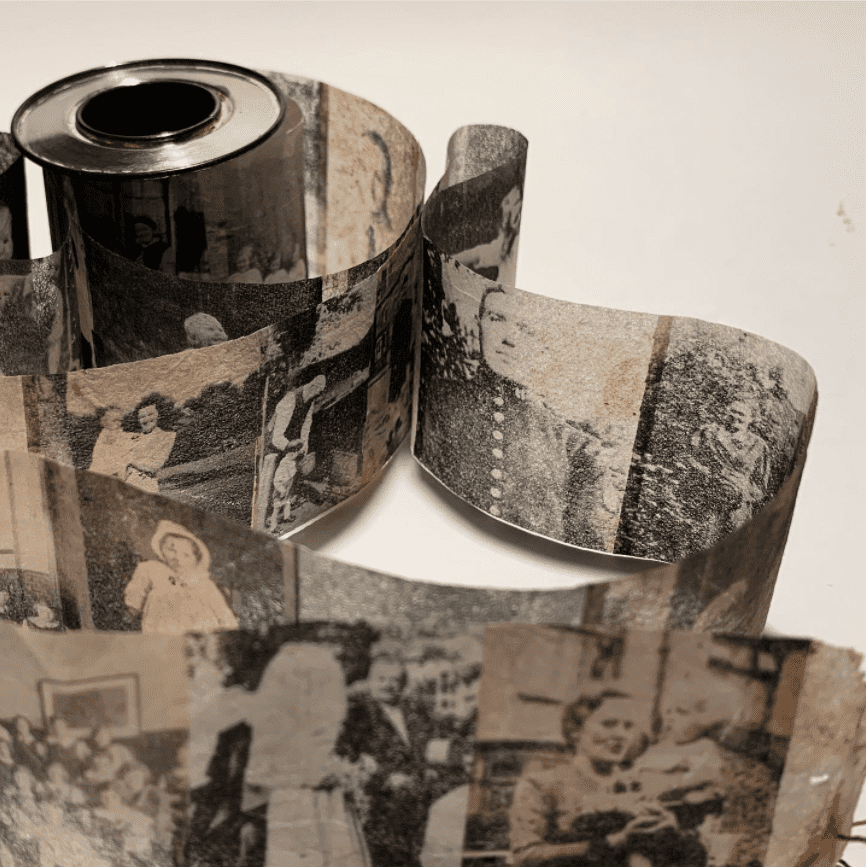 Nicky: 'Hiraeth' is the Welsh word to describe the overwhelming longing for a place or time that no longer exists. In this instance, Hiraeth is a longing to return to the bosom of my large, warm, London family and the grandparents with whom my brother and I would spend school holidays. It is also an intense longing for the city that was their home, for the physical buildings and landmarks that made up their lives and formed my memories. The speed of change in London is brutal and every single day as a familiar building, or entire district, is bulldozed to make way for tower blocks which bare no relation to (extra)ordinary people, we are forced to mourn anew the ancestors who walked the streets before us and ultimately our own history as it is demolished in pursuit of profit.'
Nicky Bryant studied photography at college in the 1980s, but for the last 15 years has worked as a ceramicist. Under Lockdown she gave up her studio when she fell out of love with the processes, and with working alone. Hiraeth marks the start of what she sees as a new exciting chapter when her work is not confined by medium.  @nickybryantcreative
4 James Lawson works in membership and Ticketing Services at Tate Britain.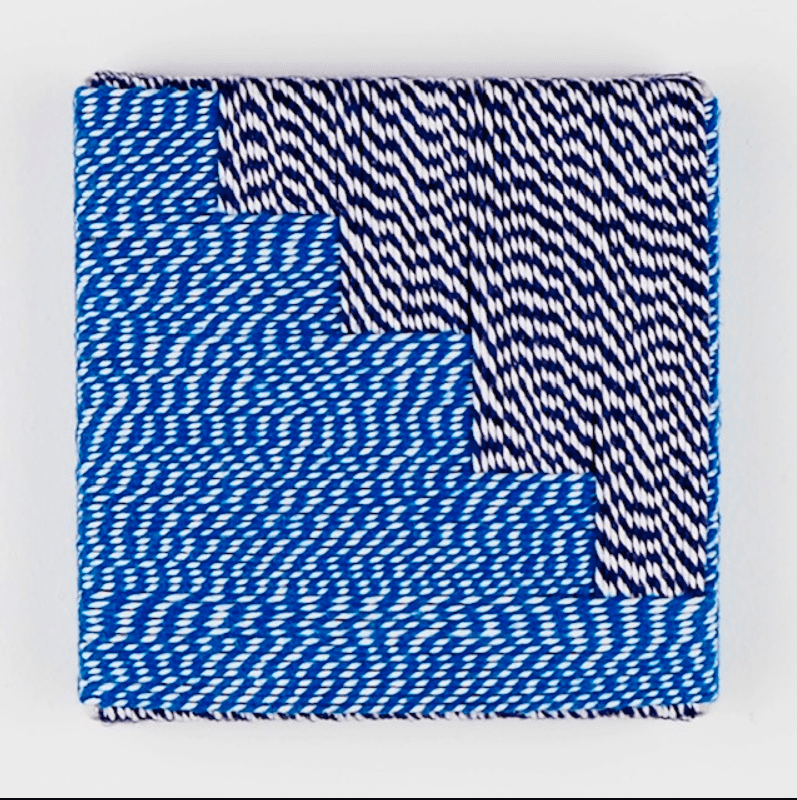 James: "My work is concerned with pattern, rhythm and geometry. I started making these wrapped sculpture / paintings during the 2020 lockdown, wrapping baking twine around canvas stretched on to small panels. I was initially fascinated by baking twine as a material and particularly the shifting rhythmic visual effect made when the twine is wrapped around an object. This was a perfect project during the lockdown period while experiencing loss (both of loved ones and of freedom and daily routines) and a withdrawal from the outside world. With limited space in which to make my work, I loved working on this smaller scale with domestic / craft orientated materials and found the repetitive process of wrapping therapeutic and meditative; an activity which reminded me of cocooning, embalming, protecting, hiding or simply wrapping a gift for a loved one. For me the pieces contain an interesting relationship between this idea of an enclosed interiority and the exterior eye-catching and visually rich surface pattern created by the twine. I have gone back to this method of working from time to time and have gradually made more complex patterns by weaving or overlapping different coloured twines"
5 Team Beswick and Pye. Harry Pye works in the book shop at Tate Britain. Gordon Beswick has made documentaries for Tate Modern. Together with composer Francis Macdonald they have made a tribute to the late Jean Dubuffet who was known for his love of Raw Art. 
@harrypyepaintings @gordonbeswickart
6 Barry Thompson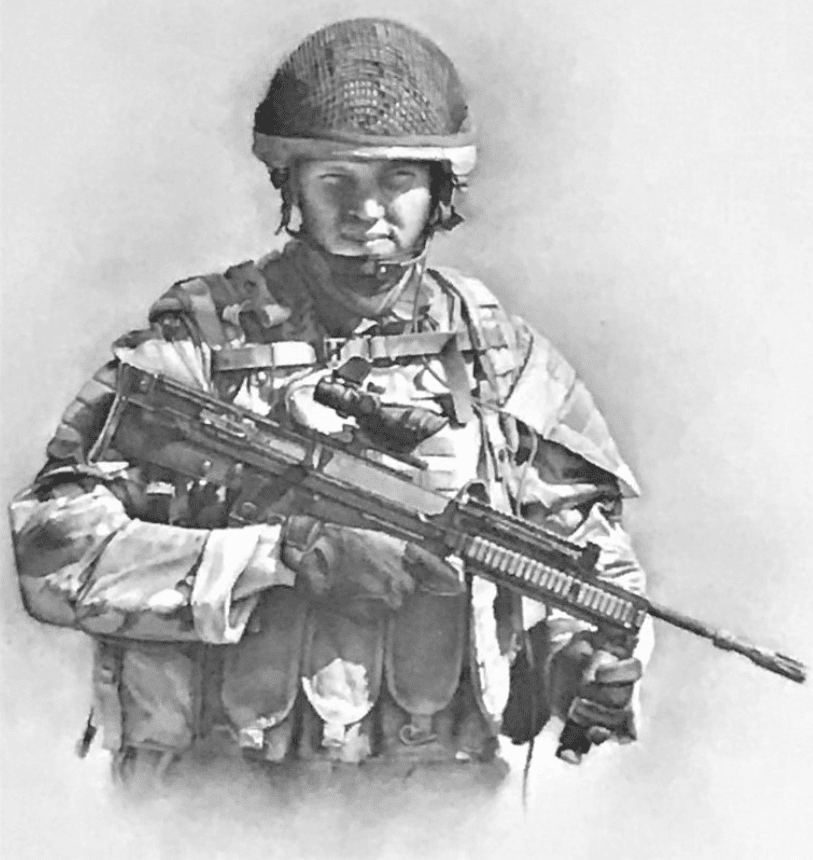 Barry Thompson worked part-time in the bookshop at both Tate Britain and Tate Modern and was loved by everyone who knew him. Barry earned an MA from The Royal College of Art and a BA from the University of East London. He had solo shows at Peer, Rachmaninoff's and The Charlie Smith Gallery. His work also appeared in group shows at Cell Project Space and The New Art Gallery. He was also the 6th recipient of the £10,000 Jessica Wilkes Award. Barry died in the Summer of last year but his memory lives on. The works you see displayed here were selected from his studio because they seemed to fit the theme of 'Love and Loss'. The drawing of the soldier you see above was made in 2013 but we have no other information to share about it. In 2014 Barry said in an interview his work was a continual process of saying the same thing but saying it in a different way every time. Barry's work not only demonstrates great skill but also reveals the kind of man he was. He was an artist who was able to increase empathy in others through his work. He was a very caring person and had a willingness to want to understand how other people felt. He also had a knowledge of beauty and desire to share what he'd seen and experienced. Although we can't provide you with titles and dates we're delighted people who come to this show will get to share some of Barry's magic and appreciate why we feel he's too good to be forgotten.
INSIDE JOB STAFF BIENNALE 2022 TATE MODERN Level 5, Blavatnik Building Bankside London SE1 9TG 16th–23rd March 2022 12.00 – 18.00
Categories
Tags