What are art fairs good for?  They get a bad press, but I particularly like the chance to catch up with developments in the work of familiar artists. Art Berlin (11-15 Sept) gave plenty of such chances. Here are five directions which were new to me: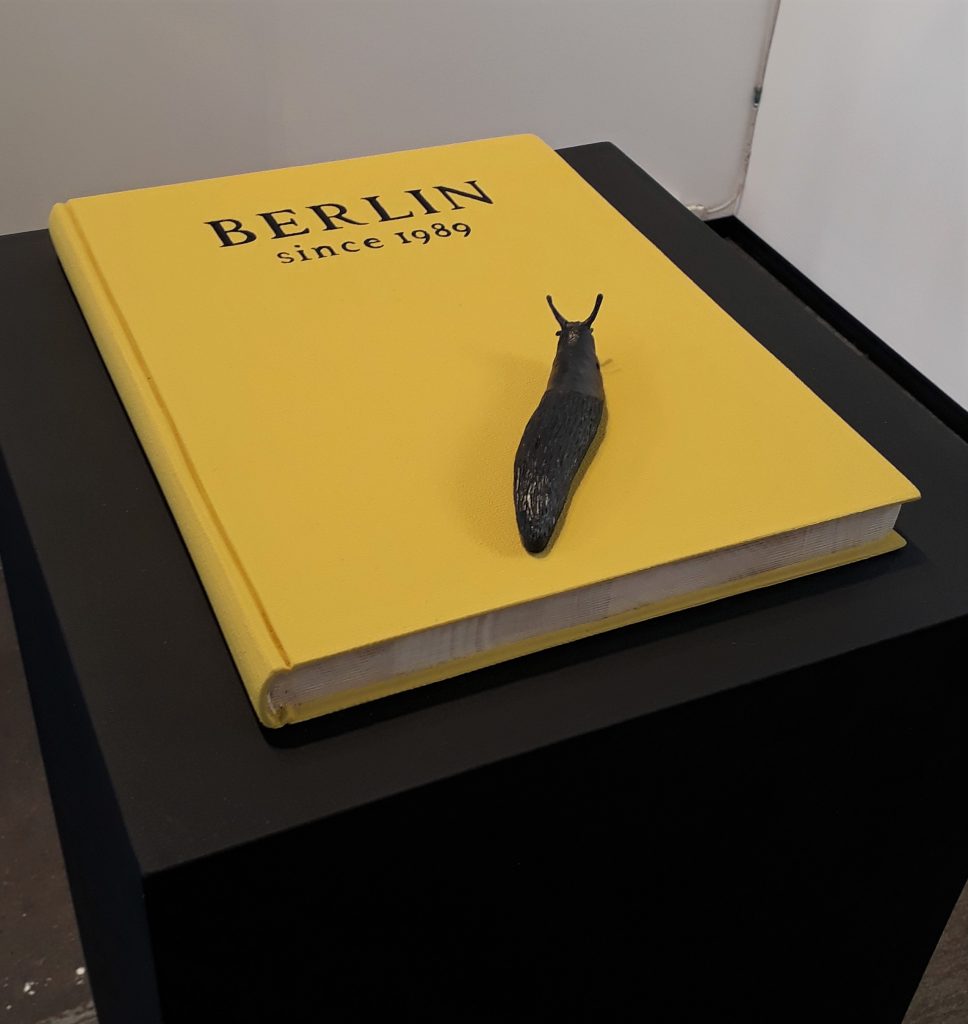 Elmgreen & Dragset: 'Berlin since 1989', 2019 at Koenig Gallery. Berlin has four airports: the iconic, but long-closed, Templehoff where Art Berlin was held; the small, dated and embarrassingly ramshackle Tegel and Schoenefeld; and the sparkly new Brandenburg which is running eight years behind schedule so far with no sign of opening. I guess that's the sort of thing the Scandinavian duo, long resident in the city, had in mind when making this coffee table book. The bronze slug is as well placed as us to learn of the city's progress: the volume is solid wood.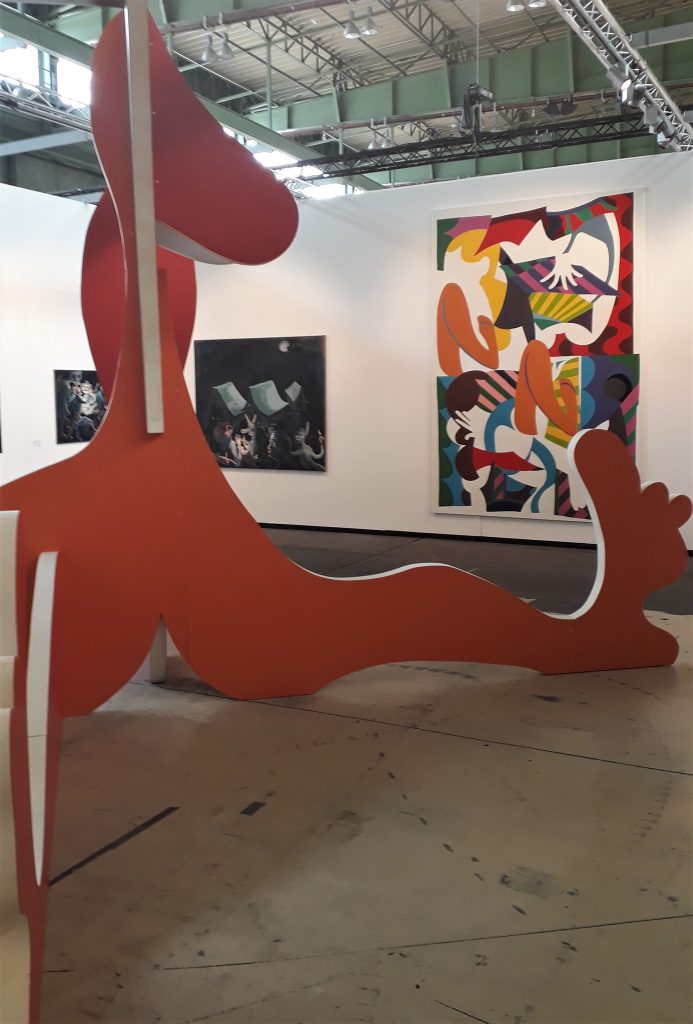 Christoph Ruckhäberle: 'untitled (Sitter)' 2019.  Ruckhäberle  has established an upbeat painted vocabulary for the human form which distinguishes him from other Leipzig school artists, and has enabled him to take his intensely patterned figures into increasingly diverse yet directions while keeping them  recognisably his. This 6m tall figure, made with linoleum over wood, dominated not just Galerie Kleindiest's stand but that of their partner, Choi/Lager.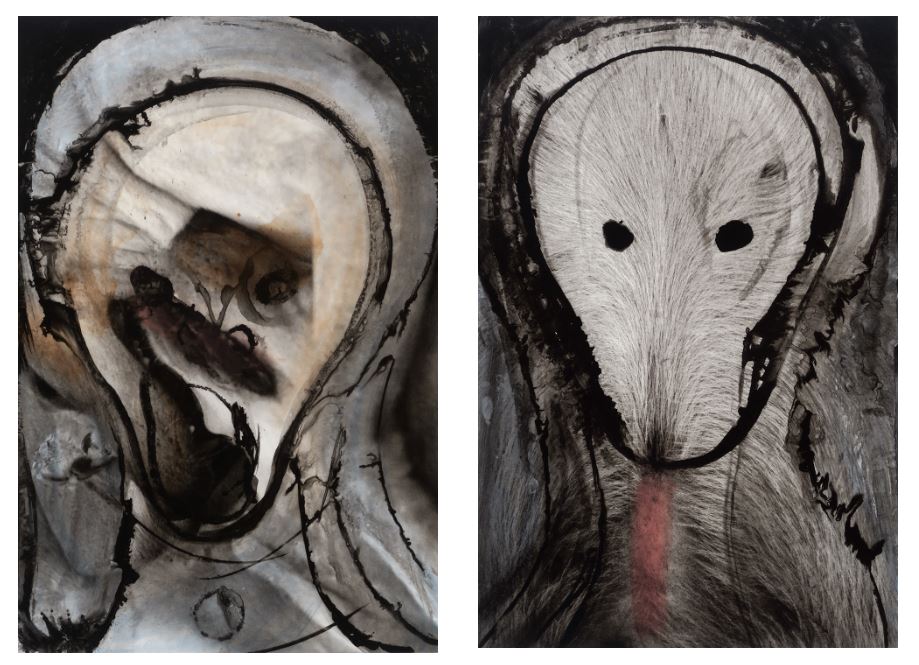 Huma Bhabha:  'Leochicospeedy', 2016 at Borch Gallery. These two prints from the set of ten combinations of photogravure and etching look like expressionist portraits of other-worldly beings, comparable with Huma Baba's well-known sculptures made of clay, wire, cork and construction materials. In fact, the underlying photographs are of dogs at play – ad they belonged to the artist's brother, who dies in 2015. So they represent his legacy, and a possible means of mediation between humanity and nature.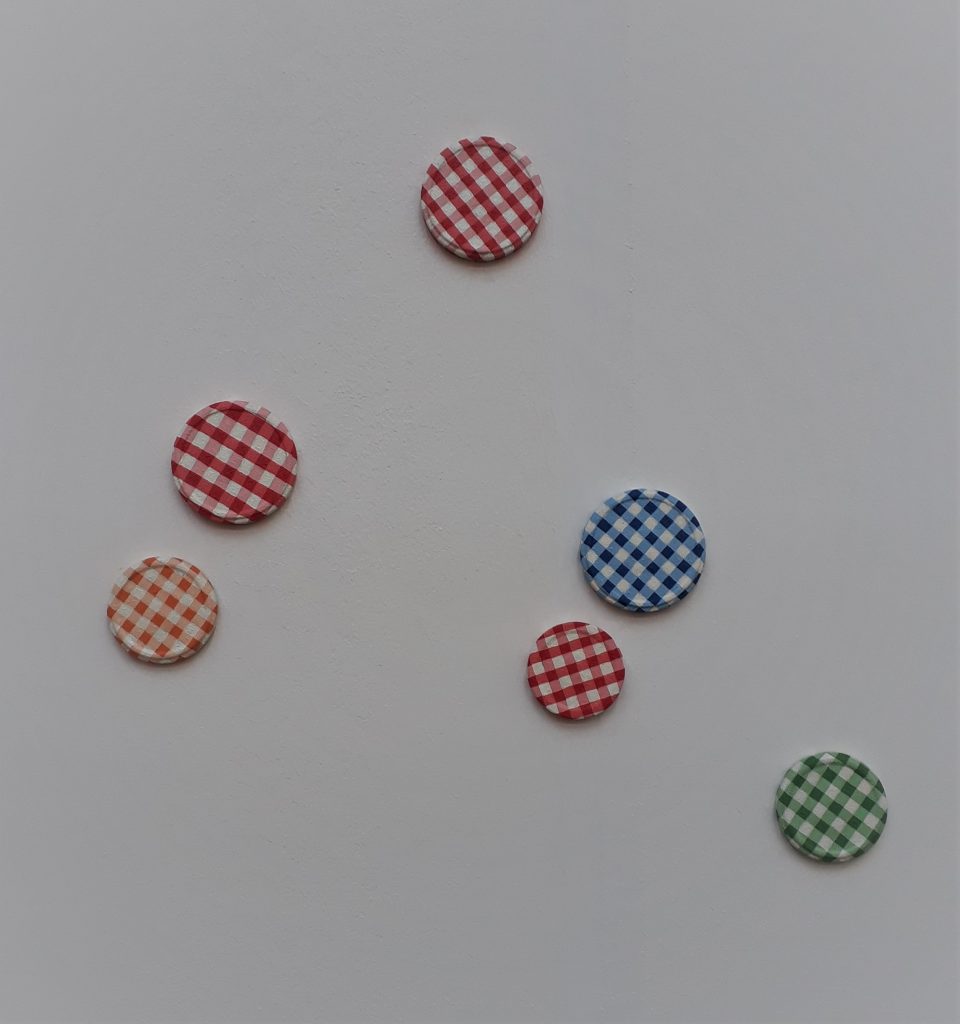 Michelle Grabner: 'untitled' 2019 at Gallery Gisela Clement. An impressive installation included a recent collaborations with Brad Killam, the sculptor-husband of the Wisconsin mistress of check patterning which tends not to be quite what it seems. These small works, painted on bronze, cheekily mimic the size and look of 'Bonne Mamman' jam jar tops. But where they try to pass off factory products as homespun and handmade, Grabner reverses the process: these look at first like bulk productions, or if you know her work like eccentric canvases, but are actually all individually painted on bronze.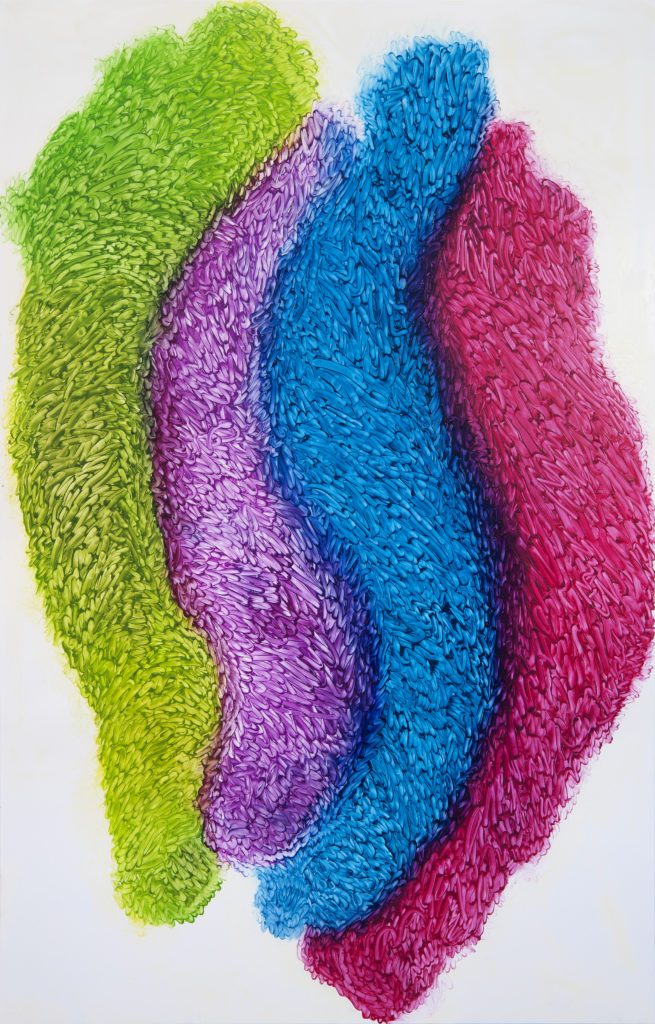 Peter Zimmermann: 'same same' 2018 at Michael Janssen  wasn't quite the same same to me, not just because the colours are luminously various, but because this is an oil painting with very visible brush work  from an artist I'd previously known only for his elegantly layered and just as bright poolings of epoxy. In fact, he's had a parallel oil painting process for some time. The effect is a little like the texture of fur, and indeed the second image (below) is 'Fur' 2019.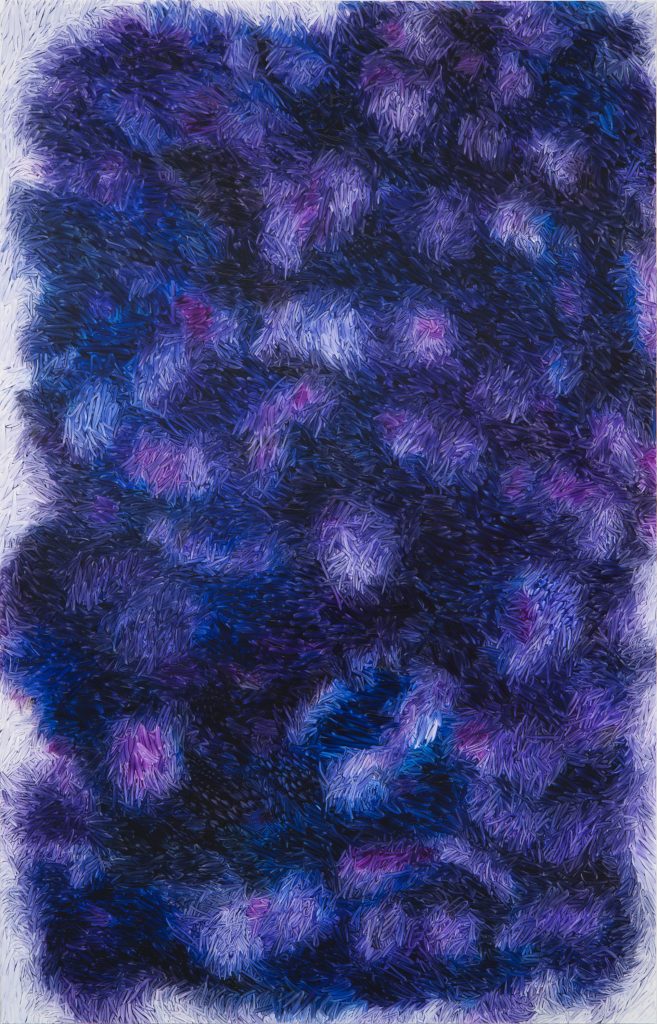 Art writer and curator Paul Carey-Kent sees a lot of shows: we asked him to jot down whatever came into his head
Categories
Tags