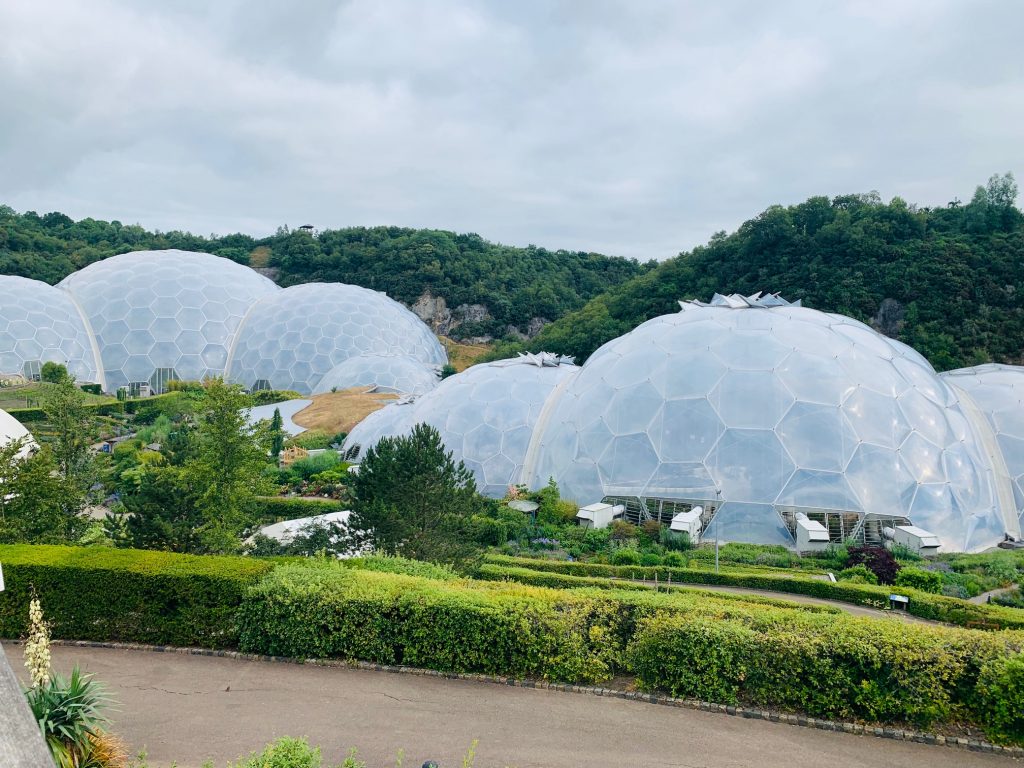 Today, the Eden Project launched its new arts programme with the aim of furthering engagement with and understanding of its mission with an ever-growing audience. Sculptural works by Jenny Kendler and Ryan Gander have been installed in the grounds, alongside a residency with Hayden Dunham and works from Julian Opie and Tim Shaw. All the artists have been inspired either by the Eden Project's surroundings or by the narratives that the Eden Project communicates including sustainability, climate change, biodiversity and the vital relationship between plants, people and resources.
The Eden Project is a unique educational centre working towards a sustainable future. Since it opened in 2001, the Eden Project has provided a gateway into the relationship between plants and people giving a fascinating insight into the story of humankind's dependence on the natural world.
Permanent Sculptural Installations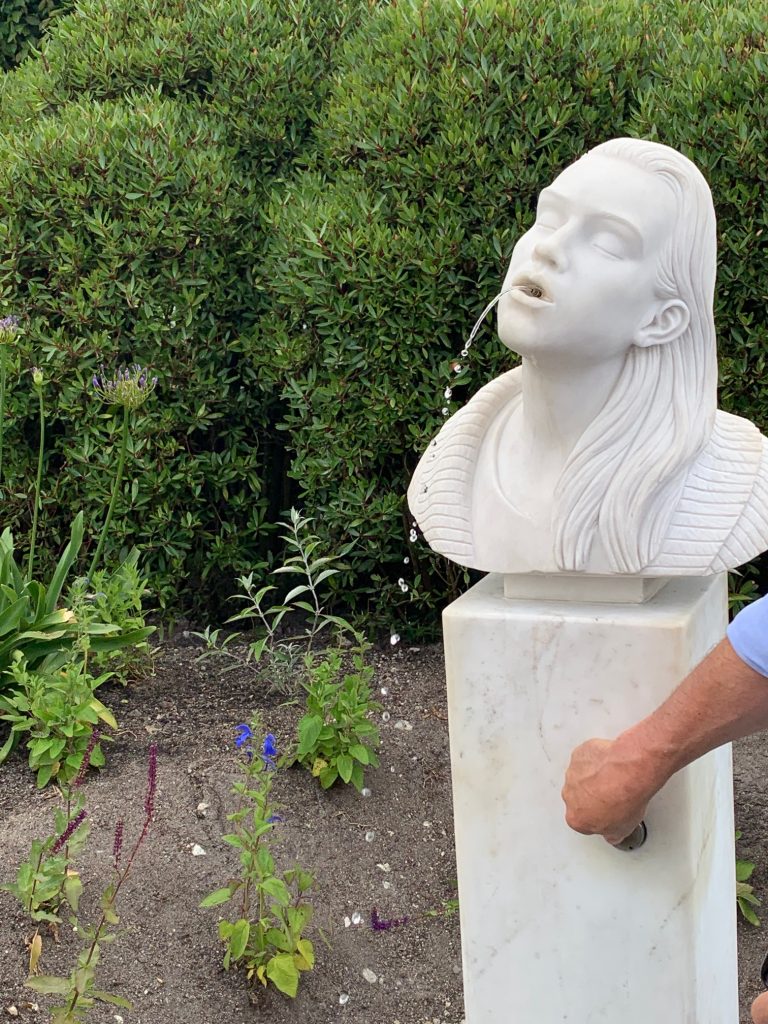 To employ the mistress… It's a French toff thing by Ryan Gander is a marble fountain fabricated in the likeness of his wife, Rebecca, playfully spitting water. The work plays with the tradition of fountains in classical gardens where mythological divinities, imaginary animals and other strange creatures are turned into whimsical springs. This sculpture was originally commissioned by The Highline, New York.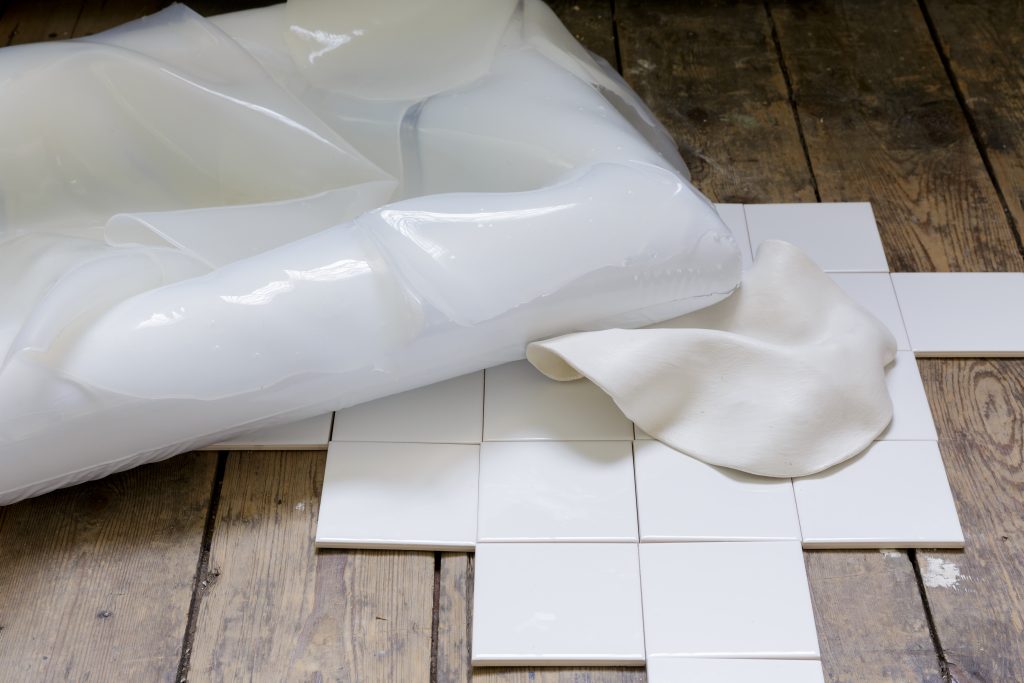 Hayden Dunham, GEL, 2015, (Detail). Courtesy the Artist and Zabludowicz Collection. Photo: Tim Bowditch
Hayden Dunham, Eden artist in residence, has conducted research at the Eden Project relating to her central preoccupation with how the chemical make-up of external systems informs and influence our internal infrastructure. Her research culminated in a performance realised at the Zabludowicz Collection in Belsize Park, London, and an ongoing performance at Eden. At the Mouth of the Sky uses sound to generate vibrations throughout the Lookout [a floating metal structure at the top of the 165ft-high Rainforest Biome.] The soundscape echos the air circulation in the Biome and the exchange of breath between the plants and their visitors.

Julian Opie Crowd.4.2019 copyright Julian Opie
In Julian Opie's new work, created especially for the Eden Project, a small group of people walk together but remain independent – creating a monument to the crowd.
"I have visited, stayed and played in Cornwall all my life. My ancestors came from there and I have drawn any number of artworks inspired by the coast and hills. The Eden Project is now an integral part of Cornish culture and I'm really proud and happy to have a large artwork sited there."
Julian Opie

Jenny-Kendler-Birds-Watching-2018-Photo Jerry Thompson for Storm King Art Center
Jenny Kendler's work Birds Watching asks us to consider our own responsibility for climate change's myriad effects on other beings. The newly adapted work, first commissioned for Storm King Art Center, New York State, is a 40-foot long sculpture composed of a 'flock' of one hundred reflective birds' eyes mounted on aluminium. This piece has been developed through a partnership with the Natural Resource Defence Council.
"Eden has drastically reduced single-use plastic across all its operations. I'm so pleased to offer our visitors this beautiful alternative to plastic water bottles, connecting the everyday with the esoteric"
said Misha Curson, Senior Arts Curator at Eden.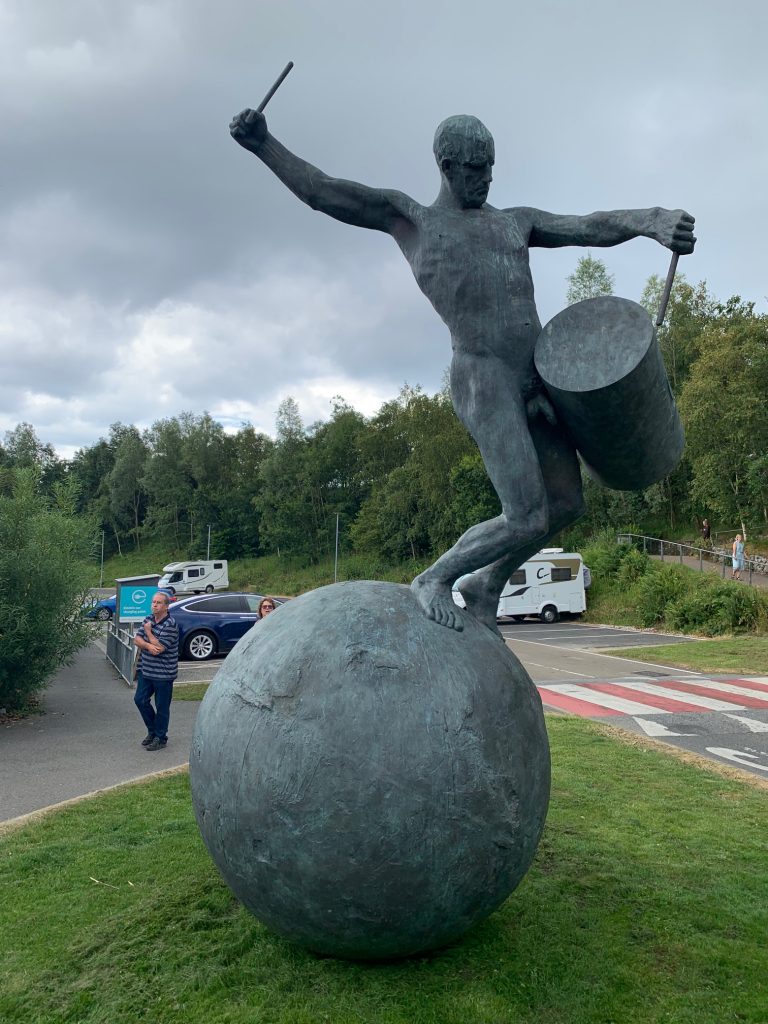 Tim Shaw The Drummer 2009-2011
Tim Shaw's The Drummer is inspired by the steely resilience of Cornwall's people: those who mined tin for generations and the fishermen who battle against the sea. The work is cast in bronze, an alloy composed of copper and tin – a homage to Cornwall's heritage.
The Eden Project
The Eden Trust is an educational charity, which brings art and science together to explore new ways of looking at our world. Its mission: to reconnect humankind with each other and the natural world. Eden champions art as advocacy and presents thought-provoking public programmes.
The Eden Project HQ in Cornwall is an international Visitor Destination and Learning Centre for all ages, abilities and interests: a spectacular venue for a great day out connecting people with each other and the living world. Nestled in a huge crater, massive covered Biomes housing the largest rainforest in captivity, Mediterranean landscapes, stunning plants, crop displays, exhibitions and stories serve as a backdrop to striking contemporary Outdoor Gardens, summer concerts and year- round family events. The Core building is home to Eden's exhibitions gallery and learning laboratory for residencies and workshops. Art installations are situated throughout the site.
Founded as a Millennium Project in 2001, Eden has welcomed 21 million visitors to date and has generated more than £2 billion for the regional economy. Eden has a network of scientific and artistic expertise, on-site Biomes – a living ethno-botanical collection – catering and accommodation. Its educational offer ranges from pre-school to PhD, hosting more than 50,000 students every year.
Historical commissions include El Anatsui, Peter Randall-Page, Tim Shaw and Studio Swine. Now, with formal commitment to the new Arts Strategy from Eden's Board and Trust and a team headed up by Senior Arts Curator, Misha Curson (formerly Deputy Director at Cass Sculpture Foundation), Eden has a clear artistic vision.
Categories
Tags