The 2023 Manchester International Festival (MIF), presented by Factory International, kicked off yesterday with exciting world premieres and exclusive events by global artists. These awe-inspiring performances will take place in various venues and spaces across the city.
You will also be able to visit Aviva Studios, the iconic new cultural destination and permanent home of Factory International to experience part of MIF before the official opening in October.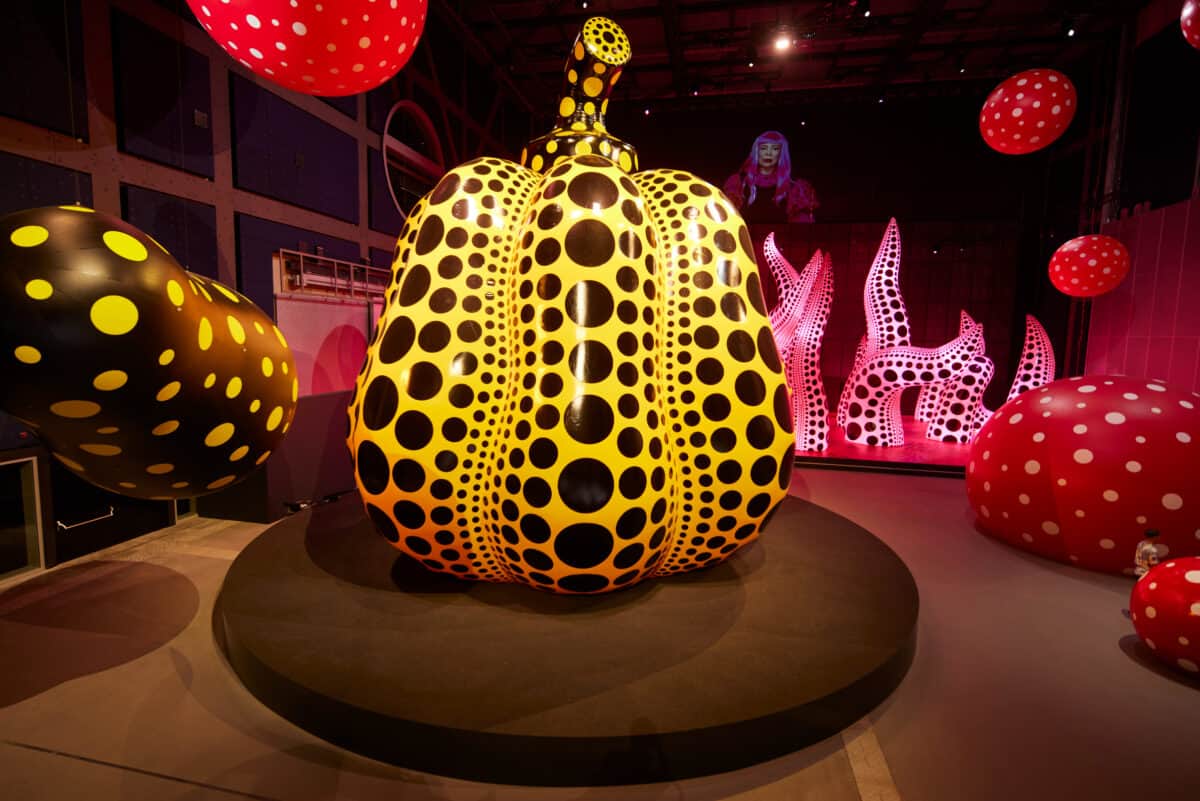 A major exhibition of Yayoi Kusama's inflatable sculptures forms a centrepiece of the Festival, the first work to be presented at Factory International's new home, Aviva Studios. You, Me and the Balloons takes over the vast warehouse space of the building, inviting audiences to take an exhilarating journey through Kusama's psychedelic creations, most of which have not been seen before in the UK.
From a collaboration exploring art and the beautiful game by curator Hans Ulrich Obrist and footballer Juan Mata, featuring new work by Tino Sehgal, to a mixed reality concert by the late Japanese composer Ryuichi Sakamoto, from a live photographic performance by Benji Reid to a musical adaptation of a cult queer classic by Philip Venables and Ted Huffman, the expansive programme of new work premiering at the Festival sees artforms merge, breaking new creative ground and challenging perceptions.
Rooted in Manchester, events are also taking place in spaces and places across the city – including a quest for collectible coin artworks by Ryan Gander, a celebration of our connection to water on the banks of the River Medlock by Risham Syed and Angie Bual, and a chilling adaptation of a lost dystopian masterpiece in the depths of the John Rylands library by Maxine Peake, Sarah Frankcom and Imogen Knight.
A diverse programme of music acts take to the stage in the Hall of Aviva Studios, including Angélique Kidjo, Alison Goldfrapp and revered Sufi singer Sanam Marvi, a collaboration between AFRODEUTSCHE and Manchester Camerata, as well as the premiere of a new show from John Grant and the Richard Hawley band celebrating pop and country legend Patsy Cline. Festival Square relocates to the outdoor spaces of Aviva Studios with free live music from over 190 performers, and a wide variety of food and drink, creating a new riverside destination for the city.
Other highlights across the city include a world premiere by John Luther Adams inspired by arctic landscapes performed by the BBC Philharmonic at the Bridgewater Hall; a night of dance and music with DJ and producer Ben UFO from award-winning choreographer Sharon Eyal, Gai Behar and record label Young at New Century Hall; and the world premiere of Kimber Lee's untitled f*ck m*ss s**gon play, winner of the inaugural Bruntwood Prize for Playwriting 2019, International Award, at the Royal Exchange.
Alongside the artists presenting new work at MIF23, a group of international artists are taking up residency in communities in Greater Manchester to soak up the Festival and plan projects for the future, including El Conde de Torrefiel, The Nest Collective, Shilpa Gupta and FAFSWAG.
Working with partners across the globe, once again much of the work made in Manchester for MIF23 will go on to travel internationally, building on an audience to date of over 1.7 million people in more than 30 countries who have experienced MIF's work overseas.
John McGrath, Artistic Director and Chief Executive, Factory International says:
Asking big questions about the world and our future, while also providing many moments of joy and celebration, MIF23 brings artists from a huge range of backgrounds to Manchester to create a thrilling range of work: from a ritual on the banks of a newly uncovered river, to a mixed reality concert from one of Japan's greatest composers, from a hunt for artworks across the city to a collaboration exploring art and football.

As always, MIF is rooted in the spaces and places of Greater Manchester. So whilst we welcome the first visitors to our new home, Aviva Studios, to experience Yayoi Kusama's incredible inflatable sculptures and an array of music inside and outside the venue, the Festival continues to extend its reach throughout the city in a true celebration of Manchester and its cultural offerings. New collaborations and partnerships range from an army of young people addressing mental health provision in the galleries of HOME to a powerful exhibition about economics at the Whitworth.

This Festival is a genuine melting pot of creativity, designed to take the temperature of our times and imagine possibilities for the future. From homegrown talent to trailblazers from the far reaches of the globe, each of this year's artists bring unique work and ideas to the programme which I'm thrilled to see shared with the world.
MIF23 provides the first opportunity for audiences to experience Aviva Studios designed by Ellen van Loon, OMA Partner and lead architect, the ultra-flexible building is based around vast, adaptable spaces that can be constantly reconfigured, enabling artists to develop and create large-scale work of invention and ambition of a kind not seen anywhere else in the world. It is the largest new national cultural project since the opening of Tate Modern in 2000.
Full MIF23 programme & tickets: factoryinternational.org
Categories
Tags