Since its foundation 124 years ago, The Venice Biennale remains the most relevant art exposition in the world, its ethos closer to Olympics than an art fair. The exhibitions are scattered throughout palaces, cathedrals, museums, and ancient institutions from a time when The Republic of Venice reigned as the centre of commerce and culture. During Biennale, Venice plays host to an egalitarian cross-section of the art world, but most importantly, affirms the capacity of humanity to affect positive change in the world. A truly international stage, La Biennale Venezia is a beacon, shining its light as the world gathers.
In presenting this year's Biennale Arte, "May You Live In Interesting Times", Biennale President Paolo Baratta proclaims its importance in a time when "too often, oversimplification seems to prevail, generated by conformism or fear." The exhibition's curator, Ralph Rugoff, seeks a unified exhibition that will "make the most of art's capacity to open people's eyes to previously unconsidered ways of being in the world so that they might change their view of the world and their place in it." By their decree, it's the artist's obligation to show a path forward in a world that will never cease to provide barriers and reasons to divide.
Even throughout its darkest days under Fascist dictatorship, Italy saw the importance of the Biennale as a critical platform to engage with the world. For all of his maniacal psychopathy, Mussolini never fixated on leaving any great walls as his legacy, but this year many Biennale exhibitions eagerly fill that void. For quite obvious reasons, this Biennale makes far more references and representations of walls that I've seen in past iterations. As a passive comment, the hackneyed references languish as symbols of fracture, fear, and greed.
Teresa Margolis transported and rebuilt a wall from Mexico for her "Muro Ciudad Juarez". Lawrence Abu Hamdan proffers "Walled Unwalled", a relentless and enthralling video, analyzing the legality of collecting sonic evidence through walls. Shilpa Gupta automated a security gate, anthropomorphized to run amok, as an untitled kinetic sculpture that references national and ethnoreligious divides. All the works are visually arresting, but stagnate in unanswered questions.
While there's certainly much to fear in the world, and greed's influence is pervasive, merely naming the problem will only lead to further discord; creative solutions must be sought. Through engaging with the artwork and ultimately engaging with each other, we can collectively find a way forward.
Arthur Jafa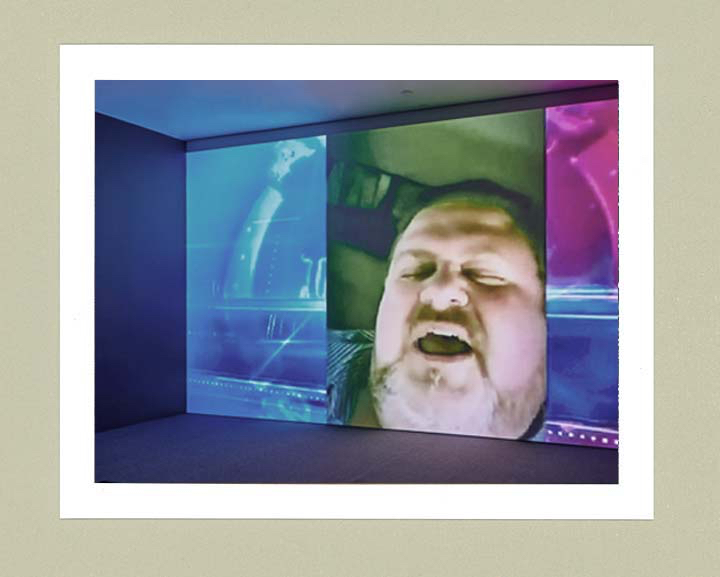 "White Album", a video by Arthur Jafa, winner of this year's Golden Lion for best artist in Biennale, is showing in the Central Pavilion of Giardini,
The judges' recognition of this work's importance speaks volumes on how vital the Biennale is in its ability to respond so meaningfully to the collective pall of malaise that currently hangs over our social landscape.
"White Album" investigates tensions between the violent intolerance of white supremacy and Jafa's love for the people in his life who are white. His own empathetic portraits of beloved friends punctuate a video collage of found content. Digging through a digital catacomb of surveillance footage, news interviews, music videos, battlefield recordings, and selfie rants, he seeks a creative means to "mine a catastrophe", portraying a world that "pushes the black figure to the edges of it, and what's left is white folks".
At a pivotal moment, Jafa makes an effective appropriation of the Dixon White/ Jorge Moran viral video that created a sensation in 2015. White/ Moran acerbically and confrontationally verbalizes greed and fear as the insidious basis of white supremacy and racial inequality. With an eye toward future reconciliation, "White Album" is an elegy for division and hatred.
Martin Puryear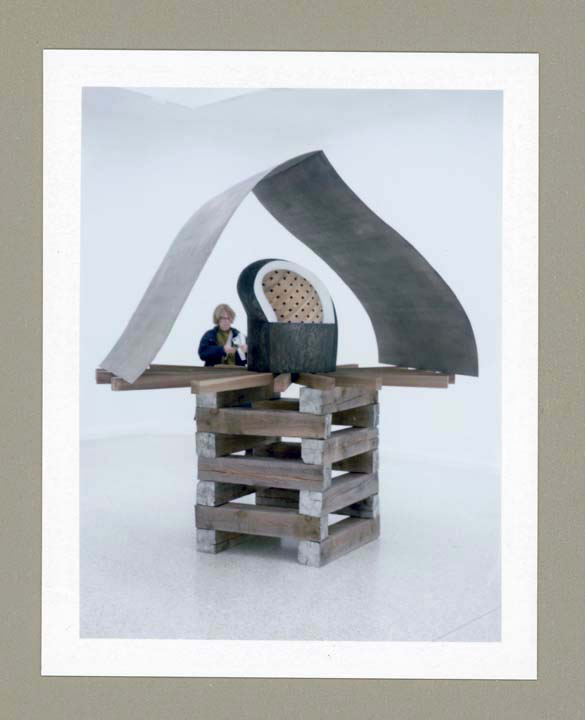 Approaching "Liberty Liberta", the takeover of the United States pavilion by sculptor Martin Puryear, visitors are confronted by the largest representation of a wall constructed for this Biennale. An ominous obfuscation of the Giardini pavilion, his outdoor piece stands to engage and draw the viewer into a conversation, not create division. So begins the journey, as we follow the artist's exploration of a topic that he's long pursued: liberty.
As technology and pop culture ephemera further pervade life and art, Puryear's sculptures are a resilient reminder of the basic need to protect the liberty of all people. Allowing his subject the full gravity that it demands, he matches its weight with the imposing presence of his bronze, iron, tar, wood, and stone palette. Such media remain as eternal as the struggle to preserve liberty its self. His solution stands as a physical symbol of the constant need to confront division and disenfranchisement.
Puryear's exhibition deftly navigates a cultural crossroads, emphasizing community and commonality. Instructing through observation, not didacticism, he portrays commonplace items as the bridge across cultural divide. His works begin with an idealistic philosophy, but through an exploration of similar experiences with utilitarian objects, religious items, language, and spirituality, a resolution is rooted in the shared elements of humanity.
Jose Parla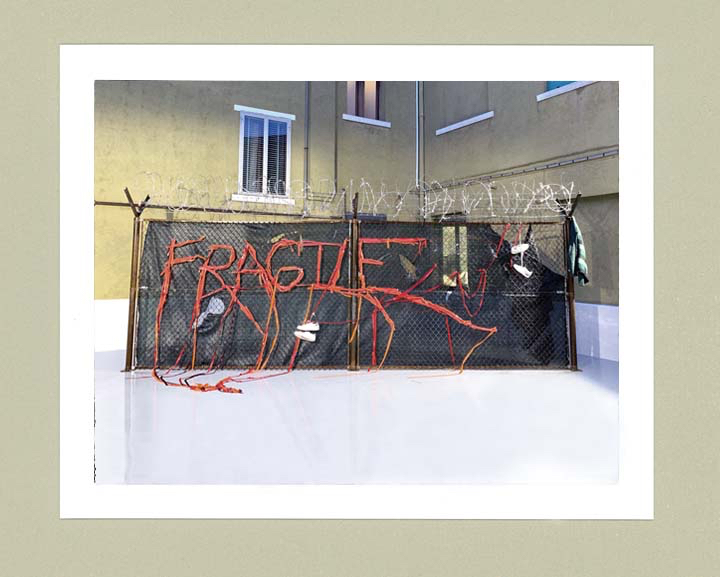 At this year's Glasstress, Jose Parla presents "Tiempos Frágiles". Though his installation is reminiscent of an incisive border fence, the multidisciplinary artist isn't satisfied to wallow in common motifs of division, instead of reinforcing that through a shared awareness we can see beyond our "Fragile Times" into a better tomorrow.
Depicting his own internal dialogue pursuant to the 2016 US presidential elections, Parla created the work to initiate a broader, constructive conversation around the fragile nature of the world today. Adorning the fence with a synthesis of kinetic ribbons, glass text, and glass barbed wire, fabricated in collaboration with Murano masters, his work is as fluid and dynamic as his vision for the future.
Beginning the dialogue in Brooklyn, Parla sketched with fabric ribbon, weaving words directly into fences of his community. Reproducing the effect in glass, his final product explores the fragility of humanity and the casualties of present political climates. Suggesting that division and borders created by partisanism can be delicate yet dangerously sharp as his glass medium, Parla creates a metaphoric representation of the tendentious state of the world and its dire need for unity.
Parasol unit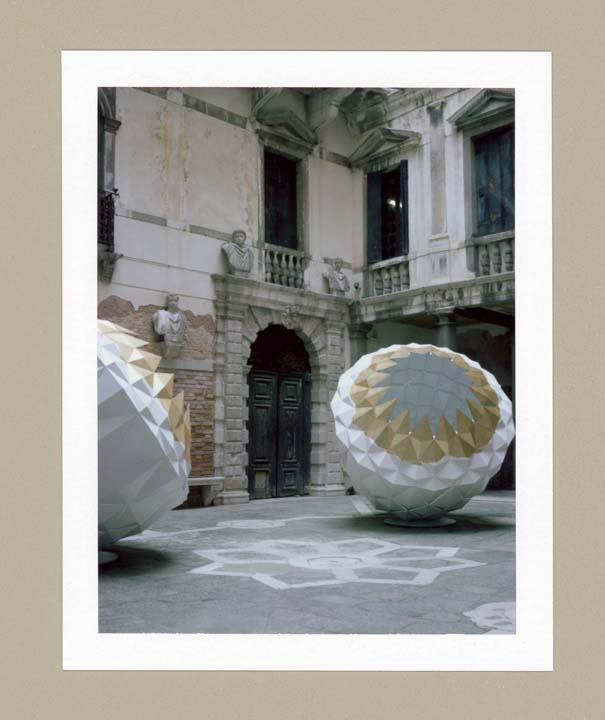 "THE SPARK IS YOU: Parasol unit in Venice" at the Conservatorio di Musica, is a multimedia extravaganza which epitomizes the grand exhibitions that titillate as only Venice Biennale can. The scope and scale of the works presented, combined with the nuanced background soundtrack inherent to the music school venue, create a serene, yet completely overwhelming experience.
Artists were selected for their affinity to openness, respect, and human interconnectedness. They've built a creative coalition as an example of the vital importance that open dialogue plays in developing greater understanding between all nations and cultures. As a result of living and working in disparate parts of the world, the artists respond uniquely to the challenges faced by modern society, using lessons learned in their respective homes as a guide.
Venice, renowned for its ancient connection between east and west, is an ideal setting for such a discourse to occur, encouraging further appreciation of other cultures through continued conversation.
Serwan Baran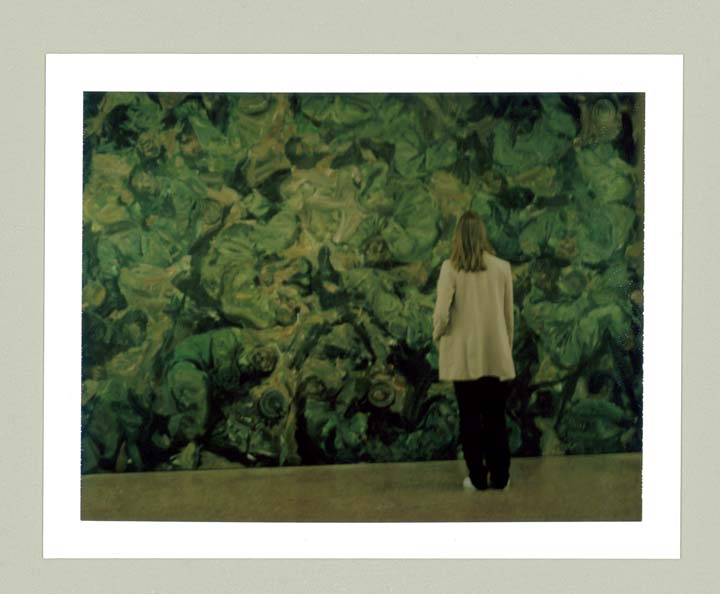 "Fatherland" at The Pavilion of Iraq, is an exhibition by Serwan Baran of a mural sized painting and a single, grotesquely enthralling sculpture. Emblematic of the wonders that Biennale can reveal upon exploration, the exhibit is hidden like a mausoleum, with art and venue perfectly complimenting one another.
Baran's work examines the relationship between citizen and homeland, from the point of view of a soldier. The installation is a reflection on the 40 years of war and dictatorship in Iraq, and his own conscription as an army propaganda artist on the front lines of the Iran/ Iraq War. Incorporating objects from battlefields of three wars and possessions donated by families of soldiers killed in battle, his works warn of the perils of a society that allows inequality to go unchecked. He sounds a clarion call to rally as a coalition and protect the right of all to share a place in community. Leaders, followers, crusaders, believers, and apostates all lose in a land led by fear and greed.
Sean Edwards
"Undo Things Done" at The Pavilion of Wales is a multimedia exhibition where artist Sean Edwards intertwines place, politics, class, and personal histories.
Interacting with Edwards' works allows a glimpse into his deeply personal journey of inspiration, beginning with the unique experience of growing up in a council estate. Combining sculpture, film, photography, textiles, and daily radio broadcast by his mother from her home in Cardiff, Edwards captures quiet stories of what we inherit from previous generations.
Room dividers and a three-dimensional collage are situated in a way to reference the instilled sense of being shut in by fences and boundaries of the council housing where he was raised. But he refuses to accept the divisions that have been laid around him and responds by reaching out to finding commonality in the everyday, mundane aspects of life that build culture and community. Like the Welsh quilts created for the exhibit, cultural understanding is a shared patchwork of improvisation.
Yun Hyong- Keun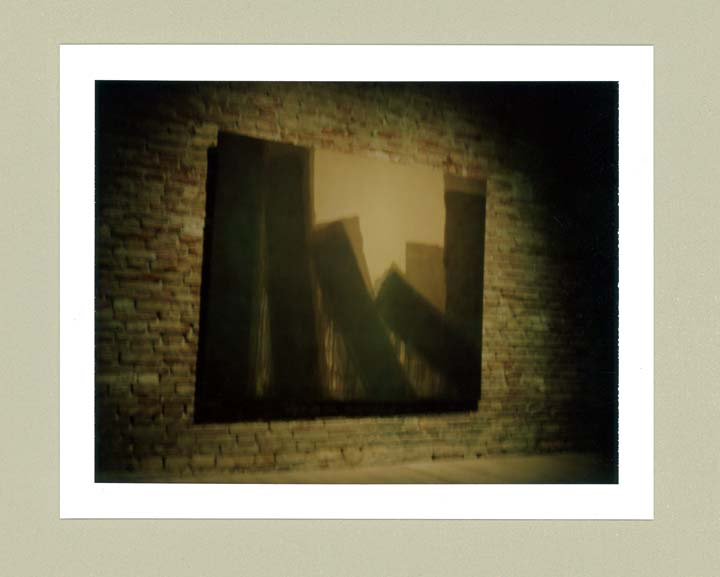 To coincide with this year's Biennale, Palazzo Fortuny has staged a major retrospective of Korean abstract painter Yun Hyong- Keun.
Yun's life spanned 1928- 2007, a period that saw Korea divided by 70 years of colonialism, war, occupation, and its continued militarized armistice. Riven completely asunder by the greed and fear of American and Soviet superpowers in the aftermath of World War 2, Korean people know the human cost of walls and division like few people alive today.
First jailed in 1947 at a campus protest, Yun was branded a left wing sympathizer and subject to years of continual arrest, eventually receiving a death sentence, which he mysteriously escaped. At 45 years old, blacklisted from the workforce by the government, he completely committed himself to art. Creating in a world that he called the "gate of heaven and earth", his works existed to bridge two worlds. His monolithic brushstrokes are subtle and bold, forming shapes reminiscent of walls collapsing, bodies falling, and leaving ghostly figures standing in their place.
Through it all, Yun sought to create a place where heaven and earth could meet, a place born of the upheaval of history and foibles of humanity but transcending to a better place and time.
La Biennale Venezia runs until 24th November more details here; https://www.labiennale.org/en/art/2019
Words Pablo Power pablopower.net
Categories
Tags