Pakistani-born contemporary artist Nasser Azam will unveil a new series of large-scale abstract paintings at the Saatchi Gallery from 30 May to 10 June 2019, documenting his visit to lake Saiful Malook near the mountains of Kashmir in 2018. Inspired by renowned Sufi poet Mian Muhammad Bakhsh, Azam journeyed to the mountainous paradise together with British Indian composer Soumik Datta and British Indian photographer and filmmaker Souvid Datta, where they created a body of work in situ, interweaving themes of persistence, personal struggle and sacrifice. Azam's previous work ranges from painting Malala Yousafzai's official portrait, sculpting the tallest bronze statue in the UK and painting in zero-gravity. I caught up with Nasser Azam ahead of his solo show opening next week.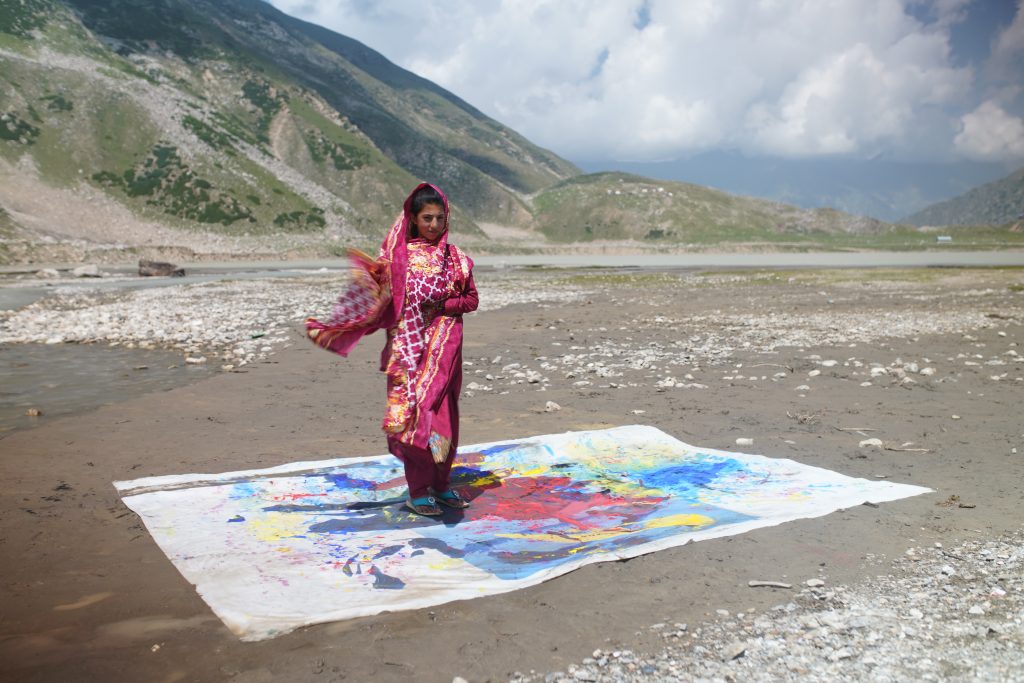 Nasser Azam: Saiful Malook. Copyright Azam Studio. Photo by Souvid Datta
This project, like many of your others, seems to lie somewhere between painting and performance. How would you describe your practice?
I am a painter who has executed a number of monumental bronze sculpture projects over the years. I like the ambition of painting – with sculpture you tend to spend most of the energy on the fabrication. As a result, your art has already moved on from the time you first conceived the idea to completion. I often get termed a "performance artist" – but nothing could be further from the truth. I perhaps didn't help the misinterpretation in that I termed the two extreme condition projects (Zero Gravity and Antarctica) as "performance painting" projects. But that was a finite term for those unique projects, where I was exploring the impact of harsh conditions on one's creativity.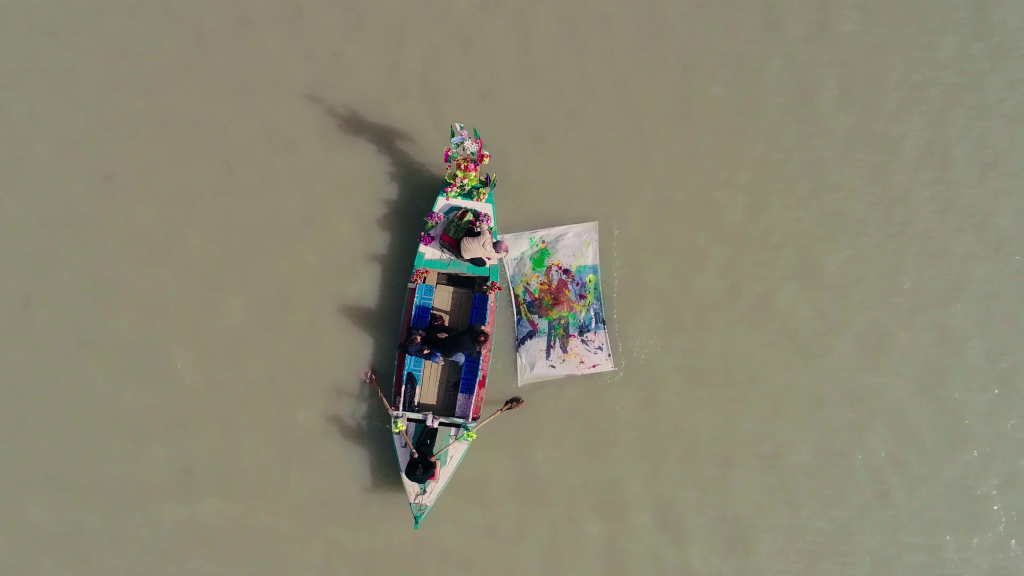 Nasser Azam Azam and the team on the Saiful Malook lake, August 2018. Copyright Azam Studio. Photo by Souvid Datta
Tell me more about your journey to lake Saiful Malook last year – was the collaboration with Soumik and Souvid a learning curve? how did your interpretations of the poem differ?
This was a journey very close to my heart – I was introduced to the poem by the Qwals Nushret Fateh Ali Khan when he translated it into song in the early 90's, and after some research I found that the poet and Sufi Saint Mian Mohammad Baksh, who penned it over a 150 years ago, were both born in Jhelum, the same city as me. So my initial thought was to visit the lake with a musician, who had a cultural heritage associated with the region, and who was knowledgeable of its rich cultural traditions. Both Soumik and Souvid, who are brothers from musical backgrounds, have travelled widely in India and made documentaries of the musical influences – so they were perfect partners for the project. What was different is how Soumik and I create our art – I generally respond quickly to the environment and can create work impromptu, which I was able to do in different locations around the lake. At each location, I tried to do a painting using simple palette of primary colours connected to the majestic settings of the lake. I continued with the themes connected directly with the poem on my return with the paintings I completed back in my studio. For Soumik, it was more a case of research and development, and gathering raw sounds and materials from which he will make an album. We still plan to do an immersive show at a later stage.

Azam painting on the rock, August 2018. Copyright Azam Studio. Photo by Souvid Datta
What was the decision behind using the poem as inspiration for your creative journey? Does this project mark a return to your roots?
There were many themes in the poem that resonated with me personally: I was born in Jhelum, same city as the Sufi Saint, Mian Mohammad Bakhsh, who wrote the poem over 150 years ago. The poem is a love story, but also a story of struggle and sacrifice. I recognized many similarities with my parents' sacrifices and journey to England for the betterment of their children; the struggles the family went through to adjust, and ultimately how persistence eventually pays off. I think that journey at an early age to a new, unknown place and the associated uncertainty and challenges have ultimately impacted both my take on life as well as my art practice; where there is a constant flux – and unfamiliar environments provide creativity for the art making. The trip was magical, demanding, emotional and creative. It was the first time I had been back to my roots in over 25 years and I think it has definitely changed me in the way I have responded in my work and truly feel it's a juncture in the way I make my art going forward.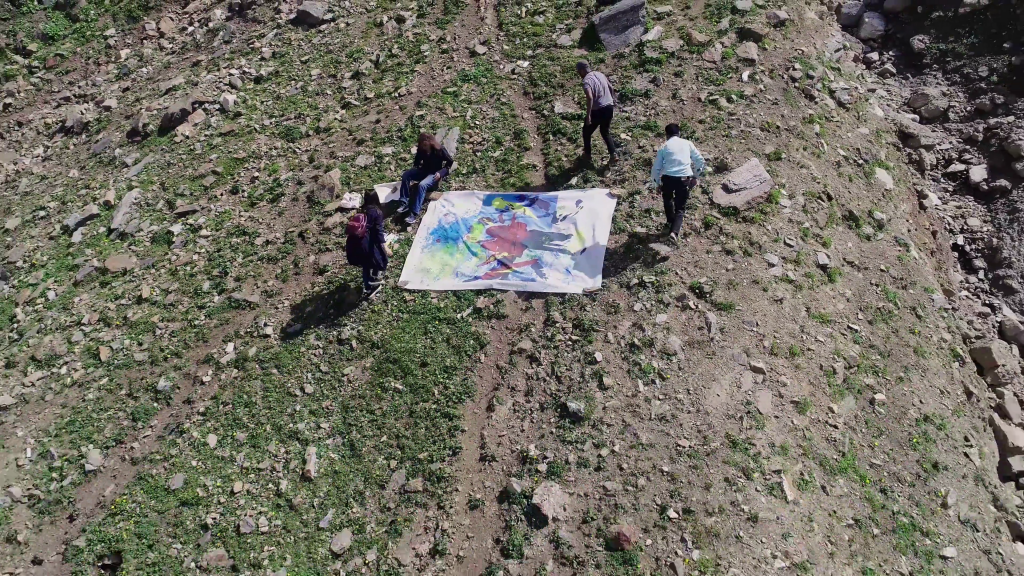 Azam painting on the mountain, August 2018. Copyright Azam Studio. Photo by Souvid Datta
Your projects are often monumental both in their emotional scope and physical size (I'm thinking specifically of pieces like your Francis Bacon homage, Zero Gravity, in 2008), and you've gained a reputation for creating art under extreme conditions. What lies next for you in 2019?
Over the last few years, I have been fortunate that I was able to execute each vision I had for a monumental project with the help of my amazing team. So after Saiful Malook, I will be stepping back and starting a new series of paintings.
Nasser Azam: Saiful Malook will be on display at the Saatchi Gallery from 30 May to 10 June. The exhibition has been supported by Marea, New York, Altamarea Group and Brookland Partners.
Categories
Tags