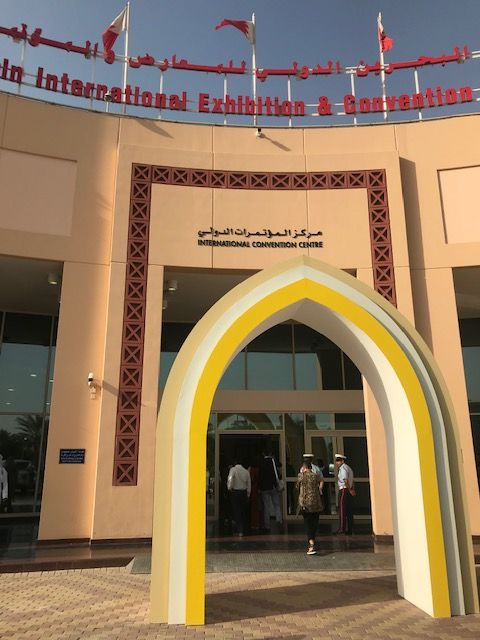 ArtBAB
Last week I visited the kingdom of Bahrain for the fourth edition of ArtBAB (Bahrain Across Borders) at the Bahrain Exhibitions & Convention Centre. After last year's edition explored the theme of 'Education', the fair returned in 2019 addressing the theme of 'Legacy' and celebrating the milestones that have been achieved since its launch in 2015. Kaneka Subberwal, the fair's founder and organiser explains that "legacy has a lot to do with the roots of Bahrain and Bahraini artists, and what is it that makes him or her unique."
The fair is divided into three main sections: the BAB Pavillion in the centre showcasing Bahrain Across Borders, galleries, and general entry artists. A noticeable aspect in all three sections was the presence of strong female artists: FAD presents a round-up of highlights and favourites.
BAB Pavillion
Back for its third edition, the BAB pavillion showcased works by local Bahraini artists and craftsmen who were selected by an expert curatorial panel. Amongst these is Hala Kaiksow, a prominent young weaver and designer who joined creative forces with architectural collective Bahraini-Danish to create an impressive tall narrow structure that visitors are invited to enter from one side and wind their way through a cocoon of nearly 100 metres of hand-woven cotton fabric, exiting on the other side.
I briefly catch up with Hala, who tells me that she really wanted to create a space that was
"kind of odd and put people in a situation where they had to interact with the textiles in a very different way, and I thought this was super interesting so we decided to have this narrow structure that is also really high and draws the eye up".
Read the rest of my interview with the young artist here: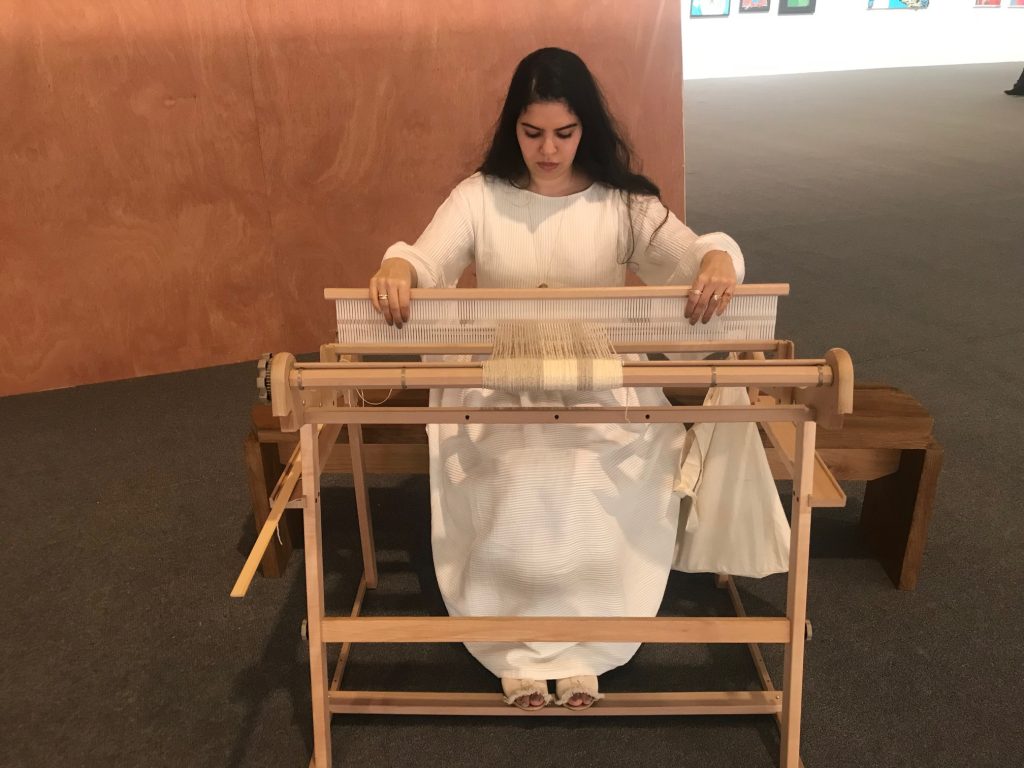 Hala Kaiksow
Artists
Exhibiting in the artist section of ArtBAB for the fourth year running, Lulwa Al Khalifa is a Bahraini self taught artist and member of the Royal family. Despite never having a formal art education (I observed that many of the artists exhibiting here have had no formal art education, as there is no local art school), her zest and energy for painting is apparent in the portraits she has exhibited at this year's fair. Her distinctive style lies somewhere between abstract and figurative, defined by organic broad strokes and flat surface areas combined with vibrant colours. A pair of works titled And In The End and The Love You Cake particularly caught my eye.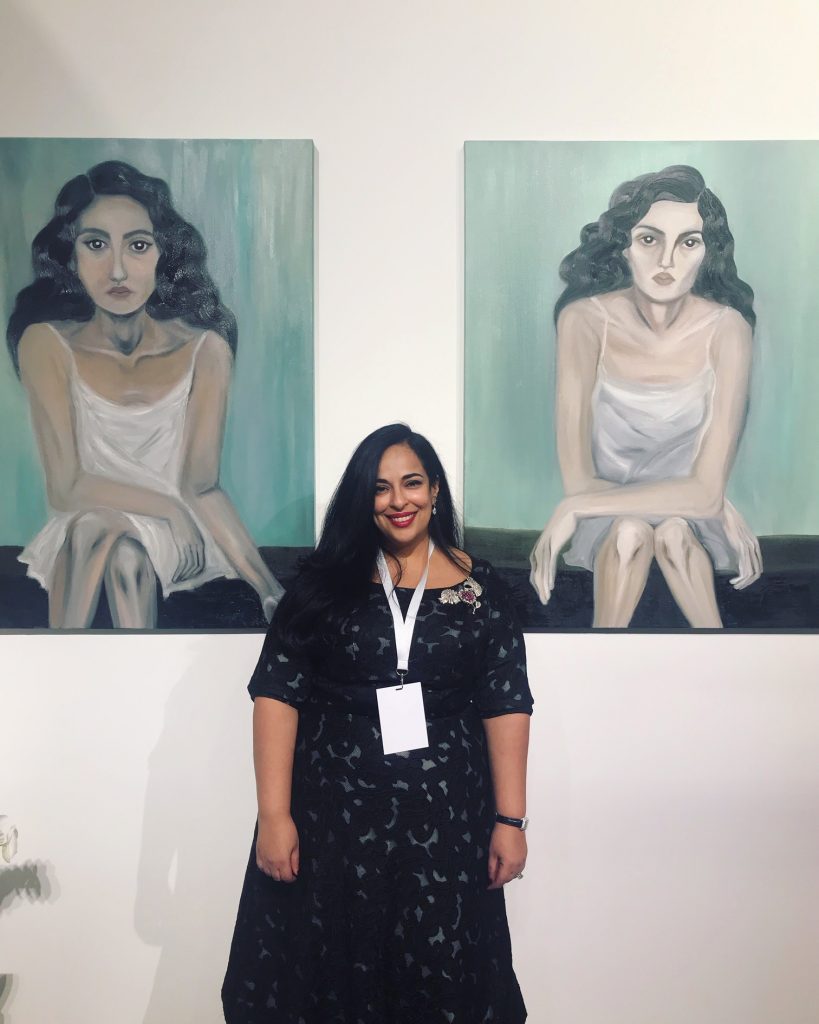 Lulwa Al Khalifa
Lulwa doesn't get too caught up in the process of creating her portraits:
"I start out with how I want them to be positioned and then it just sort of takes on a life of its own. I just have a general idea of how I want their demeanour to be, and I just let it flow – I don't plan anything."
I ask Lulwa what her thoughts are on how there is a prevalent majority of female artists exhibiting at this year's fair, and what this signifies for Bahrain and its cultural sector. She replies: "we're a pearling community here and men used to go for months on end to pearl dive and so society was controlled by the women. So that empowered them to be equal, a long time ago."
Lulwa Al Khalifa has exhibited internationally, including at the Victoria & Albert Museum and Saatchi Gallery in London.
Galleries
The highlight of the galleries section of the fair was undeniably booth B03 by Cace, the College of Arts and Creative Entreprises at Zayed University, which featured engaging works by four young female graduates of the college that explore the role of for the Gulf's creative economy and cultural identity.
Amongst these is Emirati born Afra Al Dhaheri, who grew up in Abu Dhabi until she left to complete an MFA in painting at the Rhode Island School of Design, and now teaches painting at Zayed University. In direct contrast to the paintings by Lulwa Al Khalifa, Afra's works are all about the process, more so than the finished result. Her work Untitled was created over a period of three weeks during her time in the US and consists of hand-woven cotton fabric with cement markings on it. She wove the material to cover the entire surface area of her studio, and altered each stitch in the delicate cheesecloth-like fabric by hand. By intentionally making the process laborious for herself, she prolongs her experience with her childhood memories of buildings that have now ceased to exist. The fragility of the fabric is emphasized by the weight of the cement clinging to it, although she is quick to point out that "everyone associates cement as this resilient solid substance but it can be fragile too".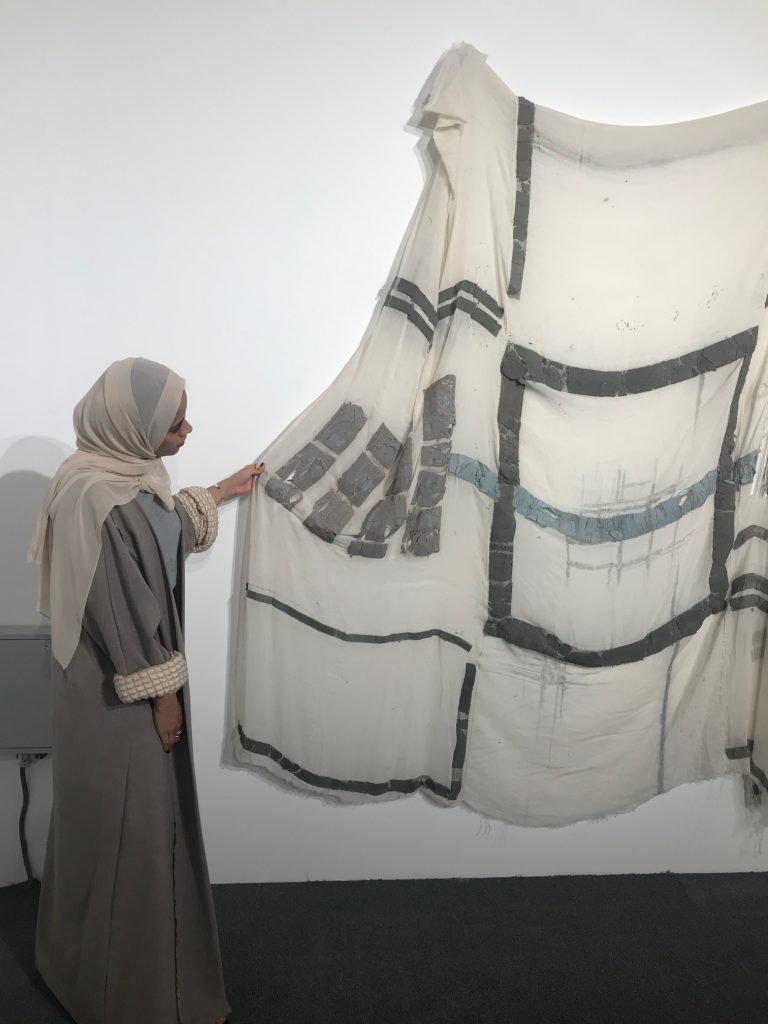 Afra Al Dhaheri
Her second piece, "Between the Collective Memory and the Documented #1" further examines loss of childhood memories as a result of city expansion, questioning what it means for something to be old vs new. She has printed photographs of a local hospital building in her native Abu Dhabi prior to its demolition over and over again without topping up the ink, until the image has all but faded. The threading adds a final textured layer to the work, referencing an older generation's way of passing time. These buildings then live on in the collective memory.
The booth also features work by Narjes Noureddine a calligraphy artist. Her Structural Chaos installations are of Arabic characters in stainless steel that are words from a poem and can be rearranged or draped across the floor to read a certain way or simply left in a heap. By obstructing the meaning of the words she aims to question what poetry means for young people in the UAE.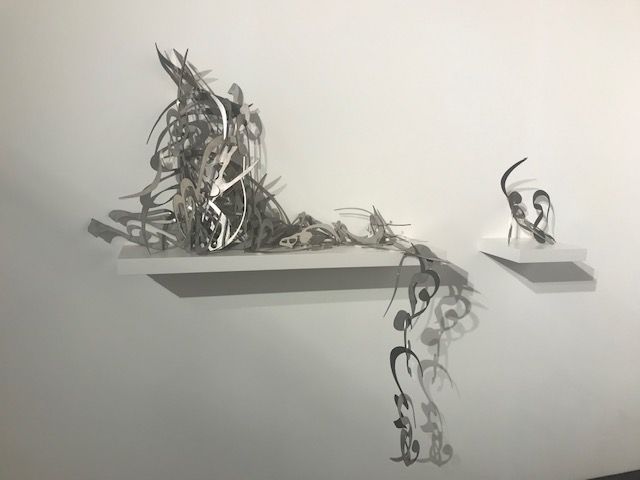 Narjes Nouredaward-winningd
Virtual Reality
Taking the art experience beyond borders in a new way, this year's fair also features a virtual reality corner (the first of its kind in the region) that allows visitors to witness art from three different collections: The Kremer Collection in Amsterdam, the DSL Collection in China, and Kohra Contemporary.
The Kremer Collection's virtual reality experience is being represented by Joel Kremer, the son of the Dutch art collector who has an extensive background in tech, and has initiated both the collection's VR Museum and the Mighty Masters kids programme. He sees virtual reality as an educational opportunity, particularly for children with autism. Visitors to the virtual Kremer Museum are able to view not only the front of each painting in detail, but also the back of each canvas, and any X-ray versions available.
The DSL collection, which was founded in 2005 by Sylvain and Dominique Levy created the DSL Museum, the world's first virtual reality museum. Hand controls enable you to navigate the spaces and get closer to the works than you would in real life. There are illuminated circles mapped out on the virtual floor space that indicate available audio information about the artist
Khora Contemporary is the world's first virtual and augmented reality production house, created as a collaboration between Khora VR and Faurschou Foundation in Copenhagen. Visitors are invited to explore virtual worlds created by Christian Lemmerz, Tony Oursler Erik Parker, as well as an oddly disturbing and claustrophobic scene from Paul McCarthy's ongoing VR series C.S.S.C. Coach Stage Stage Coach, Mary and Eve.
International Presence
There were also several international galleries and artists showing at this year's event. Amongst the UK participants was London based contemporary dealer and publisher TAG Fine Arts, who presented a curated display of artists engaging with cartography, featuring a stunning gold leaf map of Bahrain by Ewan David Eason that attracted a lot of attention from local visitors who were trying to pinpoint their homes on it.

TAG Fine Arts
London born Jonathan Parker exhibited his dream-like scenes of oil painted on muslin on wood. Known for his portraits, particularly the works on display at the National Trust in Northumberland, his selection of works for ArtBAB included landscapes and interiors, but all feature the same vertical and high horizon that contributes to their surreal atmosphere.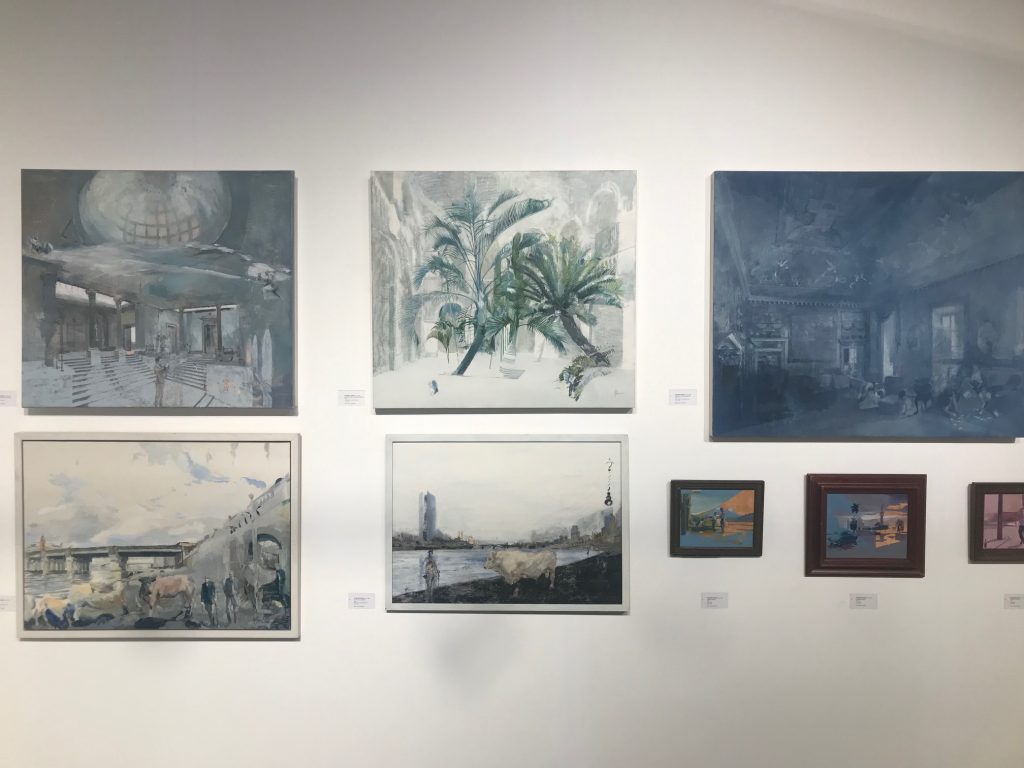 Another interesting general entry artist is Russian Valentin Korzhov, who has taken the meaning of 'Bahrain across borders' to celestial levels. His works are Jeff Koons-like cosmic sculptural objects that come in a range of sizes, drawing from the night sky as inspiration. His process begins with photographs of stars from the Hubble space telescope gallery, which he then renders into shapes and finally 3D fibreglass objects after a lengthy process involving polishing, and a chemical reaction with chrome and silver. Valentin lives and works in Moscow. His exhibition Archeology of Memory was showcased as a collateral event at the 5th International Moscow Biennale of Contemporary Art in 2013.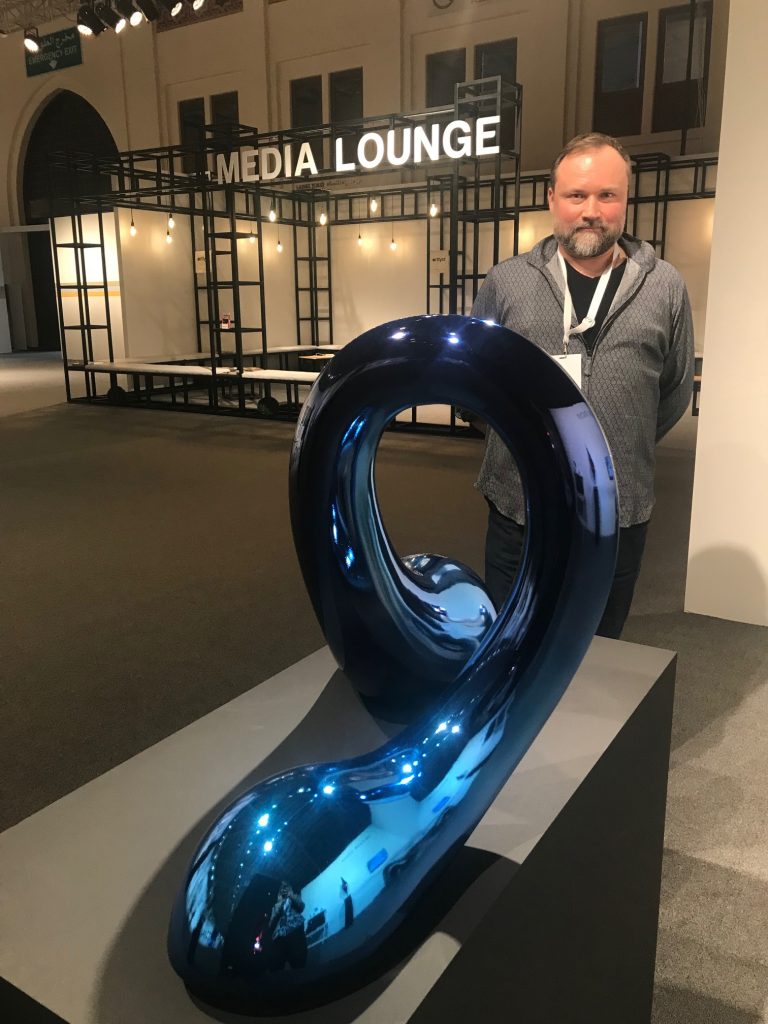 UNFOLD ArtXchange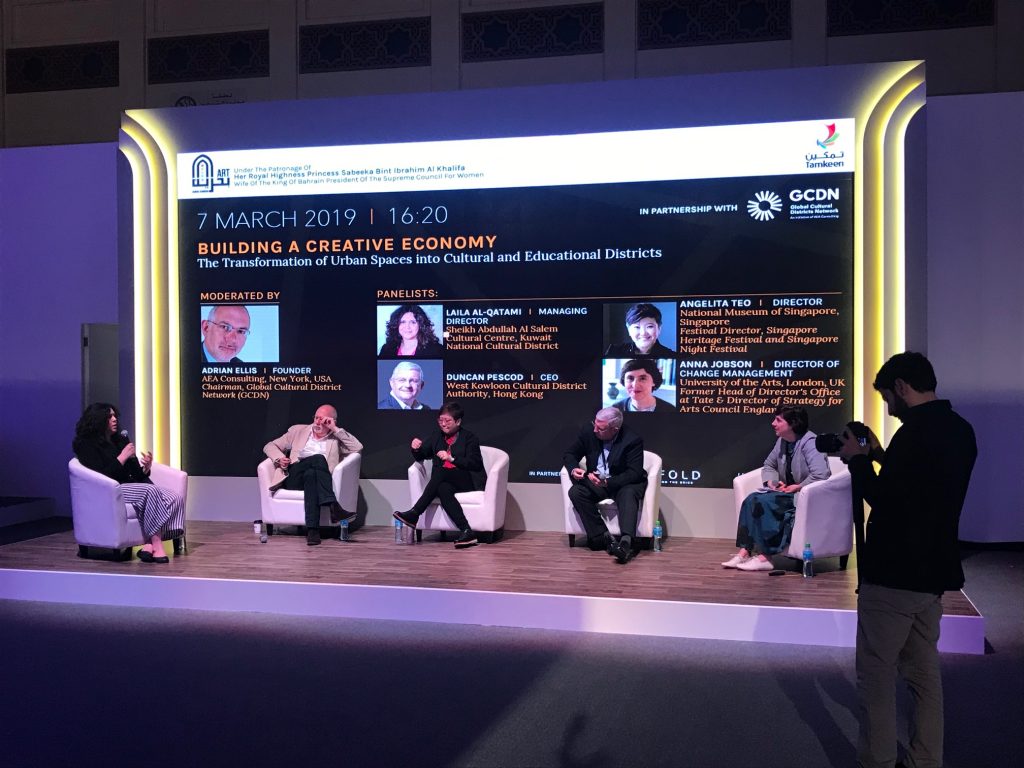 This year ArtBAB has also partnered with UNFOLD ArtXchange to bring together a fascinating programme of talks. Panelists from both the cultural and tech sector including VR specialists, Verisart co-founder Robert Norton, and founder of BlockchainHub Dr Shermin Voshmgir have been invited to participate in discussions on topics such as the creative economy, blockchain, artificial intelligence and copyright.
Above all, what has been refreshing about ArtBAB is its ability to retain a distinct atmosphere of Bahrain's local culture and heritage whilst acknowledging that it isn't necessarily the art world's largest or indeed most significant event. As Kaneka points out:
"I have not created ArtBAB to be a fair that has 100 galleries, or even 80 galleries because it's a niche fair – our focus is completely different, we are making connections and building relationships – we are breaking borders, we are not about competing with anybody. I personally feel that taking smaller steps, and sturdier steps is way more important than taking a big jump and falling right down."
A former gallerist herself, it is evident that for Kaneka the focus of organising an art fair has always been the relationships forged as a result, not quantitative questions of how many or how much.
"The focal point is also ensuring that the participants get something out of it."
I am already looking forward to seeing what ArtBAB has in store for us next, with the fair's organisers Art Select announcing that there will be a Bahraini focus at the Paris Biennale in September. The Paris Biennale runs from Friday, September 13, to Tuesday, 17 September, 2019. artbab.com
Categories
Tags