Accumulation: Legacy and Memory will bring the best of contemporary and modern art from Bahrain to London for the third edition of Bahrain Art Week in London curated by ArtBAB director Kaneka Subberwal and Amal Khalaf of the Serpentine Gallery.
Showcasing and celebrating Bahrain's rich history as one of the oldest contemporary cultures in the Middle East, Bahrain Art Week will provide a platform for Bahraini artists to expand their international influence through London's dynamic art scene, prior to Art Bahrain Across Borders 2019 fair. Accumulation brings together works by 11 Bahraini artists whose practices address subjective experience, memory, notions of progress and the inevitability of decay. The exhibition is a meditation on the historical legacies of Bahrain from traditional crafts, industry and pop culture to modernism's forms, including art and architecture. The encounters that unfold through videos, paintings and sculpture draw links between the concepts of legacy, memory and value. The exhibition will present works by: Aysha Al Moayyed, Hala Kaiksow, Othman Khunji, Balqees Fakhro, Marwa AlKhalifa, Dawiya Al Alawiyat, Faiqa Al Hassan, Mohammed Al Mahdi, Nabeela Al Khayer, Taiba Faraj and Salman Al Najem.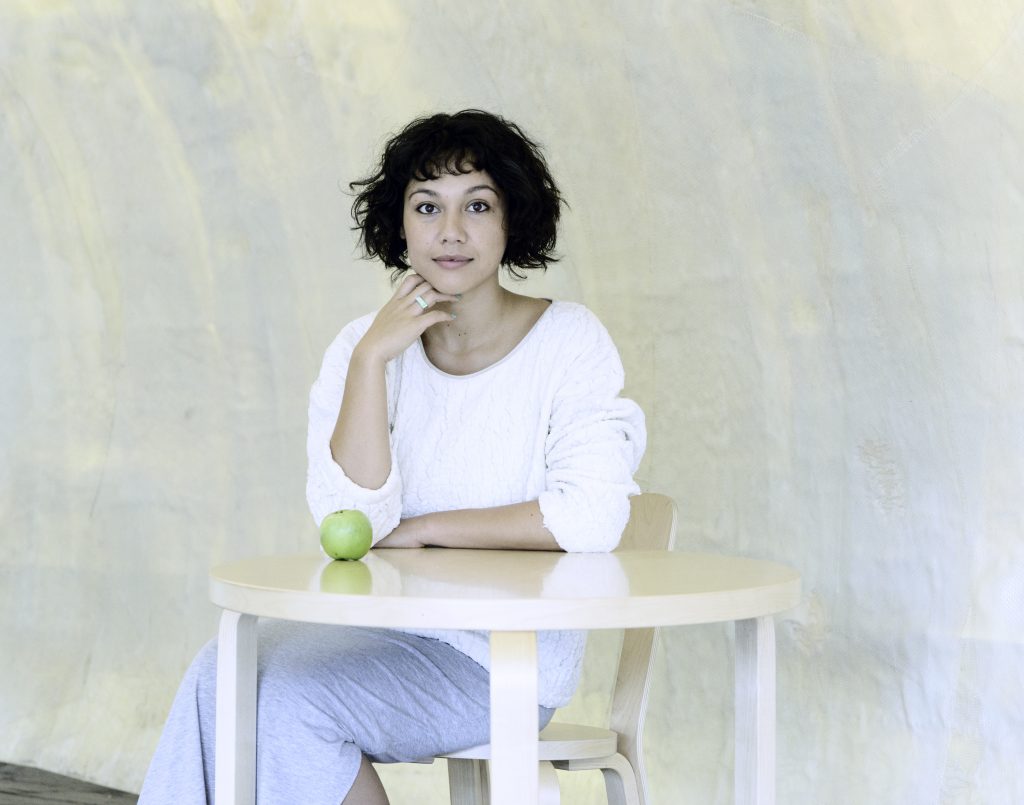 Amal Khalaf photo by Inza Jeano
Co-curator Amal Khalaf of the Serpentine Gallery comments:
Standing at any point in Bahrain, you know there is a layer of water beneath the sand that gives Bahrain its name, two seas. And beneath that there is an energy that was sedimented beneath our feet from the lives of creatures past, giving a concrete reality to the idea that capital represents an accumulation of time, labour, value and potential futures. The potential at work in this common relationship to oil, water and the sea is what connects the lives, histories and culture of Bahrain. If a nation is constructed through collective memory, and a sense of belonging to a set of values, histories and narratives, then art can be a way in which it is created, shared and also challenged.
We managed to get some time with Amal Khalaf ahead of the third edition of Bahrain Art Week in London to ask some questions about the exhibition and the artists involved.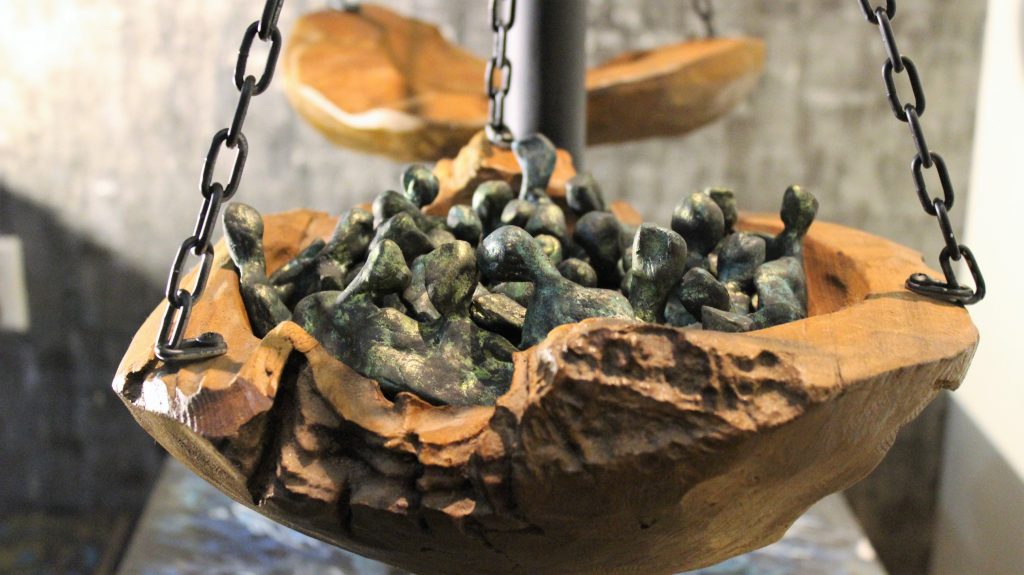 Taiba Faraj
Why did you decide to work on this exhibition?
As a Bahraini curator, it is a huge pleasure to work with artists and practitioners living and producing work there. I wanted to make links between artists working in Bahrain and those working in London, and to start conversations here in London through these artists work and the exhibition.
Can you give us some insight into the title Accumulation: Legacy and Memory?
Accumulation is really speaking of the condition of our current moment, not just in Bahrain but all over the world.  We live in a time of constant accumulation, not only of capital but also of materials and of Things: technologies, information, buildings, cities, trash, pollution and so on. A Condition of constant growth. Alongside these material examples there is also an intangible sense of accumulation- that of histories, colonial legacies and micro and macro political trajectories.  Image making practices embedded within art are great generative spaces to explore these ideas. The works in the show are presented as images of accumulation, to open up a cultural inquiry and to create a reflective space linking specific experiences of change, growth and rapid accumulation in Bahrain to the rest of the world and more specifically London.

Aysha Al Moayyed Born in the purple, 2018, acrylic on canvas.
Why 11 artists?
I wanted to include a range of artists that currently practise in Bahrain, all of whom are born at different moments of Bahrain's rapid development and who are reflecting on time and the growth of a post-oil Gulf condition.  Many of the works are references to the fast pace of the present, such as Othman Khunji's video works and Aysha Al Moayyed's consideration of the effect of technology on our lives. The show also includes work which protests speed, such as Nabeela Al Khayer's dreamy water paintings and Hala Kaiksow's adoption of the traditional weaving processes.   

Hala Kaiksow Photo DARIO RUGGIERO  
Are you surprised that the elements of the earth (oil, water etc) still have such control over the people that use them? 
No, I would assert that the cause of world conflict often comes down to these elements and within the context of Bahrain they have even greater value as a result of colonisation. Furthermore, as islanders, the power of the sea and water is always present no matter how much we have turned away from the sea as an industrialised nation.  
You have chosen an intimate space to showcase the work – do you feel the work will have a cumulative power that benefits from this intimacy? 
The intimacy of the space means that the works are in conversation with each other. I wanted to create a space where connections between the works were naturally formed.  
Do you need to look back and forward to truly understand a place?
I would say that an understanding of place is always subjective, as are ideas of the past and of history. I am currently considering how artists are able to project themselves and their ideas into the future.  How are we able to harness a collective vision of new futures? How are artists able to tap into this vision through image making and process driven practices??
If you had a choice would you prefer to live in a Bahrain pre-oil or post-oil? 
Pre-oil. Though that would probably limit the mobility that I have today. My main reason for this decision is because of the water crisis in Bahrain which often scares me- I have heard many stories from my father and late grandmother about the abundance of freshwater springs and trees that existed as recently as the 1980s, all of which have now dried up due to industrial disaster.    
Do the works in the exhibition fill you with hope for the future? And if they do why? 
They are not necessarily designed to fill one with hope. However, their message is certainly strong.
Final question: do you feel that Bahraini artists have a distinct message in their work as opposed to other artists from the region as a whole?
There are so many artists working in Bahrain now, despite the apparent shrinking of traditional gallery spaces on the island. More and more artists are adopting interdisciplinary techniques and are challenging where and how their work is shared. This new diversity of practices is exciting and I think that it is through a multiplicity of voices, approaches and media that we see an evolving artistic community with many different, yet strong messages to convey.   
Accumulation: Legacy and Memory, Bahrain Art Week in London Alon Zakaim Fine Art, 5-7 Dover St, Mayfair, London W1S 4LD Wednesday 21st – Wednesday 28th November 2018 Private View Tuesday 20th November 2018, 6-8pm artbab.com

Mohamed Al Mahdi The Monster, 2018, Acrylic and colored pens on canvas, 40x40cm
Categories
Tags