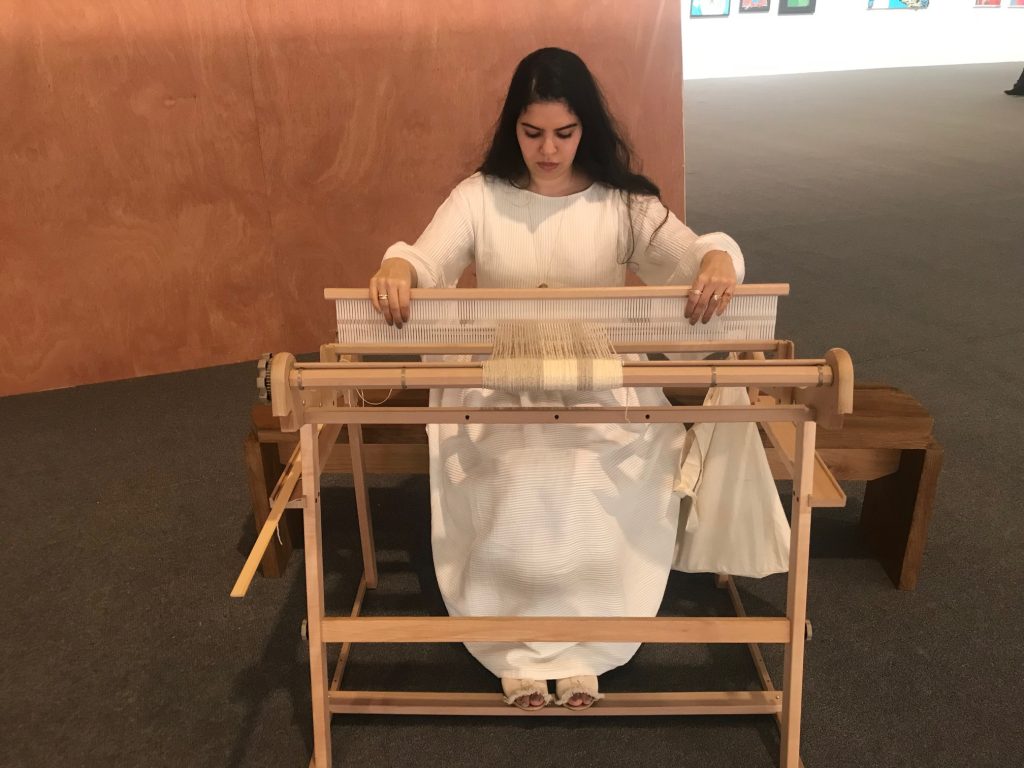 This year's ArtBAB (Bahrain Across Borders) pavillion showcased works by local Bahraini artists and craftsmen. The artists have been handpicked by an expert curatorial panel consisting of Amal Khalaf (Projects Curator, Serpentine Galleries, London), Nathalie Anglès (Co-founder and Executive Director of Residency Unlimited, New York), Rebecca Anne Proctor (Editor-in-Chief, Harper's Bazaar Art Arabia) and Snejana Krasteva (Curator, Garage Museum, Moscow). Amongst the selected artists is Hala Kaiksow, a prominent young weaver and designer who teamed up with art collective Bahraini-Danish to create a tall narrow structure. FAD caught up with the talented young artist to learn some more about her practice and what it means for her to be an ArtBAB participant:
Could you talk us through the piece, from what I understand it's a collaboration?
Yes.
So, who else is involved?
It's a collaboration with us and Bahraini-Danish, who create beautiful furniture pieces and installations and things like that, and they are a collective of 3 people. We had a lot of conversations before we reached this endpoint. I really wanted to create a space that was encompassed [by] these textiles, and when they came in and suggested creating a structure that was kind of odd and put people in a situation where they had to interact with the textiles in a very different kind of way, I thought this was super interesting so we decided to have this [very] narrow structure that is also really high so it draws the eye up. It's nice when you're inside because you feel like the textiles are hugging / enveloping you into [its] world.
Is this your loom?
Yes this is my biggest loom, you can get all sorts of sizes but generally it is 80 centimetres, so if I weave a full length weave on this it will be 80 centimetres wide and then it can be any kind of length. And then usually what I'll do is I'll patch it or I'll think of the seams [or decide] on a pattern so that this kind of matches.
How is the weaving process involved?
In the studio we work both with weavers [from] India, with an organisation called WomenWeave, which helps women to sustain their lives through weaving, and I also weave my own textiles and work with weavers [from] Bahrain. So it's kind of a collaboration of all these different makers in Bahrain so when I'm weaving as I'm doing other things as well it takes quite a bit of time, but when I'm kind of focused and in the zone it goes faster.
Is it quite meditative?
I get really in the rhythm of making. I think it's nice because when you start making with your hands your mindset flips a little bit and you look at things kind of differently. We wove about 94 metres of the cotton and then we patched them all together, and I hand dyed them, and then the diamond shapes are in handwoven silk. I wanted [their] transparency to contrast with the solid cotton woven fabric. And they're died in onion skin, fustic, and some of them are [further] darkened in an iron bath.
It really is the centrepiece of the fair, everyone is gravitating towards it.
I hope so, I hope people are enjoying it and kind of putting themselves in a situation they wouldn't be in otherwise, and trying to push the boundaries of [their] thoughts and what they're comfortable with, especially in our society to get in this tiny space.
I understand that you trained as a sculptor?
Initially, my mediums were metal and glass. [For example], what I did for my bachelors degree show was an installation of a woman's closet. It had all these casts and a stained glass corset and it was kind of like walking into her realm of protection. And all these evil eye breasts that I cast out of glass. I have this overarching theme of protection that runs through my work, [of] a woman trying to find or create her own means of protection.
There are so many strong female artists at this year's ArtBAB, it's really good to see. This female leadership seems to stretch back to the era of Bahrain's pearl diving industry?
Yes, men would leave and women have to find ways of sustaining their lives for months at a time, so it really pushed them to be strong and provide for their families.
Hala Kaiksow has exhibited internationally and has had some of her work acquired by the Victoria and Albert Museum in London. halakaiksow.com
Categories
Tags