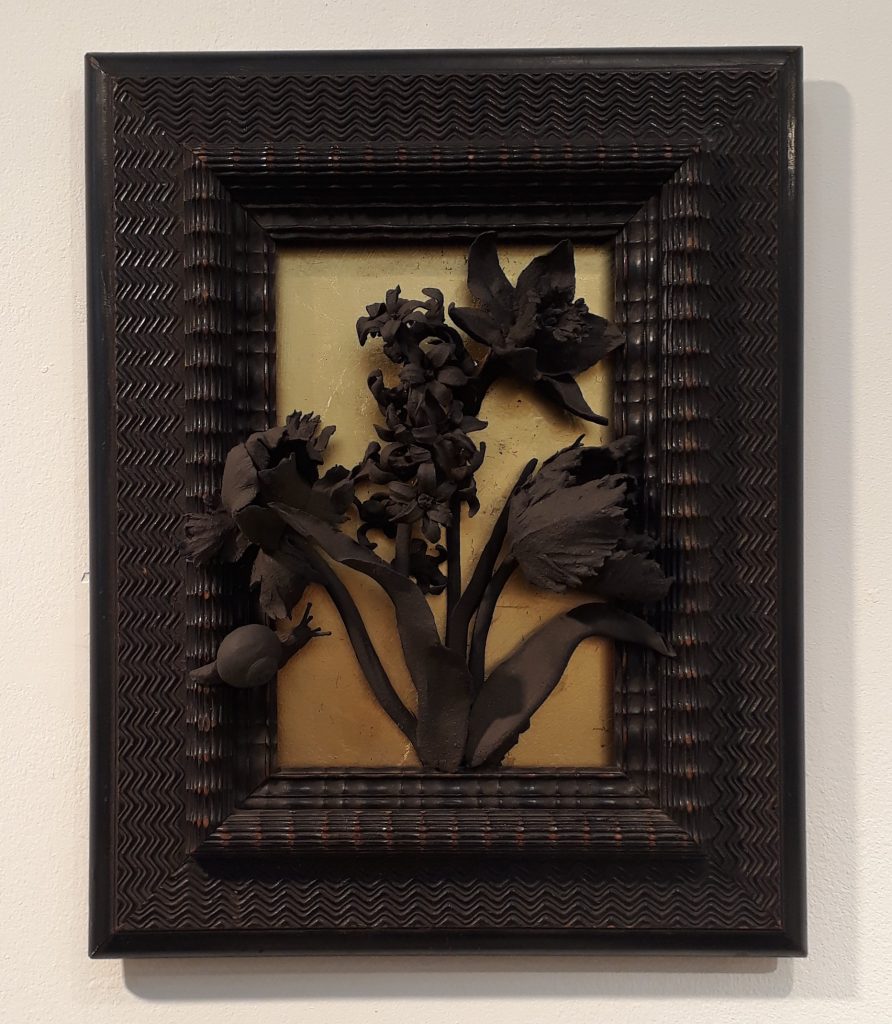 Kaori Tatebayashi: 'The Night Garden, Delft', 2018
What's the difference between art and design? Is it just a matter of whether the product is functional or not? Or whether the exploration of ideas is a prime purpose of making work? Whatever the case, such boundaries are always porous – indeed, ceramics and tapestry are increasingly popular media in mainstream contemporary art . The Collect fair run by the Crafts Council at the Saatchi Gallery in London (28 Feb – 3 March) gives chance to look at the potential crossover through over 300 artist/designers. It would be easy to focus on five whose work I have already written about: Carolein Smit, Tim Rawlinson, David Clarke & Tracey Rowledge, Claire Partington and Livia Marin. So here are five others whose work also appealed: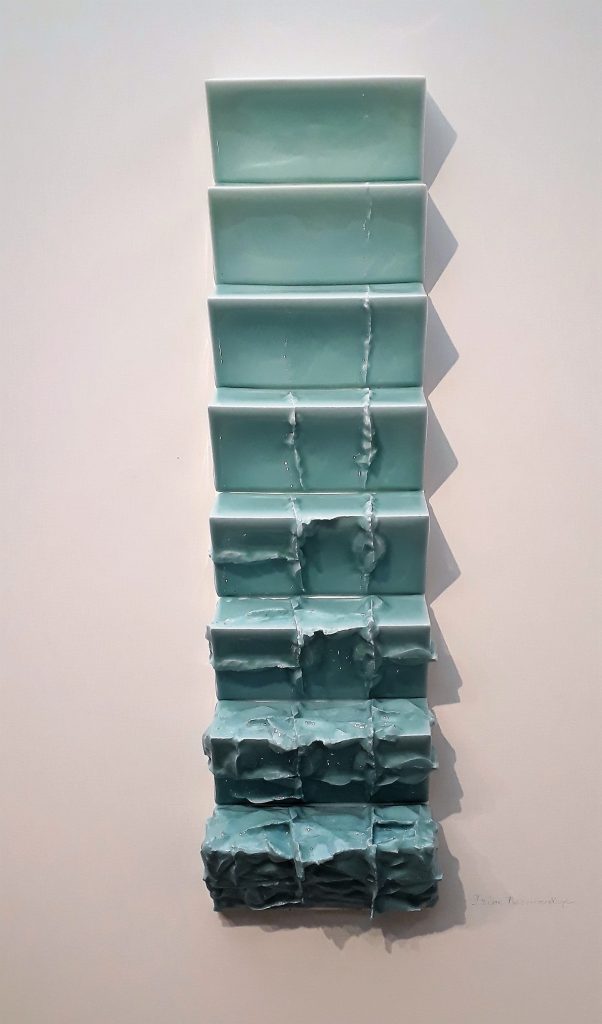 Irina Razumovskaya: Staircase, 2018 at Officine Saffi, Milan
The young Russian's wall mounted porcelain is coloured by the traditional Chinese jade green celadon glaze. Razumovskaya has studied in St Petersburg, Jerusalem and London, but this was inspired by a residency in Jingdezhen. What might have been minimalist regularity gives way to either top to bottom story of deterioration or the sequence of a breaking wave.

Sara Peymanpour: Hejab in one of 15 artist-led solo stands branded the 'collect open'
This hejab is made from gold and jewels in a pattern resembling the mosaics on mosque doors in Peymanpour's native Iran. She told me she'd have liked to wear nothing but this golden cage in order to maximise its taboo-challenging impact, but had feared that might not be allowed… Still, a better bet than wearing it in Iran, where a prison term would follow.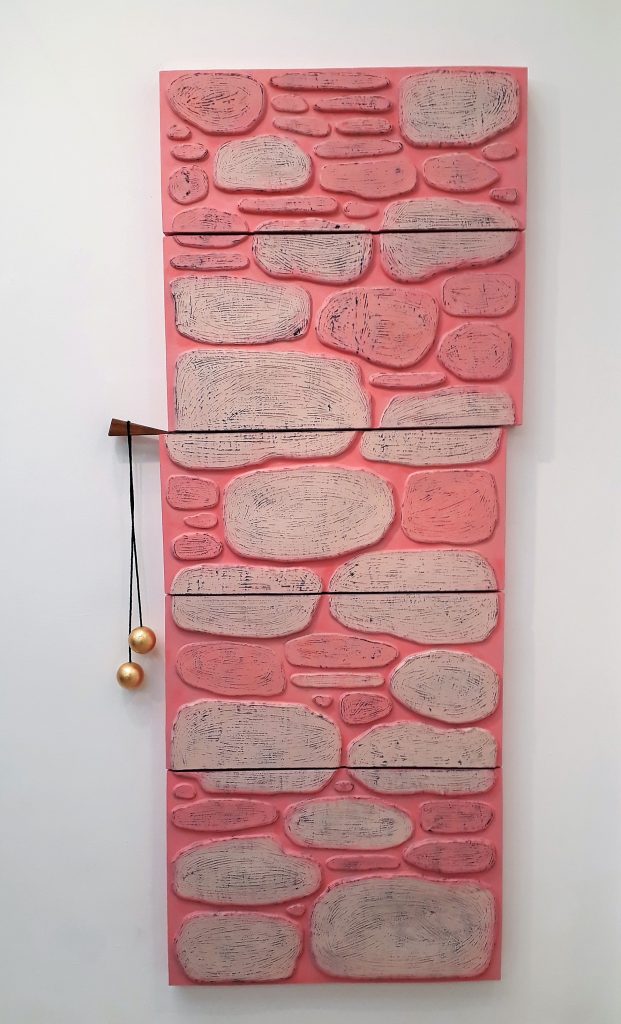 James Rigler: Herm 1, 2019 at Craft Scotland
The New Zealand born Glasgow-based artist has a distinctive ceramic style which often looks to upend hierarchies of objects. Here what looks like an inedibly architectural wall of ham proves to be a punny update on an ancient Greek tradition. Herms are stone figures of head, torso and genitals, linked with the cult of Hermes, god of fertility. Hence, it turns out, the dangling balls.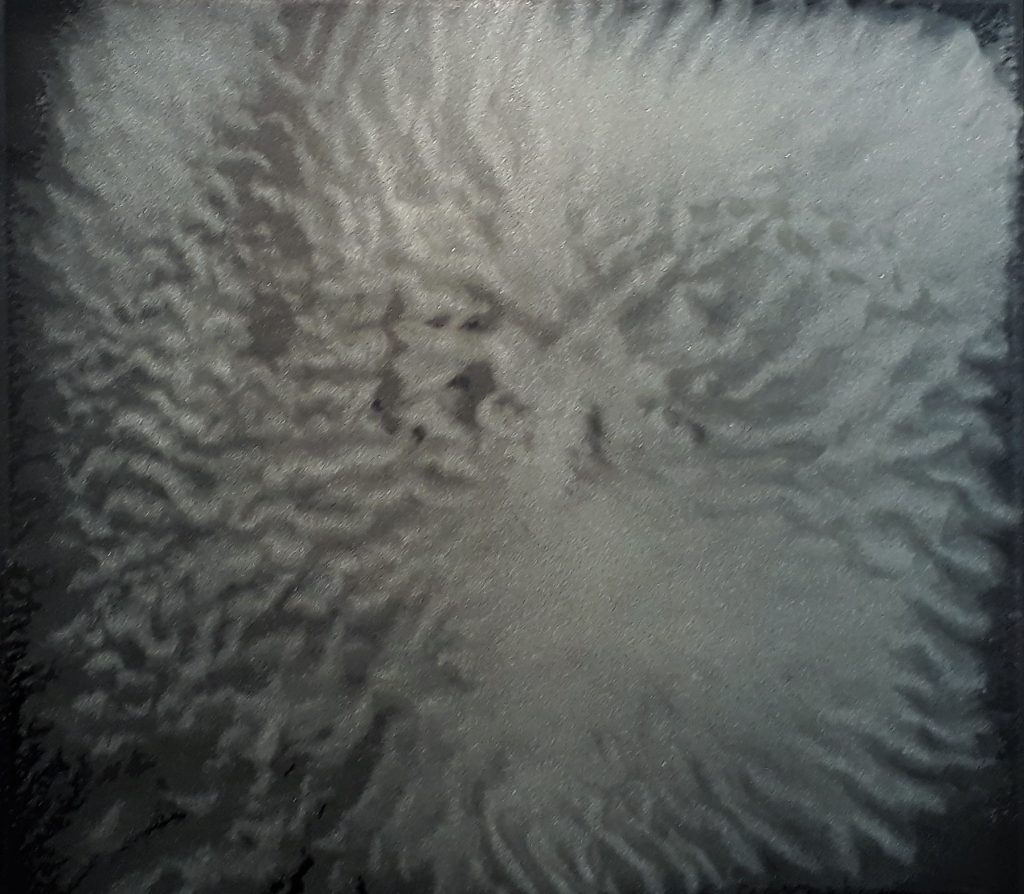 Lada Semecká: Flow V, 2016 at Galerie Kuzebauch, Prague
The Czech Gallery showed four interesting artists in the most coherently curated stand, grouped as 'Glass Rituals'. 'Flow V' is made from fused glass, for which glass crystals are sprinkled onto sheet of molten glass, Semecká then shifts the base around in order to obtain rippling effects which – in a nice paradox – suggest the ultimate dry of desert sands as much as ultimate wet of the ocean.
Kaori Tatebayashi: The Night Garden, Delft, 2018 at Joanna Bird Contemporary Collections, London (top image)
The Japanese ceramicist creates sculptural tableaux from stoneware. This is from a series placed against gold leaf in Dutch-style wooden frames, appropriately inspired by still lives from the Netherlands' golden age. In a neat touch, Tatebayashi delegated titling this series to poet friend Gregory Warren Wilson – indeed, when I spoke to her she wasn't entirely sure what he'd called what. Nice snail…
Art writer and curator Paul Carey-Kent sees a lot of shows: we asked him to jot down whatever came into his
About Paul Carey-Kent