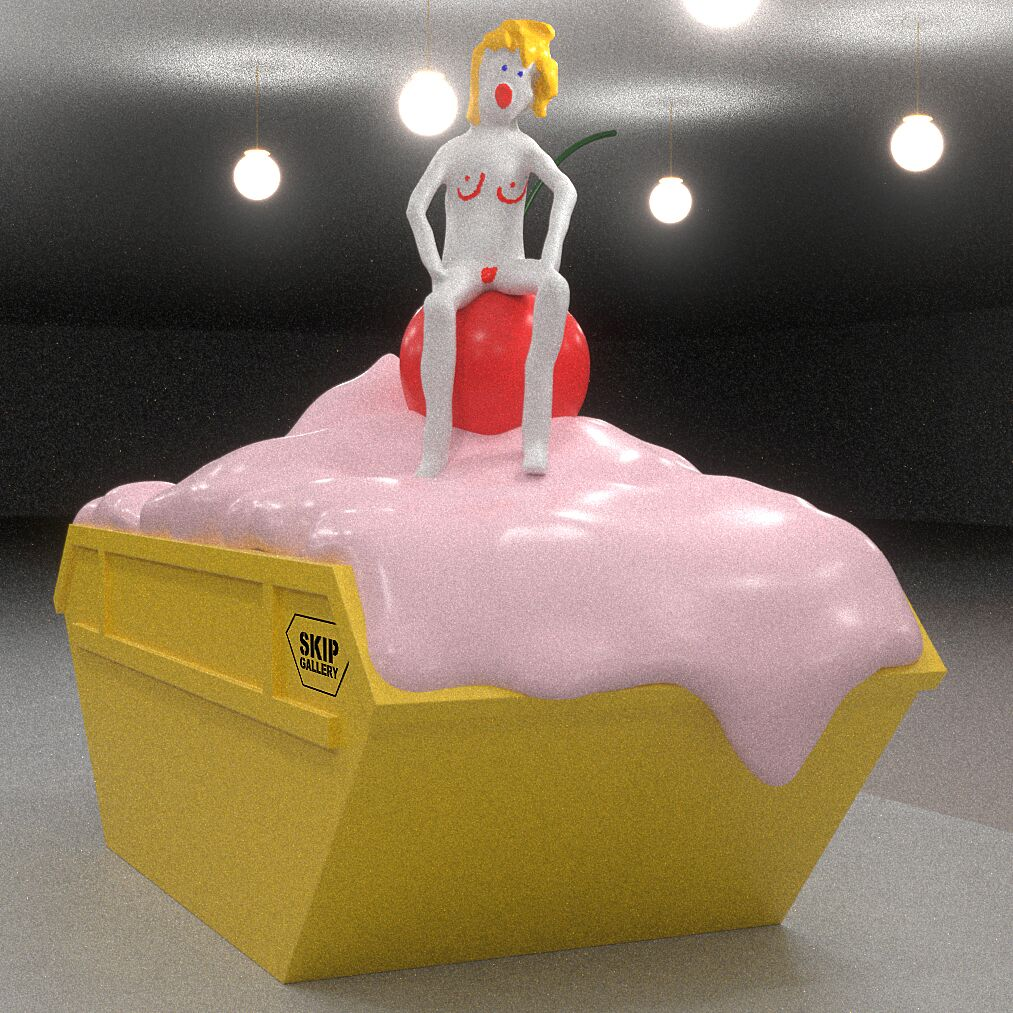 Visual concept for Maja Djordjevic's Nothing to Wear Again!, 2019
From Monday 4 March, Selfridges' Oxford Street flagship plays host to a new and unexpected artistic intervention. There, on the shop floor between Chloe? and Gucci, artist-curator duo Baker & Borowski present Like it or Lump it – the latest, largest and most ambitious project in SKIP Gallery's three-year history.
In collaboration with Selfridge's nationwide State of the Arts campaign (which also includes events and exhibitions in Birmingham, Manchester and online), SKIP founders Lee Baker and Catherine Borowski have selected three intriguing and imaginative artists-on-the-rise to participate in the provocative month-long programme.
Maja Djordjevic, Paul Kindersley and Claire Pearce are the latest in a growing line of high-profile artist collaborators invited to create site-specific works for Baker & Borowski's mobile exhibition programme, centring on a converted skip. Chosen for their wit, their playful, uncompromising approach and their convention-puncturing work, the three follow in the footsteps of the likes of David Shrigley, Gavin Turk, Richard Woods and Ben Eine, all of whom have taken on the challenge of creating work for Britain's most unusual exhibition space.
By breaking art out of its expected gallery context and implanting it in unexpected environments, Baker & Borowski encourage – perhaps even coerce – the public to confront each artwork head on and consider how its meaning might be influenced by its setting in a receptacle for rubbish. Now it's the turn of the shoppers of Selfridges. As they pass through the heart of the store and encounter the modified skip, visitors will be invited to consider topics ranging from the playful to the provocative.
Over the course of the month, the three artists of 'Like it or Lump it' will use sculpture, theatre and digital technology to explore subjects ranging from identity, body politics and gender to authenticity and cultural history. While Djordjevic and Kindersley will reveal work in the skip itself, Claire Pearce has been charged with fulfilling Baker & Borowski's first Fitting Room Residency, which will see one of the store's changing rooms transform into a playful digital installation for the age of the selfie.
'In an age of frightening conservatism we have gravitated towards artists that are trying to push back. Our choice of artists for Selfridges has definitely come from the questions the artists raise about the notions of beauty and identity in the 21st century.'
– Lee Baker, co-founder SKIP Gallery
Like it or Lump it 4–31 March 2019 Selfridges, 400 Oxford St, Marylebone, London W1A 1AB
SKIP Gallery Series commissioned by Baker & Borowski
Nothing To Wear Again! by Maja Djordjevic (4–17 March)
Ship of Fools by Paul Kindersley (18–31 March)
Ground Floor, Accessories Hall, Selfridges (Located between Gucci and Chloé)
Fitting Room Residency commissioned by Baker & Borowski
Infernal Desires by Claire Pearce (4–10 March)
Fitting Room, Second Floor, Designer Galleries
Paul Kindersley performance times:
Tuesday 19: 6.30 – 7.30pm
Wednesday 20: 1.30 – 2.30pm
Thursday 21: 6.30 – 7.30pm
Tuesday 26: 6.30 – 7.30pm
Wednesday 27: 6.30 –7.30pm
Thursday 28: 1.30 –2.30pm
Categories
Tags