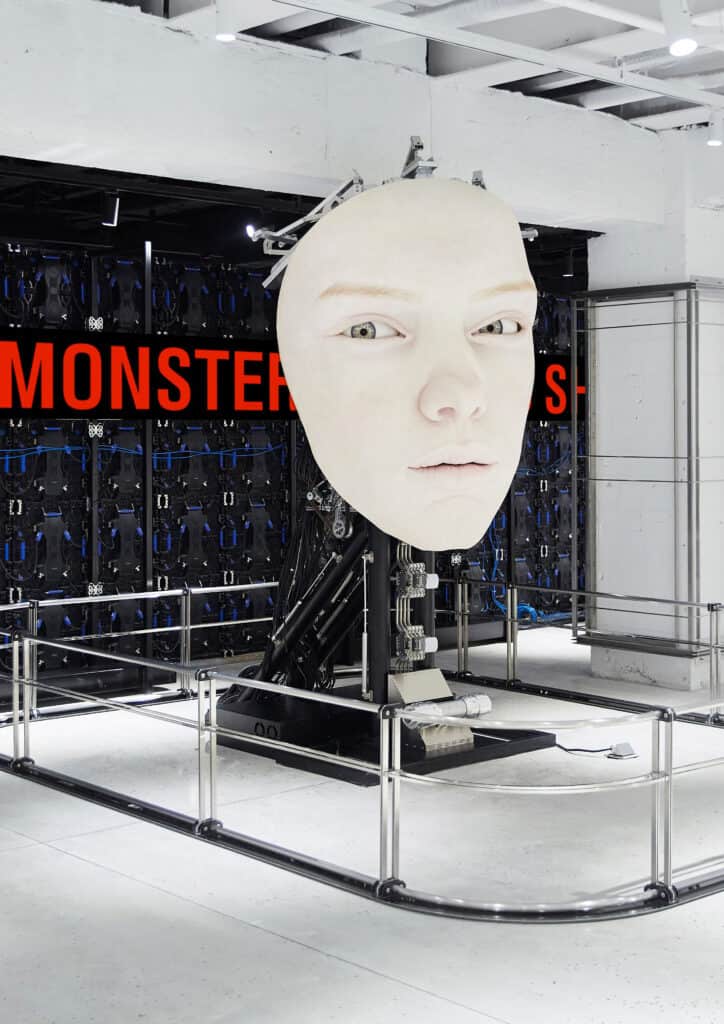 Next Week, Selfridges will partner with Berlin's Reference Festival to present SUPERFUTURES, an immersive exhibition which will bring together 13 experiential spectacles and surreal interventions by leading artists, brands and thinkers. Installed throughout Selfridges London, the exhibition will also be available to view digitally.
SUPERFUTURES is a reaction to a moment in history. A moment in which the future and diversity of our planet is pulled into question. As socio-political shifts attempt to increase hierarchies and homogeneity, the exhibition suggests a future that is a hybrid – a rhizomatic queerness and a desiring machine.

says Agnes Gryczkowska, Guest Curator
The SUPERFUTURES Exhibition will seek to explore and imagine tomorrow's world – how might we live, what might we look like, how will we behave, and what might it feel like? The exhibition will present a vision of a hybrid future, serving as a generative portal between the world-as-is and world-yet-to-come. Staged within Selfridges' retail environment – a familiar and safe space for many – the installations will be designed to disrupt, provoke and inspire, gently probing customers to consider, 'if we continue the way we live today, where might this trajectory take us in the future?'
The show will be curated by Reference Festival with Agnes Gryczkowska (formerly Serpentine Galleries and Schinkel Pavillon) and will present a host of visions for the future, featuring work by Monira Al Qadiri, Katja Novitskova, Sevdaliza, Gentle Monster, Joey Holder, Ottolinger, Oliver Laric, Jakob Kudsk Steensen, Nico Vascellari, Ignota Books, Jan Vorisek, William Darrell and a panel conversation with Hans Ulrich Obrist.
Highlights will include an installation of sculptures by Estonian artist Katja Novitskova, examining the relationship between technology, biology and ecology; Jakob Kudsk Steensen's video work Liminal Lands, in which the Danish artist proposes a future where data and biology fluidly interconnect; and a specially commissioned display of five inflatable sculptures, which is paired with a selection of oil-drill-shaped Murano glass sculptures, by Monira Al Qadiri, a Kuwaiti visual artist born in Senegal and educated in Japan.
The SUPERFUTURES exhibition will present past and future universes, full of mutation and cohabitation, blurring boundaries between the organic and crafted, between human and machine, and challenging existing outlooks and normative gestures into reshaping our future.

– says Mumi Haiati, Founder of Reference Studios and Reference Festival
Selfridges & Reference Festival host SUPERFUTURES 14th July – 16th October 2022
About Reference Festival
Conceived by the communications agency Reference Studios, alongside founder and director Mumi Haiati, Reference Festival started out in an abandoned parking lot in Berlin's Neukölln district in 2019. In its four editions, the Festival has boasted interdisciplinary contributions by some of the most relevant brands and artists in the world, emerging and established alike.
About SUPERFUTURES at Selfridges
Throughout 2022, the creative theme SUPERFUTURES will explore tomorrow in the making, inviting visitors to Selfridges to co-create the future through a year-long discovery period. If the future is a work in progress, then SUPERFUTURES will celebrate this journey – a process of evolution and reinvention – across 2022, with super-charged topics informing the year's calendar of curation, experiments and experiences. Selfridges is a creative playground, a place for customers and collaborators to try on new lifestyles and ideas. Its non-conformist DNA enables Selfridges to test, learn, unlearn and reset; as the brand continues in its commitment to reinvent retail, changing the way we shop for a sustainable future. 
Categories
Tags