In partnership with the Fondation Vasarely and Paco Rabanne, Selfridges will present Universe, a celebration of the work of Op Art movement pioneer, Victor Vasarely (b.1906 Pécs, Hungary, d. 1997 Paris) an innovator of 20th-century abstract art, best known for his pioneering geometric designs and perception-shifting imagination. Universe will include an exhibition of 55 works by the artist, none of which have been shown in the UK in over 50 years. 37 will be available for sale, alongside a series of specially commissioned NFTs created by London-based NFT platform, Substance. Funds raised will go to the Fondation Vasarely Museum, Aix-en-Provence, an 'Architectonic Centre' for the artist's archive and large-scale installations, to support restoration of key artworks.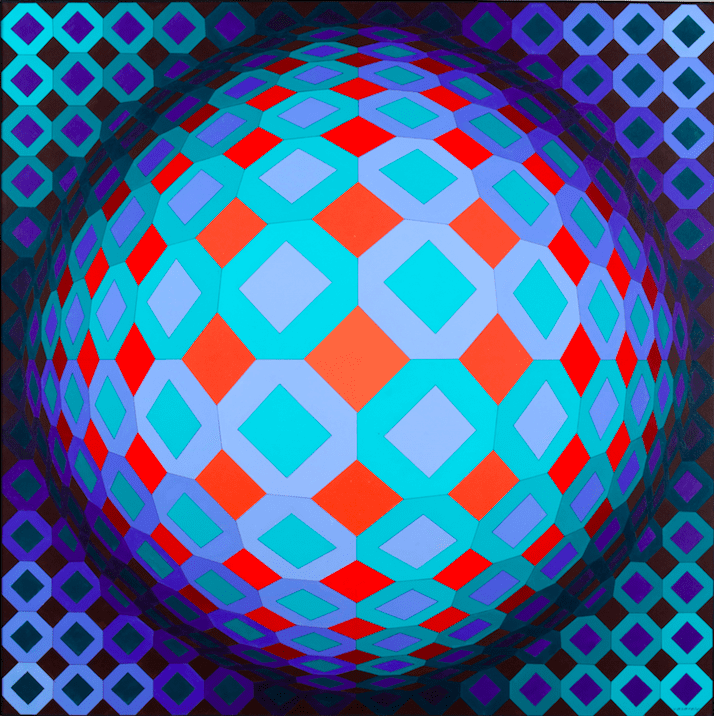 Pierre Vasarely, President of Fondation Vasarely has said: 
"Fondation Vasarely is delighted to be partnering with Selfridges and Paco Rabanne to celebrate the work of Victor Vasarely and to bring some of his most important works to London for the first time in over 50 years. Coinciding with the 25th anniversary of his death, Universe is a unique opportunity to introduce his work to a new audience and we're delighted to be able to bring together examples of his iconic designs from across his career, including works on canvas, paper, ceramics, enamelled aluminium and tapestries which showcase the extent of his artistic universe."
Universe is a continuation of Selfridges' commitment to art which has been an integral part of the brand since it first opened in 1909. Visitors will be able to experience the optical tricks, illusions and kinetic energy of Vasarely's work across the Oxford Street store, including the storefront where each of the 24 windows will be individually wrapped in Vasarely's iconic designs. In a progression of Vasarely's investigation of the fourth dimension, Substance has also created a virtual reality environment, a metaverse, in which visitors will be able to interact with Vasarely's calibrated patterns and hypnotic oscillations. The metaverse will be accessible online at Decentraland and NFTs will be available to purchase in a physical store for the first time anywhere in the world at Selfridges, London or online via Substance's platform from Friday 28th January.
The project will also celebrate the launch of Paco Rabanne's Spring Summer 2022 collection for which Creative Director Julien Dossena has taken the work of Vasarely as his starting point. Dossena worked closely with the Fondation Vasarely to reimagine some of Vasarely's iconic geometric Op Art patterns into printed, jacquard, chainmail and sequined fabrics. Ready-to-wear and accessories from the new collection will launch throughout the season at Selfridges (available to buy or rent).
This multi-layered creative collaboration between cultural institution, fashion house and retail brand will use Vasarely's work as a lens through which to explore new ideas. Pre-loved fashion and lifestyle products, using or inspired by Vasarely's design, including his 1969 screenprint series 'Hommage à l'hexagone', have been commissioned and curated by Selfridges' buying team. 
In The Selfridges Corner Shop, Vasarely Op Art will meet surfboards, skateboards, hand-painted watches from Bamford Watch Department and Globetrotter luggage. A Vasarely Gift Shop edit will feature over 50 products – all within a concealed concept space wrapped in aluminium scaffold, the preferred architectural material for both Rabanne & Vasarely.
Sebastian Manes, Selfridges Executive Buying & Merchandising Director, has said:
"As Selfridges looks to the future, we continue to find inspiration in the past. In the case of Victor Vasarely and Paco Rabanne, we have more than fifty years of proposals for the future to explore. I love the idea of bringing Vasarely's art to a social space like Selfridges – alongside the distinct identity of Paco Rabanne – and using their vision as way to bring emotion, connection and accessibility to the experience."
NFT Release schedule
FRIDAY 28th JANUARY 2022
Release of 12 Paco Rabanne 'unwearables' NFTs (edition of 56 each – 56 years of Paco Rabanne)
SATURDAY 12th FEBRUARY 2022
Release of 6 unique Vasarely NFTs (no physical work attached, edition of 100 each)
SATURDAY 12th MARCH 2022
Release of a further 6 unique Vasarely NFTs (no physical work attached, edition of 100 each)
Victor Vasarely Universe Thursday 13th January – Thursday 31st March 2022 selfridges.com/vasarel
About the Artist
Victor Vasarely (b.1906 Pécs, Hungary) was a celebrated French artist who rose to prominence in his lifetime as a pioneer of the Op Art movement in the mid 1950s. Vasarely was a great proponent of the idea that art should be accessible to all and used his background in graphic design to create geometric designs which pushed the boundaries of abstract art to produce mesmerising optical illusions. His output was prolific and included paintings, screenprints and large-scale installations. Some of Vasarely's most famous public-facing commissions included the Renault logo and the cover for David Bowie's highly influential album Space Oddity (1969). In 2019 the Centre Pompidou, Paris held a major retrospective of his work.
About the Fondation Vasarely
The Fondation Vasarely is an architectonic centre in Aix-en-Provence, built between 1973 and 1976 by the French artist Victor Vasarely. Conceived by Vasarely and built to his design, his works are integrated into the architecture of the entire building, including its façade and internal walls. Fondation Vasarely has been classified as a Historic Monument since 2013 and has an annual attendance of around 100,000 visitors. In 2020 the Fondation was also awarded Musée de France designation. The Fondation was created to popularise art and make it accessible to all, testifying to Victor Vasarely's avant-garde view of the role of the artist in the 20th century.
Categories
Tags