Art Rotterdam (7-10 Feb) and the associated shows and events in a dynamic and architecturally stimulating city are always interesting – I've been several times – and this was the 20th edition. There were 80 galleries showing in the iconic Van Nelle Factory site, plus several prizes and special exhibits. Several British galleries were present with good stands – Division of Labour, FOLD, IMT, l'étrangère – and the excellent Swiss gallery Barbara Seiler but that would have been a little easy. Here are my choices from the Union we're about to leave…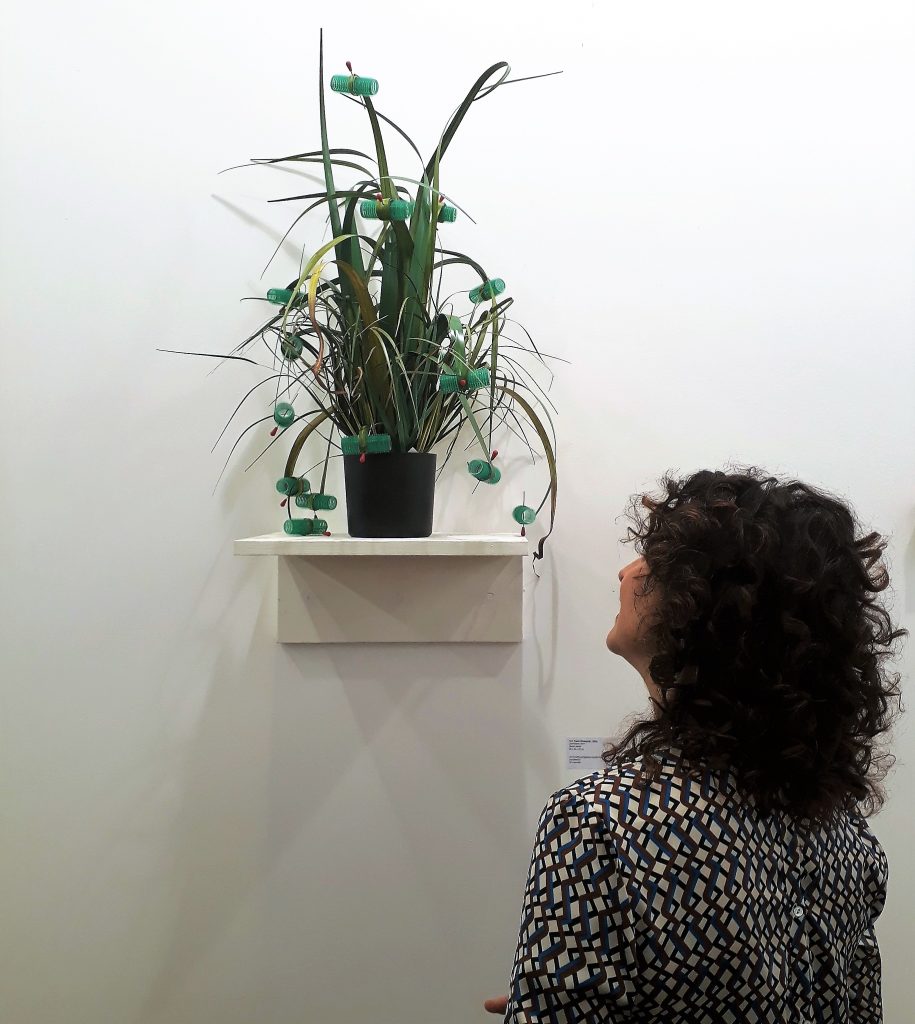 DD Trans: Permanent, 2017, at Galerie Ramakers, The Hague (Stand 66)
Belgian artist DD Trans, having renamed himself after a passing truck, tweaks – Trans-forms, I suppose – everyday items, typically by fusing them in witty ways. Here a houseplant with leaves on the straight side is given a simultaneous perm and aesthetic facelift out of the ordinary, courtesy of hair rollers. I wanted to capture a suitable admirer, but the first wavy-locked art lover I asked turned me down unceremoniously, probably reckoning me some sort of hair fetishist. So thank you, Sabine!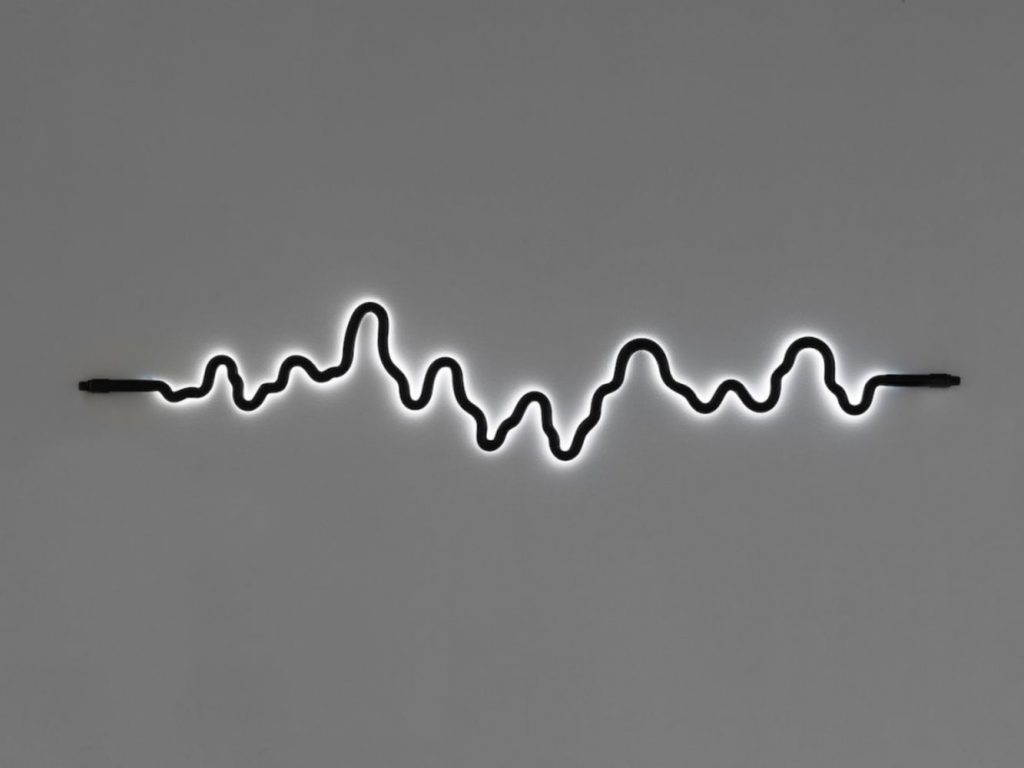 Jan van Munster: Brainwave, 2004, at Galerie van den Berge, Goes, Netherlands – 60
The veteran Dutch artist's practice centres on making forms of energy visible. I imagine him wondering, in that context, what he could do with neon and having the brainwave of using his own brainwave. Just so: he was hooked up to an ECG and has represented the energy of his creative thinking through various waves over the years. Black paint over white neon lets the inspiration shine around the edges.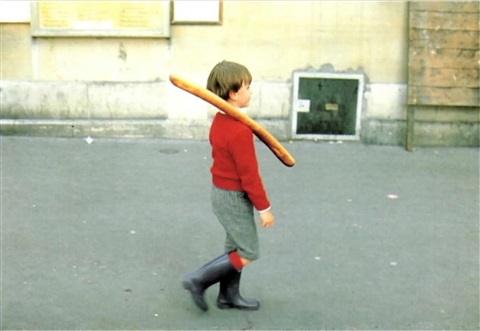 Ed van der Elsken: Paris, 1970 at Annet Gelink, Amsterdam – 28
This image is hardly news: Ed van der Elsken (1925-90) is recognised as the most important Dutch photographer, and is a master of the street. But it feels as fresh as its baguette, and the news is that should be many more such little-seen colour works in the forthcoming exhibition at the Nederlands Fotomuseum (24 May – 6 Oct 2019), which will reveal for the first time the results of preserving and working with an archive of 42,000 slides from the estate.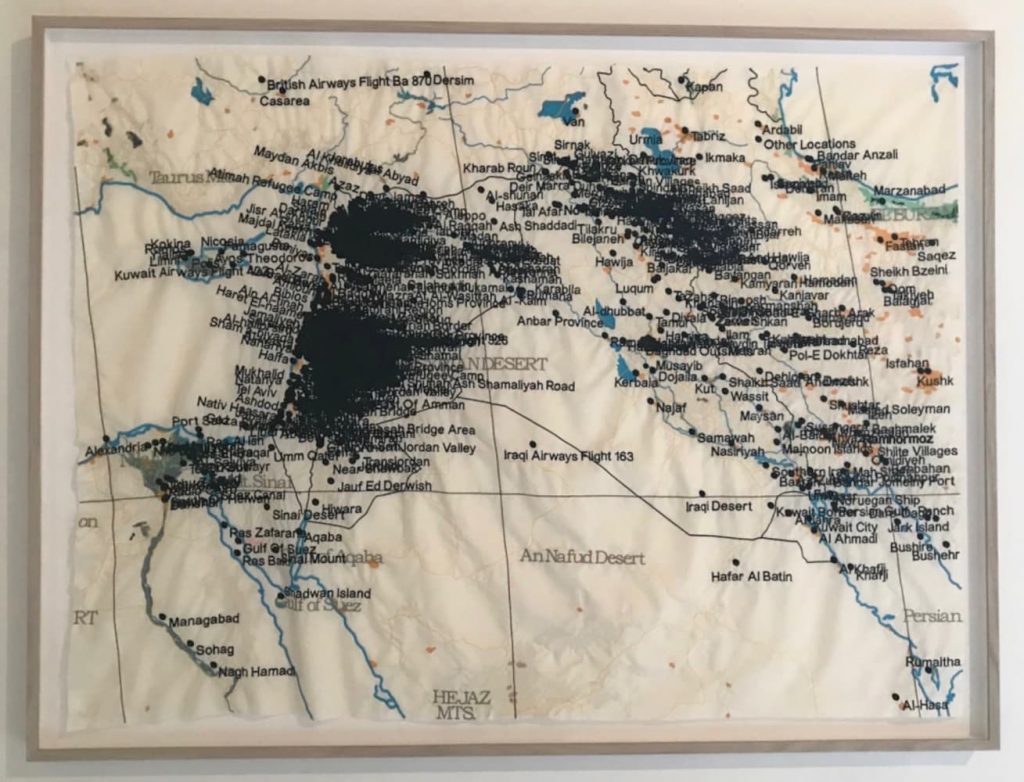 Cristina Lucas: Tufting (Middle East), 2017, at tegenboschvanvreden, Amsterdam – 32
The Spanish artist's machine-embroideries on vulnerable silk map the world, but with a curious distribution of place names which drew me in. It turns out that they show where bombs have been dropped on civilians, as made by 'dropping' the relevant name. Hence the geographical features of the most troubled areas have been virtually obliterated. The images stems from her impressive film project 'Unending Lightning', updated on a rolling basis since 2015-present with all such acts since 1911.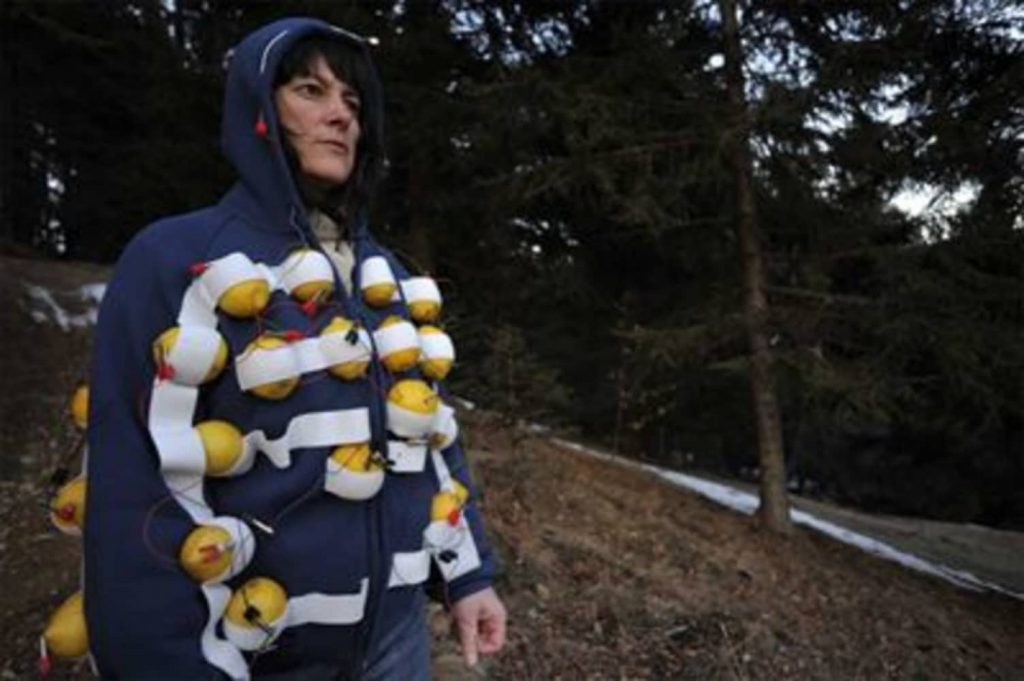 Polonca Lovšin: The Lemon Jacket, 2009, at P74 Gallery, Ljubljana – 67
The Slovenian artist showed considerable invention in her presentation of items alongside documentation of their use: an umbrella-come-come parasol with a built-in water bottle carrier, and this – very small – personal light powered sustainably by a jacket of lemons. Neither idea is quite plausible enough to be design, rather than art experiment, but there is scope to question the boundary – and to muse on them as acts of personal resistance to mass-produced modes of living.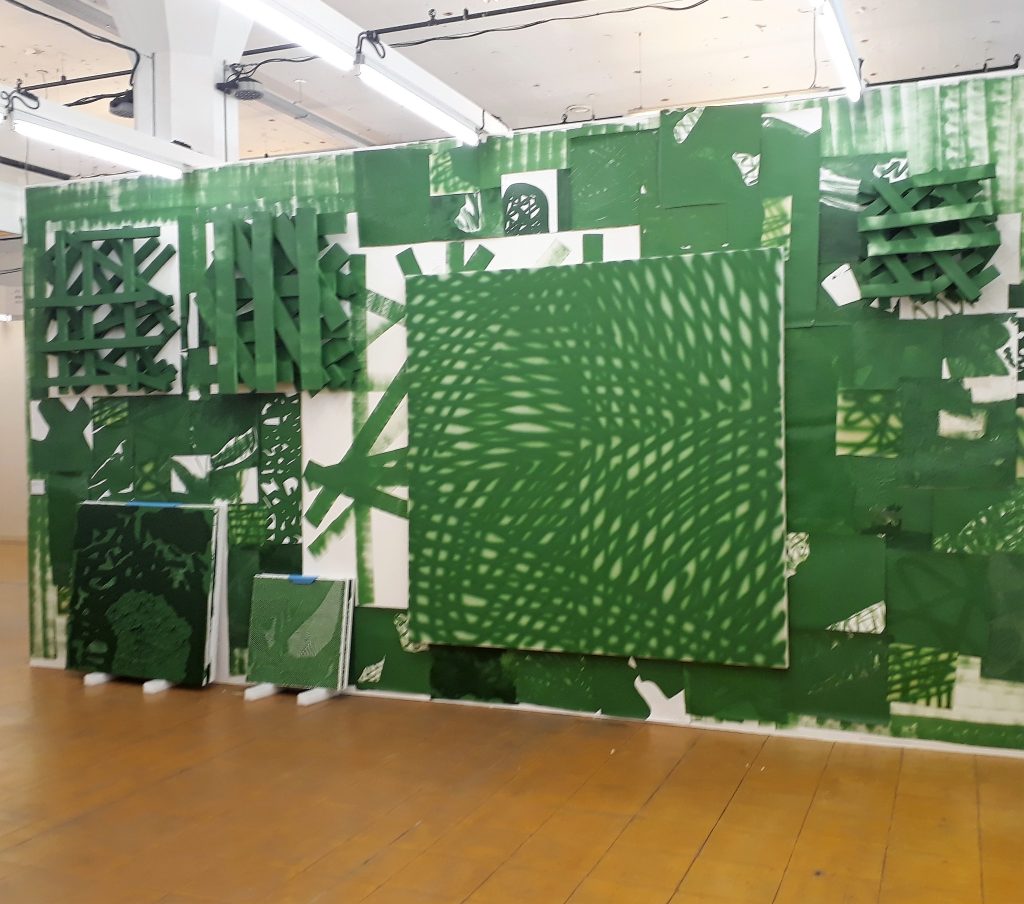 Jos van Merendonk: Untitled wall installation, 2019, at Hidde van Seggelen, Hamburg – 21
Jos van Merendonk applies rules to geometric abstraction until he ends up in a conceptual space. He doesn't have too many problems procuring his materials, using only standard sizes of square canvas and one colour: chromium oxide green. Then he restricts himself to three shapes derived from a drawing he once happened to make: knot, oval and 'Z'. Yet his palimpsestic installation at the fair had a lively feel, surprising until you consider he does use all sorts of mark-making devices, and that there are 120 million ways to play the first three moves of a game of chess…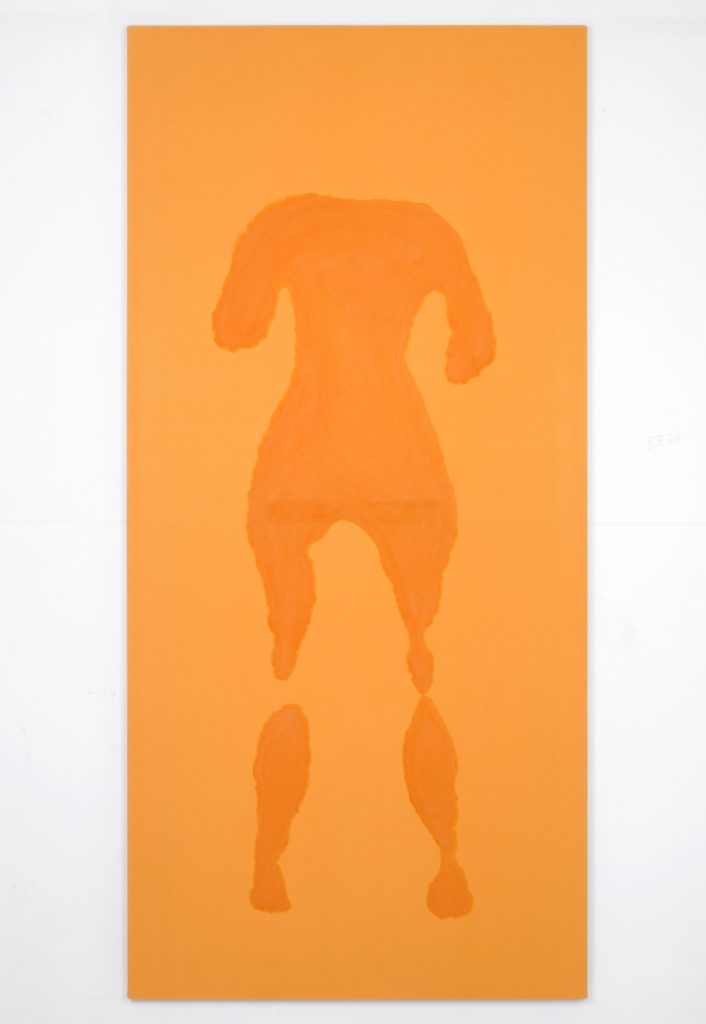 Alex Farrar: Ecstatic (night sweat painting), 2019, at Dürst Britt & Mayhew, The Hague – N 06
London/Amsterdam based Alex Farrar asked one half of several couples to draw the outline of their partner's sleeping position onto a bedsheet. He then applied a silicone-based paint to reveal where the body touched the material – as none of the pillowed head does. The results are simple yet intimate and rich: Yves Klein's anthropometry paintings, Floris Neussis' photograms, Felix Gonzalez-Torres' Untitled (billboard of an empty bed) and Thom Gunn's poetry in The Man with Night Sweats come to mind.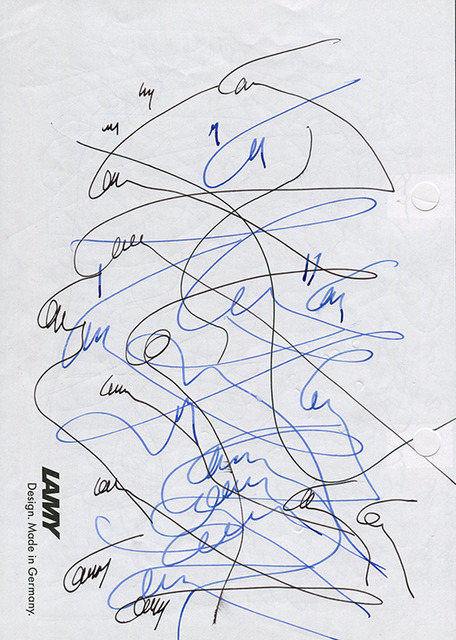 Giuseppe De Mattia: Made in Germany, 2015, at Matèria, Rome – 75
We're all familiar with how people test out pens on a notepad before buying one – indeed, Navid Nuur has used the practice to drive one of his ingenious streams of work. I thought something similar might be in operation here, as the eponymous 'Made in Germany' is on the jotting pads on which intricate yet somewhat casual drawings have been made. In fact, the Italian artist Giuseppe De Mattia has collaborated over some years with a pen salesman who draws on the test pads knowing full well that they will become his art. The dance between conception and execution, accidental and deliberate, art and life gets a new twist.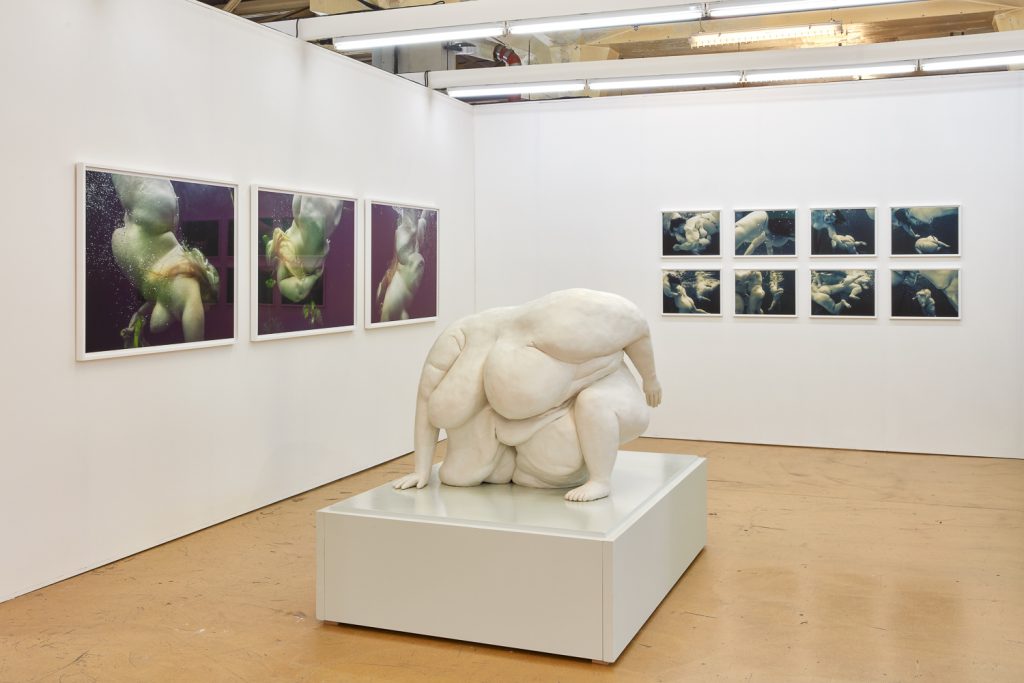 Mariken Wessels – Arising from the Ground , 2018-19, at The Ravestijn Gallery, Amsterdam – 35
Amsterdam artist Mariken Wessels was sufficiently inspired by Eadweard Muybridge's little-known studies of the motion of an obese person that she bought them from an auction and embarked on a series of photographs and sculptures. Choosing white rather than flesh colour in both photographic and ceramic works, allowing the water's distortions and her sculptural editing all tend toward abstracting the body while engaging with its fascinating qualities in one of the more left-field presentations at the fair.

Sarah Smolders: from the series 9 Windows, 2018, at mariondecannière, Antwerp – 11
The non-commercial gallery, which supports a succession of artists for a year rather than representing a few longer term, brought a set of life-sized windows to its booth. Though it looks as if the Belgian artist Sarah Smolders has intervened in gold, they are simply the outsides of the windows of the School of Art in Ghent, as photographed from a scaffold. These originally had highly distinctive textured panes of glass covered in gold leaf, but as that has broken over the years it has been replaced by various other types of glass, which has been cracked and occluded in its turn, forming a grammar of sorts.

Lara Almarcegui: Buried House (Dallas), 2013, at Ellen de Bruijne Projects – 41 / Projections
Art Rotterdam – alone among the fairs I've been to – presents artists' films optimally. I loved the ludicrous yet logical nature of the Rotterdam-based Spaniard Lara Almarcegui's work in the 'Projections' section. Doesn't a house which has been so central to its inhabitants' lives deserve some respect at the end of its own? So it is that we follow not just a demolition, but a respectful burial of the remains of this house, which ends up as a small hill in the garden.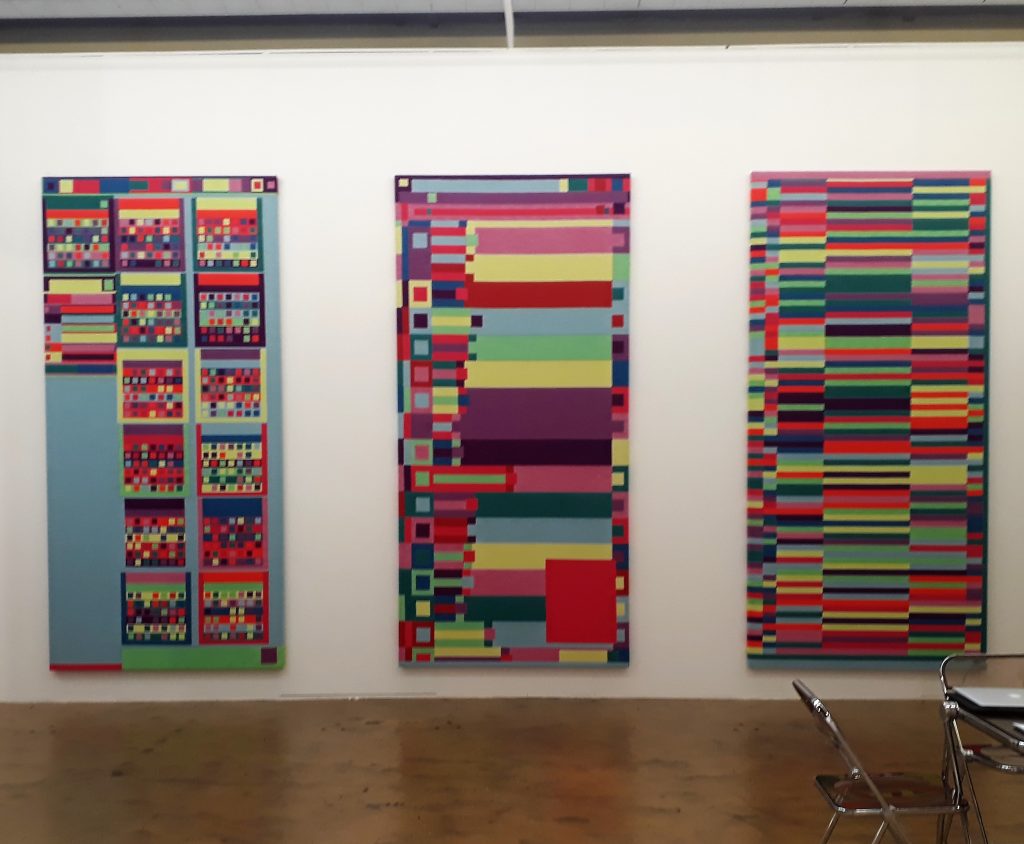 Rafaël Rozendaal: Abstract Browsing series, 2019, at Upstream Gallery, Amsterdam – 27
New York based Dutch-Brazilian Rafaël Rozendaal is best known for creating websites as artworks in which geometries mutate. Yet he is interested in both sides of the virtual-physical interface, so it makes sense that he sees an analogy between the pixel and the loom, and transforms his online starting point to tapestries depicting the underlying structure of websites. Now, though, it's the viewer who needs to move to generate a change in the image.
Categories
Tags