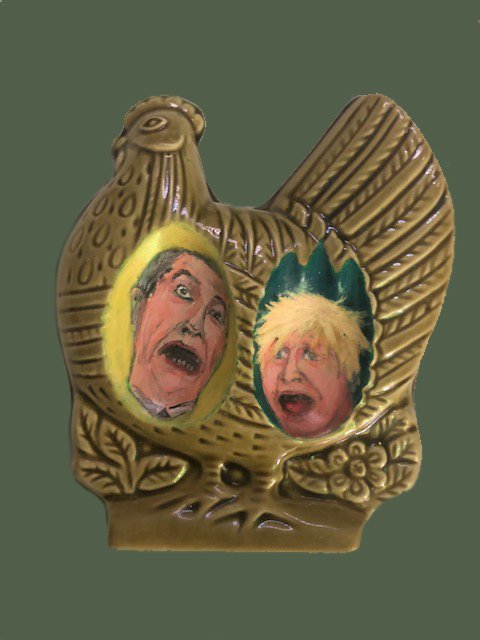 Uta Kogelsberger: 'Bad Eggs', 2018 – paint on ceramic
Ceramics and textiles are increasingly accepted as mainstream art materials. Ashtrays and fans, though, are less likely to come to mind than sculptures and wall hangings. But you can see plenty of both currently. The Belmacz Gallery – an unusual space in that it shows another edge-of-art category, jewellery,  alongside paintings and installations – is displaying  91 artists' ashtrays and related smoking artifacts* – either made by them or chosen from their personal collections. It's great fun, as in the awkward 'where to stub it out' conundrum posed by Nigel and Boris above, and in these three uses of  unconventional materials: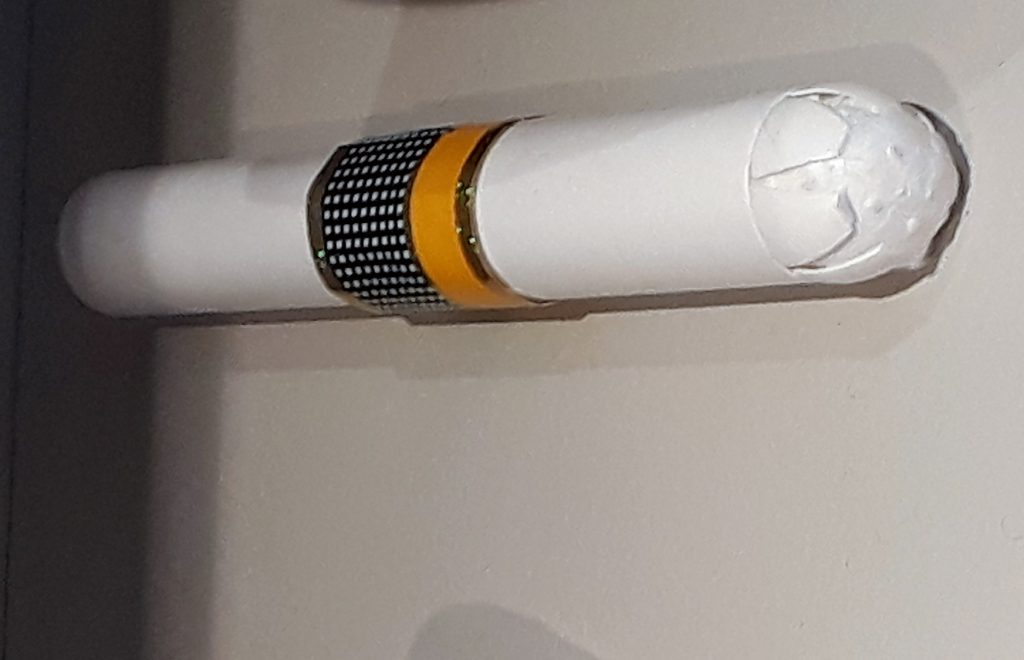 Finoa Banner aka The Vanity Press: 'Untitled' 2018 – Cohiba cigar wrapper and tampon
Stefan Reiterer: 'Ashtray' 2018 – five matchboxes handpainted with lacquer and glue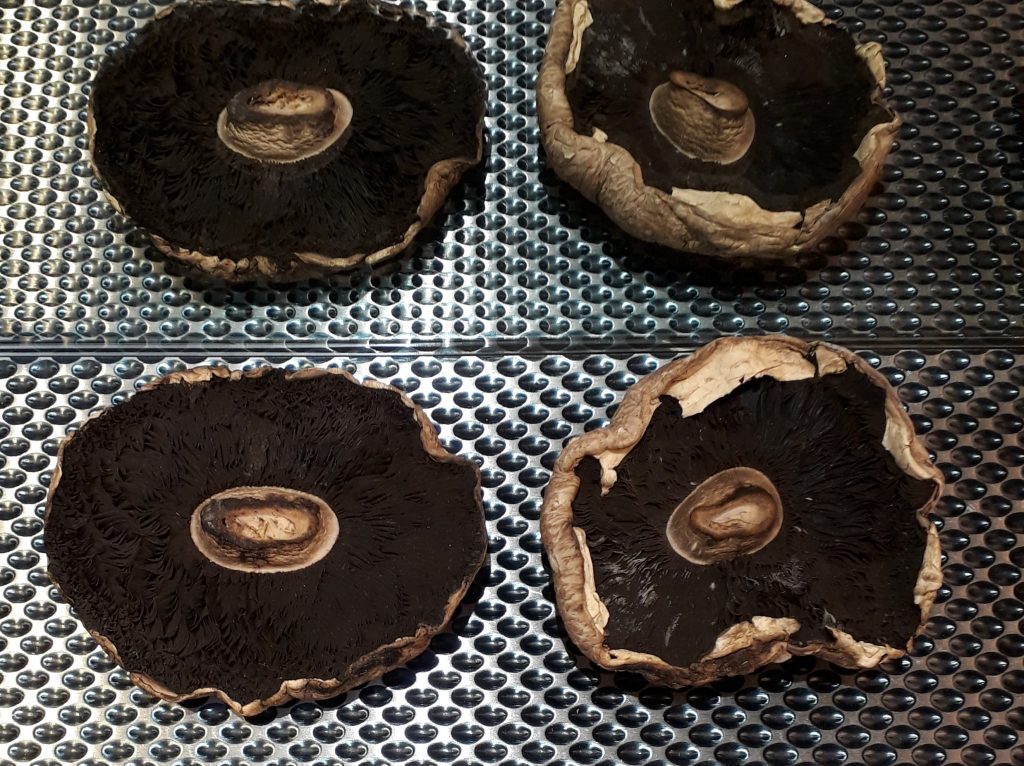 Simon Popper: 'At a Certain Point, Everything is an Ashtray' 2018 – yes, they really are mushrooms.
The Barbican is currently showing perhaps the best-known modern art fans: three of the six which Oskar Kokoschka gave to his lover Alma Mahler (1879-1964), the composer's widow, which depict aspects of their lives together **.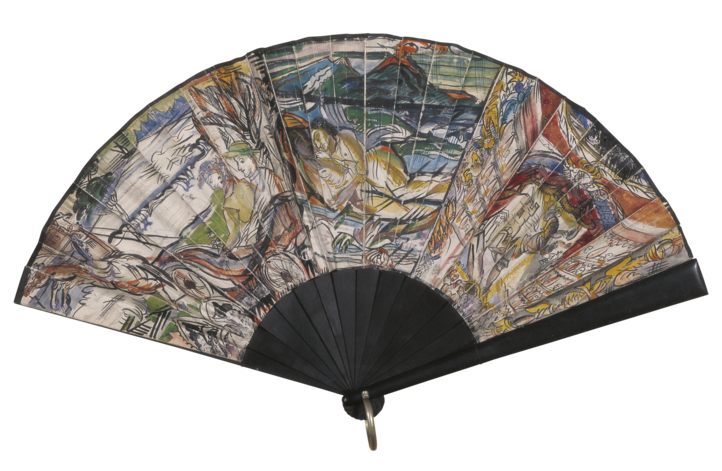 Oskar Kokoschka's Third Fan for Alma Mahler, 1913 is a memento of the couple's trip to Italy, including at centre their embrace at the foot of Mount Vesuvius.
But the fan and its potential for art is essentially an eastern tradition, so it is appropriate that the Japanese-run White Conduit Project Space *** is showing 50 fans commissioned from contemporary artists.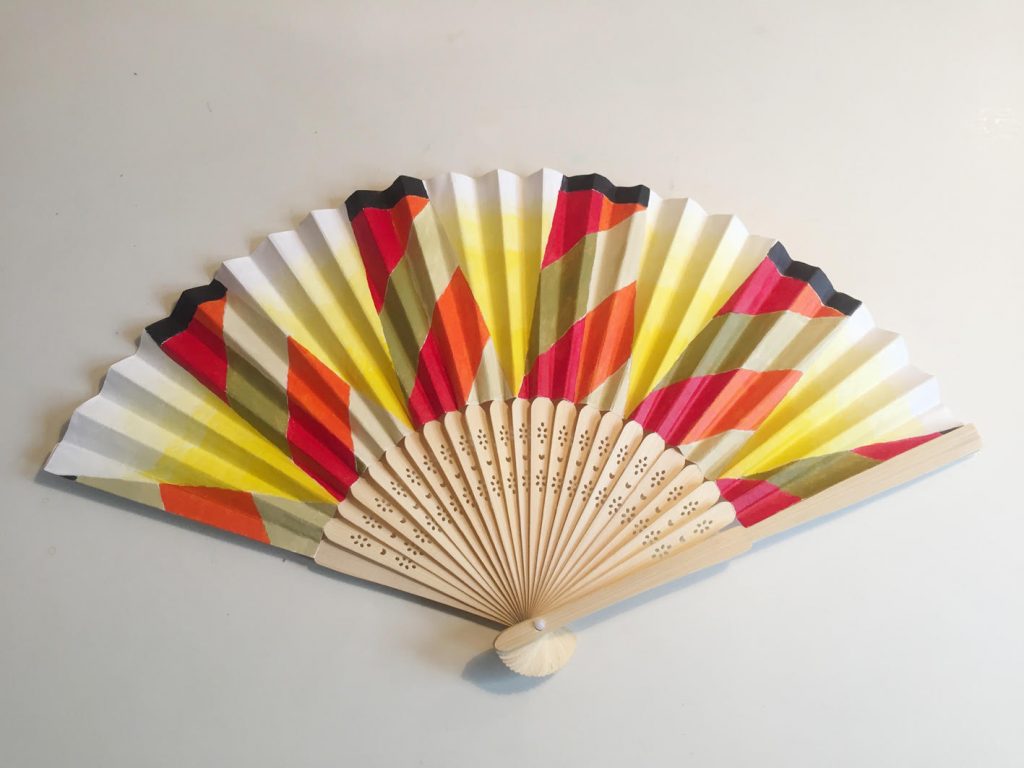 Sally Kindberg: 'Fan-fare' 2018 – starts from the history of the fan for signalling device to apply the parallel silent communication system of the lighthouse.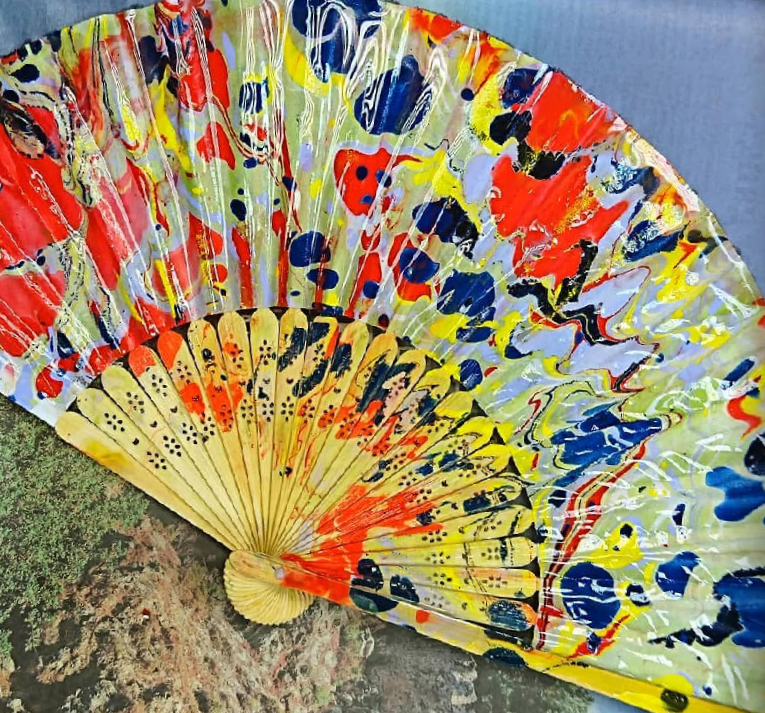 Karen David: 'Aubrey (Season 2, Episode 12)' 2018 – of The X-Files, I presume: I guess Karen is a fan
* The Ashtray Show West at Belmacz Ltd, 45 Davies Street to 12 Jan
** In Modern Couples to 27 Jan at the Barbican Gallery
*** Pacific Breeze at White Conduit Projects, 1 White Conduit Street, Islington: 2 Dec – 13 Jan
Art writer and curator Paul Carey-Kent sees a lot of shows: we asked him to jot down whatever came into his head
Categories
Tags