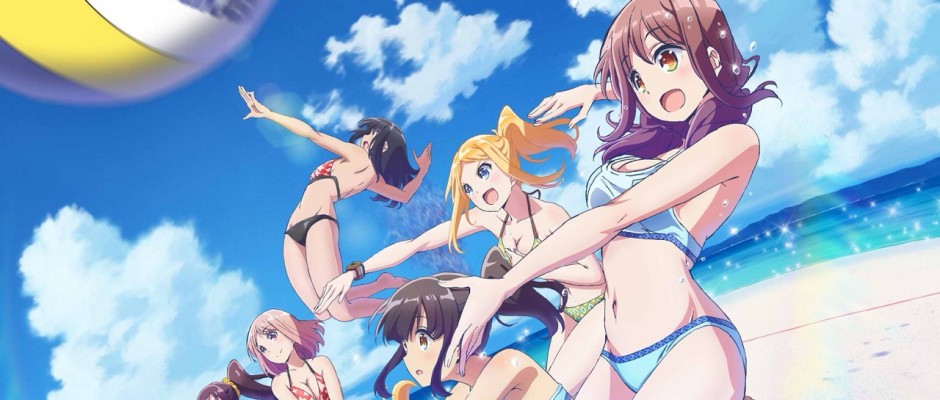 2018 has so far been plentiful when it comes to anime with new titles rapidly becoming season favourites and convincing adaptations swaying the most stubborn of fans. This summer promises to be just as exciting with a few new releases already under the spotlight. With first episodes freshly aired, are they really as appealing as they've been made out to be?
Satsuriku No Tenshi (Angels of Death):
(J.C Staff)
Horror video game turned manga now adapted into an anime, Angels of Death follows 13 year old Rachel who wakes up in the basement of a strange abandoned building with no memory of how she got there. As she wonders the halls looking for clues, she stumbles upon a scythe wielding being intent on taking her life only to save it moments later as they both attempt to escape the mysterious building.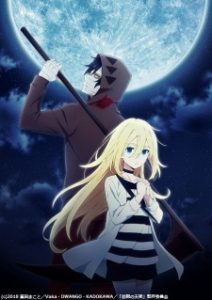 First impressions: An eager mix of 'come out to play' and hide and seek while keeping the video game's core alive as Rachel stumbles through the labyrinth of the abandoned building while keeping an eye out for clues. While the amnesia trope is somewhat overdone and being kept in the dark is not as thrilling as it's made out to be, there's definitely something about the creepy vibes kept within the walls of the basement. More promising though is the unlikely bond between Rachel and scythe wielder Zack, the beginning of which we catch a glimpse of as the first episode comes to a close.
Sunohara-Sou No Kanrinin San (Miss Caretaker of Sunohara-Sou):
(Silver Link)
Tired of being treated as a girl because of his feminine looks, 15 year old Shiina Aki moves to Tokyo for a fresh start in a new high school where he is greeted by enthusiastic caretaker Sunohana Ayaka and 3 other girls he'll be sharing a home with. It won't be easy being taken seriously as a man while fawned over by girls eager to take advantage of his cute looks.
First impressions: While 'harem' genre anime are very popular, it's definitely not for everybody especially when not knowing what to expect. Typically, a young man finds himself suddenly surrounded by a diverse cast of beautiful –generously endowed- ladies with whom he will usually share a home with.So far, this anime is no exception, it's only twist being the play on the cute young boy theme which could be off-putting as it pulls the series into yet another niche genre (shotacon).
Light-hearted though, with cute smiling characters (though undoubtedly, their faces are not what most will be looking at), Miss Caretaker could be a grower if the story reveals itself more interesting than its initial theme.
Isekai Maou To Shoukan Shoujo No Dorei Majutsu (How Not to Summon a Demon Lord):
(Ajia-do)
Shut in gamer Sakamoto Takuma is one of the most powerful players in Cross Reverie, an online role-playing video game (MMORPG) where he's known as Diablo, the Demon King. That is, until he finds himself summoned into the game itself where his lack of social skills are hidden behind his mighty Diablo persona, a role he chooses to entertain as he takes on the adventures of the fantasy world.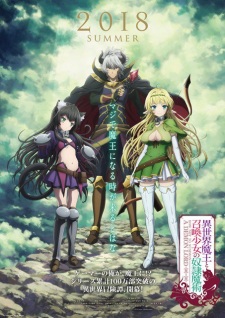 First impressions: With MMORPG themed anime having been a trend in the past few years, it's difficult to see how this particular one will stand out with parallel worlds referencing more clichés than it can probably handle. So far, How Not to Summon a Demon Lord promises clean, well-polished graphics and a likeable protagonist who makes up for his lack of people skills by playing the powerful and arrogant role the game needs him to be, which brings the right kind of comedy to the table. Will this isekai (parallel world) anime be able to approach the genre from a fresh point of view?
Banana Fish:
(MAPPA)
Adapted from its original manga 30 years after the series' original release, Banana Fish is one of the most highly anticipated anime's of the summer for all old school fans. The story follows ruthless gang leader Ash Lynx at a time where he rebels against the hand that raised him and made him who he is today. When it turns out that the latter, power thirsty 'Papa' Dino might hold secret information about Ash's brother suddenly gone mad, loyalties are questioned and suspicions raised. When Japanese photographer Eiji Okamura arrives in New York, he becomes the perfect example of being in the wrong place at the wrong time.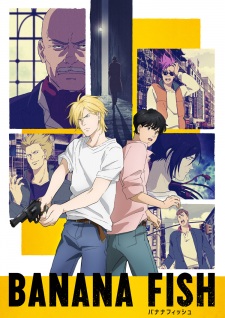 First impressions: Without having read the manga, the anime is captivating from the start with core intrigue revealed from the first scene: a madness inducing drug and the words 'banana fish'.
Having the story set in New York is a nice change of pace from the usual anime backdrops all the while exploiting a more diverse cast of characters. A jazzy old school vibe marries well with the gangster storyline while the character art itself is a nice tribute to the original designs.
The manga having been labelled as borderline 'yaoi' (also known as 'boy love') is so far only subtly perceived in the adaptation through Ash's and Papa Dino's relationship but it's too early to tell if the full genre will be exploited throughout the anime version or simply hinted at.
Harukana Receive:
(C2C)
When happy-go-lucky Haruka moves to sunny Okinawa, she quickly discovers a passion for beach volleyball and finds herself teamed up with her cousin Kanata, who had given up playing, discouraged by her short height. Through Haruka's enthusiasm and determination though, she could be convinced to get back on the sand and competing once more.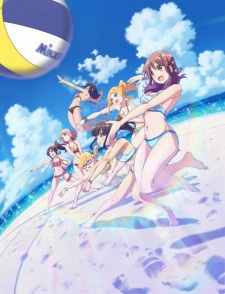 First impressions: While competitive sport anime these days do have the reputation of being unoriginal and repetitive, having the series set in Okinawa with a beach centred sport could be the story's saving grace. If summer vibes and vibrant tropical colours aren't enough to visually please some, the sight of cute girls in bikinis might do the trick. While some angles are played up to please fans, the series doesn't come off as overly sexy with the sports theme coming out on top. With dynamic animations made to match the genre, Harukana Receive could be a fun and sun-filled watch.
Chio Chan No Tsuugakuro (Chio's School Road):
(Diomedéa)
Chio enjoys video games so much that it bleeds into her day-to-day life, making for some exciting adventures and turning her ordinary morning walk to school into thrilling and humorous situations with not one day the same and each morning raising the question: how will Chio Chan get to school today?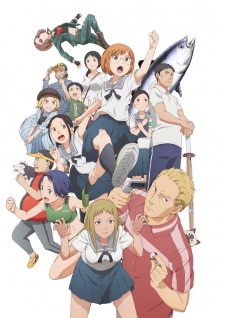 First impressions: Chio Chan No Tsuugakuro has found a way to make a girl's walk to school into a hilarious series with unexpected, out of the ordinary yet somewhat relatable (so far) situations. While nerdy and plain looking, Chio's character is what makes the series possible with her reactions as unexpected and comical as the situations themselves. If the title hints at something seemingly dull and plain, the anime itself bursts with life and humour and makes for a very interesting watch.
Island:
(feel.)
Video game visual novel adaptation Island is set on Urashima, an island cut off from the main land where people have come to live amongst themselves, walled behind their legends. One day a young man is found washed up on the shore with no recollection of who he is except for the knowledge of a mission he must fulfil to save someone on the mysterious decaying island.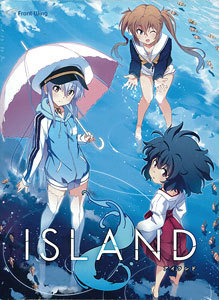 First impressions: Island appears to have an already defined aesthetic which makes sense coming from a visual novel background but it does leave newcomers slightly alienated with the feeling of arriving late to the party.The island setting is perfect for a summer mystery narrative with a small town cut off from the rest of the world, though there is an air of deja-vu as the male protagonist, a man without any recollection of his past, finds himself meeting three young girls he feels he has a bond with from another time. With story line events seeming slightly rushed, it's a wait-and-see on the narrative end for this anime adaptation.
Hanebado!:
(LIDEN FILMS)
No longer interested in playing badminton, Hanesaki Ayano drops the sport regardless of her natural knack and talent for it. On the other hand, driven almost to the point of obsession, Aragaki Nagisa could spend her days practising badminton, her fixation on winning pushing her deeper into a slump. Their complementarity turning them into perfect rivals, could they bring to each other what's been missing all along?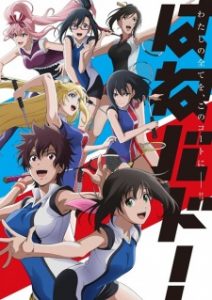 First impressions: Grueling practices, winning obsessions and constant competition, will Hanebado be just another sports themed anime? With many characters to adjust to from the start, each of them promising a heart breaking back story, it's difficult to find the appeal in this new series unless if coming from the manga or from an innate love for badminton. It'll be up to the series to offer a fresh perspective and show originality in following episodes.
Shichisei No Subaru (Seven Senses of the Re'Union):
(Lerche)
In an online role-playing video game (MMORPG) called Union, a group of middle schoolers win quest after quest through their thirst for adventure and victory until they tragically lose a team member both inside the game and in real life. When Haruto Amou logs back into a new version of the game 6 years later, he is surprised to find his deceased friend inside the platform.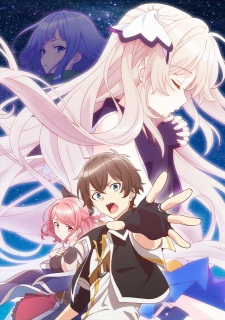 First impressions: Though falling into the overdone fantasy parallel world theme, Shichisei No Subaru brings trepidation and mystery to the series with a smooth introduction to the story, just enough to reel newcomers in. While nothing jumps off the screen so far when it comes to character design and battle scenes, the narrative skill behind the story could be the promise needed for an entertaining fantasy anime, should they decide to play their cards right.
Hataraku Saibou (Cells at Work):
(David Production)
Always busy, always at it, cells inside the human body work hard to keep everything functioning and free from infection, something newbie red blood cell is quick to discover as she dashes around learning things on the fly, having to rely on bold veteran white blood cells when faced with evil germs. The ins and outs of a well-oiled machine, the story of life from an anime's perspective.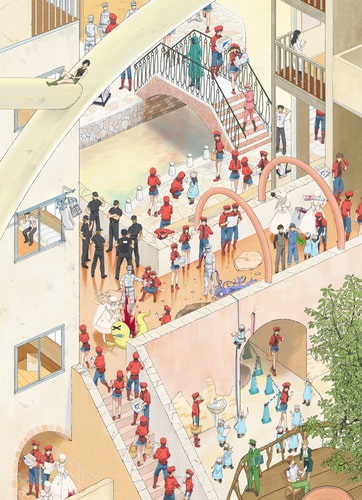 First impression: A reminiscence of an educational cartoon from childhood adapted for adults with refined humour, a sense of comradeship and just a touch of gore. It's difficult to tell where the series will go unless coming from the manga; whether the anime will favour education over narration or how each episode will stand out from one another. An original concept –standing by on execution and how the series will unravel.
More Anime action HERE
Categories
Tags