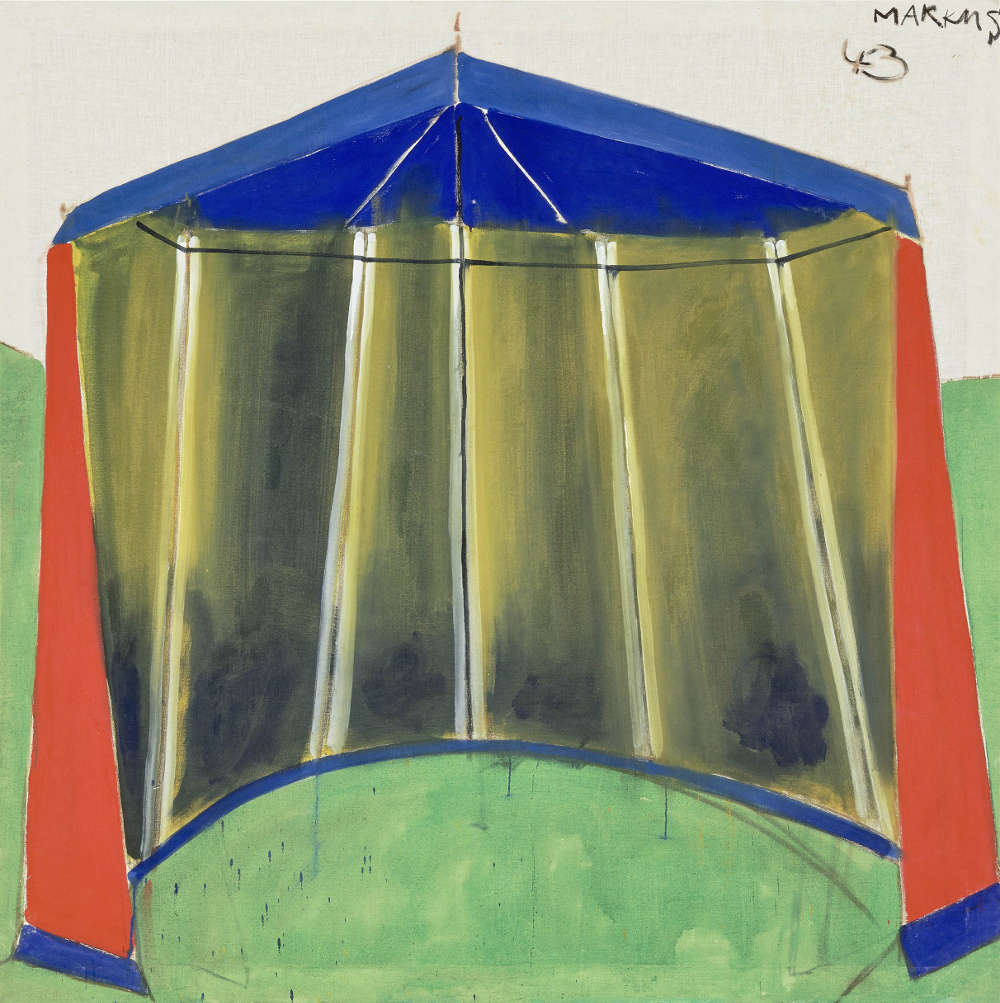 Markus Lüpertz: 'Tent Painting 43', 1965 – distemper on canvas
If you want fascinating early work in a two floor show by an established German painter – complete with umlaut – you have, surprisingly, two current choices: Markus Lüpertz (born 1941) at Michael Werner* or Werner Büttner (born 1954) at Marlborough**.
The Lüpertz is purer: both floors feature 'Tent Paintings', made when he was 24. They're based on the camping section  images in a department store catalogue (most are numbered: not for the year, nor to sequence the group, but simply copying the page number). They look equally towards pop and abstract expressionism; they combine tent, photograph and paint in a neat three-way conversation; the probability that the tents were themselves canvas sets up a pun of sorts; and they avoid the more pompous territory on which Lüpertz later pitched his tent. If Lüpertz is conciously painterly, Werner Büttner's works from the 1980s are decidedly rough. I asked him how he arrived at the style: he attributed it to a combination of being self-taught, and in a hurry to get out of the studio and back to the bar! The approach works for the corrosive subject matter characteristic of the 'Junge Wilde' of the time: Büttner, Martin Kippenberger and Albert Oehlen. Marlborough have a full floor of early work a plus a second of paintings from 2014-17, making for a 30 year ascent between floors. Later Büttner applies the paint more thinly and colourfully, and has himself turned to art history in some cases: parodies of Guston and Koons maintain the spiky humour which seems to unite his work.
* Tent Paintings 1965, to 6 July
** Plenty of Room for all Sorts of Happiness, to 23 June

Werner Büttner: 'Nude with Vulture', 1984
Art writer and curator Paul Carey-Kent sees a lot of shows: we asked him to jot down whatever came into his head
Categories
Tags