An exploration of female identity and "what it means to identify as gender non-binary" takes centre stage for Christabel McGreevy's first solo exhibition Glut curated by Antonia Marsh.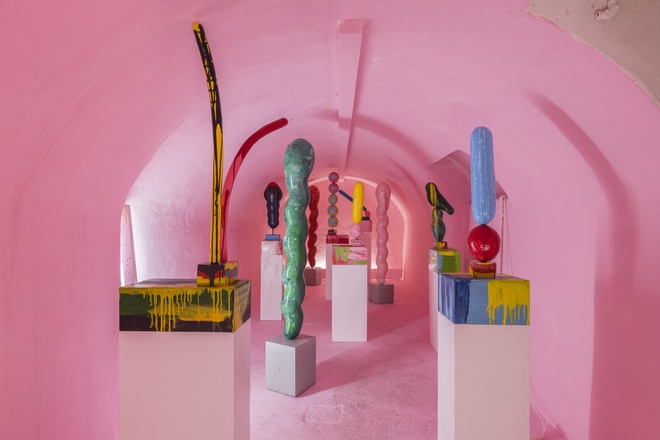 Installation view courtesy Lamb Arts and the artist
Christabel has never felt her life defined or regulated within the parameters of gender. Indeed, until the age of 10, she identified as a boy and now as an adult she defines herself as a woman.
However, such early nonchalance towards gender prescription has caused a sense of detachment between the artist and the 'feminine'- it is this very gulf and contention that is explored in her practice. Indeed, the show can be viewed as a multi-medium search for 'feminine' definition, one that by no means will end in its peaceful integration but rather in its ultimate subversion. 'Without understanding the signs and signifiers of what people interpret as 'feminine',' says Christabel, 'you cannot subvert from the expected.' 'Once you understand these you can play with them.'
The female power Christabel is playing with is a subversive power. It's not a coy power. It's something a bit more knowing, a bit stronger and a bit tougher. Indeed, her two series of sculptures- the paper mache 'Squiggles' and resin 'Tongues'- in their phallic appearance, hint at her desire to over-power such a masculine symbol of dominance. Indeed, she takes into her own hands and moulds into what she likes.
'Maybe in essence I was a feminist – I could see there was a difference between the way I was treated, and the boys were treated, and I found it unfair. I heard the phrase, boys will be boys, and I thought, why will boys be boys?'
Glut runs at London's LAMB Arts until 9 June 2018 www.lamb-arts.com
Categories
Tags