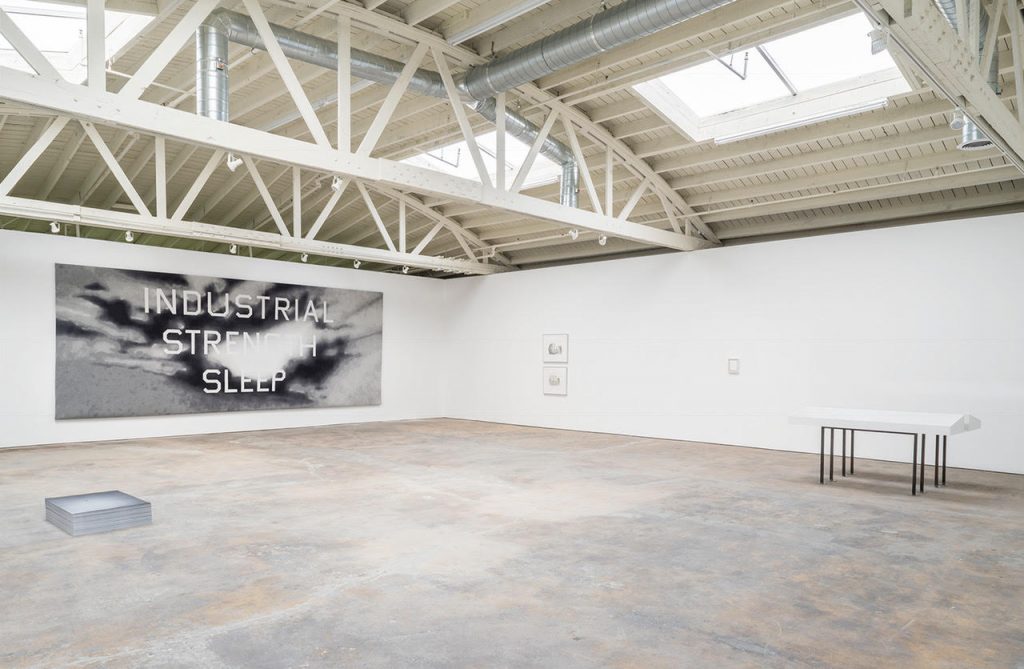 Ibid Gallery (London & Los Angeles) today (25th September) is to open a new gallery in Downtown Los Angeles at 670 S Anderson Street. Designed by wHY, the 13,000 square feet (1,200 sq. m.) of connected warehouses will be inaugurated with three exhibitions; Ibid Gallery will present two solo presentations from Devin Farrand and David Adamo, in addition to a group exhibition in the main space.
The largest exhibition space, Gallery One, will be inaugurated with a group show, Sleep, curated by Paolo Colombo. The title of this show touches on a mood, rather than on an abstract concept of sleep: the presentation includes a number of works that illustrate the dimension of dreaming, of surrender, and of submission to states of trance and slumber. A rare group of modern and contemporary artists will be exhibited together to include key works by Ed Ruscha, Rosemarie Trockel, Robert Gober, Jorge Macchi, Paul Thek, Felix Gonzalez-Torres, and Jonis Avotiš. Sleep is the first of a series of exhibitions hosted by guest curators that Ibid Gallery will present in its space.
Gallery Two, dedicated to works of significant provenance, will feature a re-staging of David Adamo's installation Untitled (Music for Strings), 2010, exhibited for the first time since its debut at the 2010 Whitney Biennial. Part of an untitled ongoing series, this installation is comprised of conventionally masculine tools and utilitarian implements. An ax, arrow, knife, and a pair of scissors—lodged into the wall as if forcibly thrown in an act of violence—loom amongst canes hacked and whittled into fragile, useless spindles. Such emasculated objects are paired with a deconstructed violin case and reconfigured wire hangers to create a spare, repetitive arrangement that speaks to both the aggression and simplicity of the objects. To offset the repetition, Adamo carefully adds pools of wood shavings around the objects as a nod to his aesthetic process.
Gallery Three focuses on emerging artists either based in Los Angeles or showing for the first time in the city. Here, the Los Angeles-based artist Devin Farrand will present a new body of work for Heft, his first LA solo show. Growing up in rural Oregon, he quickly became part of a tradition rooted in generations of exploring craftsmanship and manufacturing. Exposed to a diverse range of mechanics from an early age, Farrand's art pays tribute to this lineage while also building his own distinctive vernacular. Inspired by the intersection of aesthetics and production, shop equipment and industrial materials are transformed into streamlined minimal objects.
Curated by Paolo Colombo Los Angeles, CA 90023 www.ibidgallery.com
Categories
Tags