British artist Antony Micallef has produced Donald Trump artwork for charity Peace One Day.
He was invited to support the non-profit organisation Peace One Day by Jake Chapman and Jude Law (Ambassador of the charity).
The artwork,plays with the warning messages on cigarette packets and uses them to warn of Donald Trump : Trump's Fags will be auctioned on Paddle8, going live on the 21st September (Peace Day) and closing on the 5th October at 5pm BST. All proceeds will be donated to Peace One Day. There is no reserve on the artwork so get bidding.  paddle8.com/auction/peace-one-day/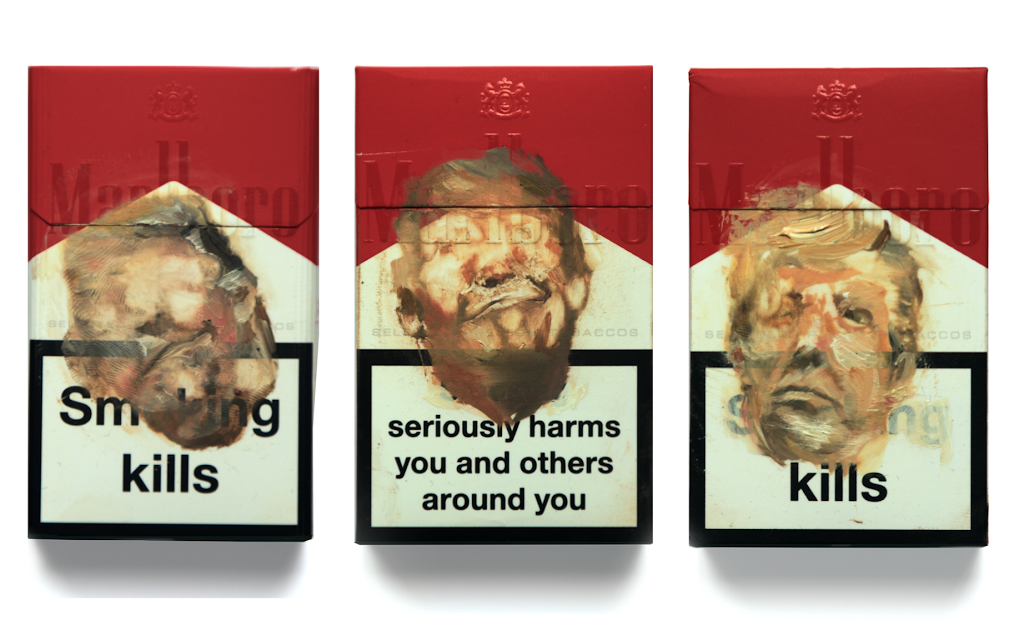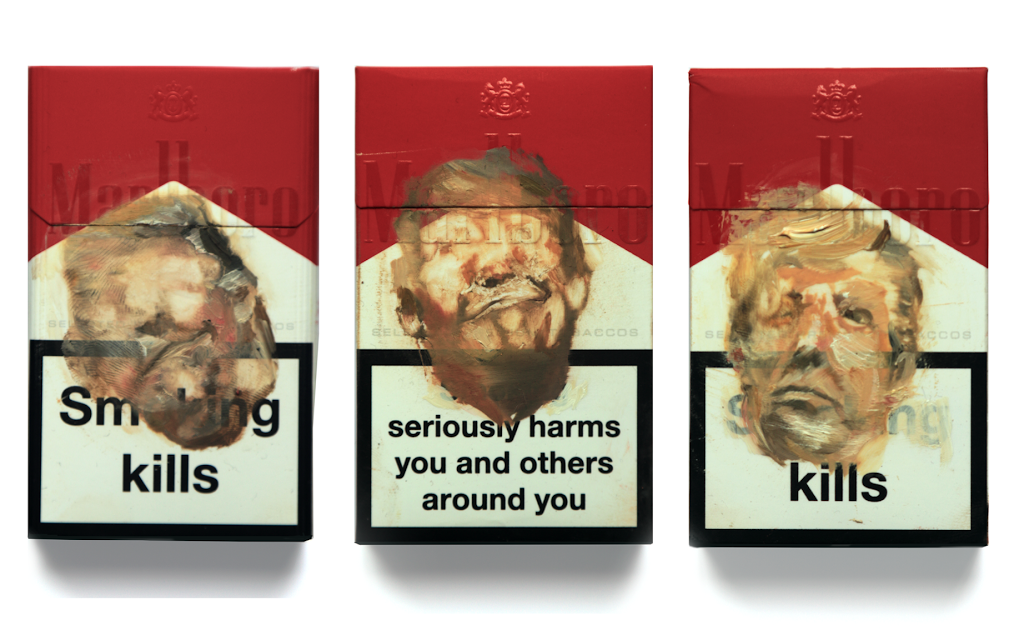 A
Antony on Trump:
"Trump is the new sophisticated, sleeker Terminator that morphs into the people's hero.
A shiny metallic chrome aluminium chassis on steroids with a blonde comb over wig. It's shaped like a state of the art fascist Lamborghini, where Sarah Palin was the Nazi King Tiger tank."
"He's the equivalent of Batman the Dark Knight who spends all his money and family wealth in fighting his cause, but instead of fighting for good of Gotham he fights for the throne of America. People are so angry that they feel they have been giving nothing and are forgotten. They want a voice and no matter what Trump says, they will follow him as he is the vehicle for their hate and a perfect conduit to express it in."
Supporters of Peace One Day to date include:
Damien Hirst, Peter Doig, Jake and Dinos Chapman, Antony Gormley, Yinka Shonibare, Ryan Gander, Rebecca Warren, Sam Taylor-Wood, Tim Noble and Sue Webster, Douglas Gordon, Jeremy Deller, Marc Quinn, Harland Miller, Jim Lambie, Jonathan Meese, Polly Morgan, Langlands & Bell, Mat Collishaw, Sarah Lucas, Elton John, Jessie J, Yusuf Islam (Cat Stevens), Akon, Angelina Jolie, Sir Michael Caine, Forest Whitaker, Kofi Anan and UN Secretary General Ban Ki-moon.
Angelina Jolie will be involved again this year (she is also a collector of Antony's work).
About The Artist:
Antony Micallef was born in Swindon, England in 1975 and graduated in Fine Arts from the University of Plymouth. He was notably taught by the austere landscape painter John Virtue, who was taught by the postwar painter Frank Auerbach.
Described as a modern Expressionist and widely recognised as one of the finest painters in contemporary art today, Micallef roots his work in social commentary and self-examination.
His major solo exhibitions include Raw Intent (2016) Pearl Lam Gallery, Hong Kong; Self (2015), Lazarides Rathbone, London; Impure Idols (2007), Lazarides, Hollywood; Antony Micallef (2006), Eyestorm, Milan; and a show at the National Academy of Fine Arts, Sofia, Bulgaria (2005).
Micallef also has work in collections all over the world and has exhibited in group shows at institutions such as the Art Basel Hong Kong (2015), ICA London (2012), Tate Britain (2010), Royal Academy, London (2008), and the National Portrait Gallery, London (2000). He took second prize in the BP Portrait Award competition in 2000. www.antonymicallef.com
Categories
Tags