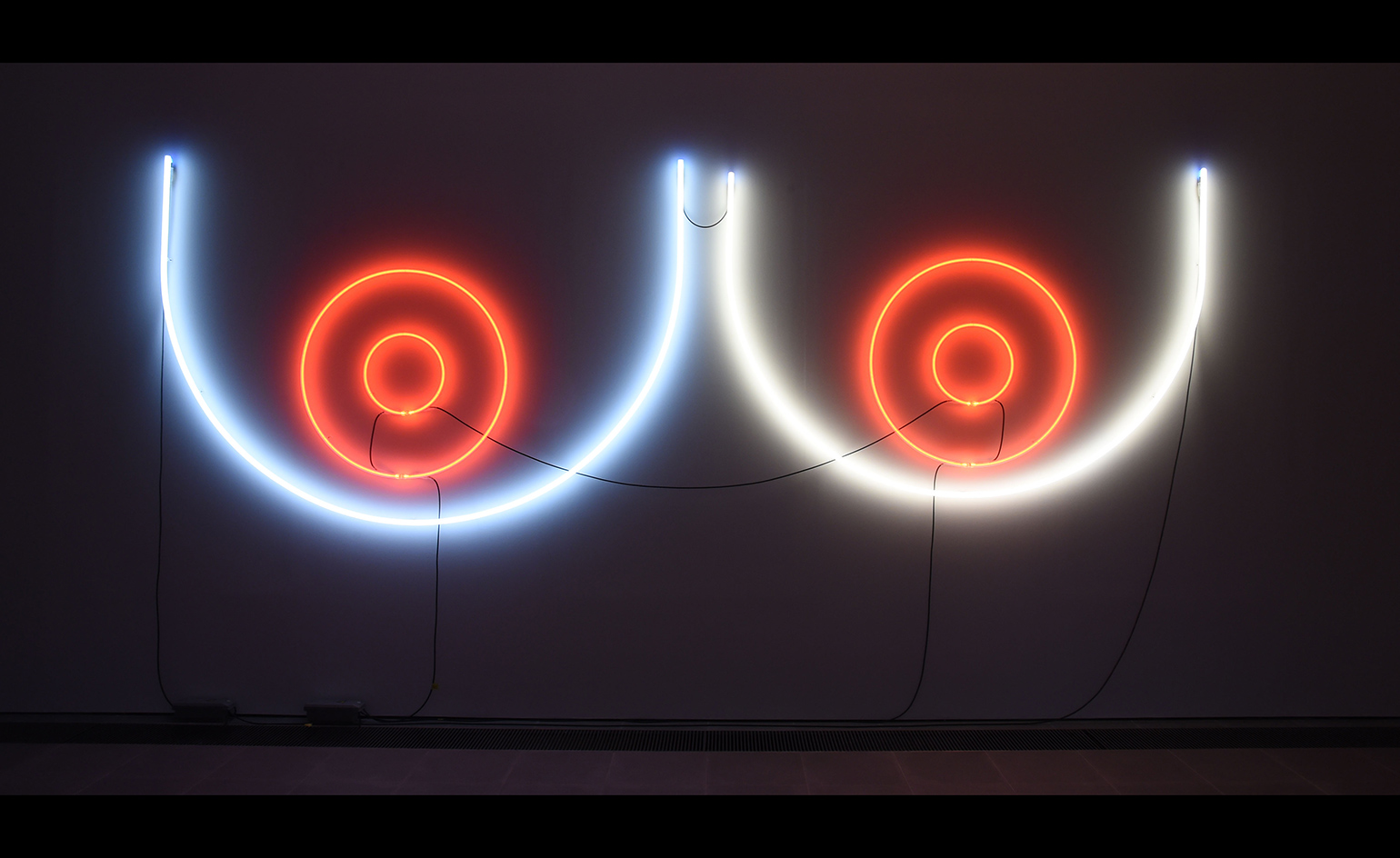 Das Institut installation at the Serpentine Gallery

YOKO, MICHELE, PAULINE, by Sarah Lucas, spread in front of George Jones' painting 'THE OPENING OF LONDON BRIDGE' – photo Julian Simmons
There seem to be a recent convocation on the subject of breasts for eyes. In December I noted that Julian Simmons' massive and detailed graphite drawings of concentric circles (at Lychee One) 'resemble eyes and breasts by duck-rabbit turns', so countering their meditative aspect with a little bawdy comedy. Simmons attributed his use of the theme to his partner, Sarah Lucas.
'Eyes and breasts', he told me 'not so dissimilar …aesthetically, though formally… one takes energy, the other gives; not entirely, both ways since you enquire'.
Lucas herself has ('Power in Woman' to 21 May) brought three literally topless muses back from their Venice Biennale presentation to the Soane Museum's yellow drawing room – the original inspiration for the custard colour scheme of her British Pavilion. It features plaster casts of the bottom halves of three women, so no peeping boobs, but Lucas mentions as context how "Magritte's painting, 'Le Voil', puts a woman's naked body where her face ought to be. That is, on the front of her head, tits for eyes." So I wasn't too surprised, by now, to see the biggest work in the Serpentine's Das Institut installation (to 15 May) described in the catalogue thus: 'the neon breasts which greet the viewer at the entrance flick on and off, converting the nipples into blinking eyes'.
Either way, both Lucas (rubbing up against Soane's collection) and Das Institut (paired with one of their inspirations, the impressively out of time paintings of Hilma Af Klint) benefit from contexts which alter how we see things – whether as breasts or as eyes.

Julian Simmons: Orbicular Drawings, 2015
Most days art Critic Paul Carey-Kent spends hours on the train, traveling between his home in Southampton and his day job in London. Could he, we asked, jot down whatever came into his head?
Categories
Tags