I was immediately blown away by the International artist born in Bulgaria, but based in London and New York, Ida Ivanka Kubler's artwork The Birth Of An Idea. Organic in appearance; abstract in presence. Her artworks have a being and an atmosphere that transmits to the viewer calmness and vibrancy at once. I felt touched and enlightened. No wonder, I have since learned that this series has proved to be immensely popular and are now found in collections in the UK, Guernsey, France, Spain, Germany, India, Norway and the US.>

The Birth of an Idea by Ida Ivanka Kubler. Private Collection. Courtesy the artist and the collector.
Ida has said that she will just create one hundred of the Birth Of An Idea series. Not one more. She is already over half way. The one I saw was a two-colour artwork: bright sunny yellow in the middle and sky blue. The yellow merged into the blue. The simple circle settings consisting of an abundance of sculptured silk cocoons on a large canvas. Ivanka Kubler has created two and three colour versions of the series, some with additional elements like ink markings or red and blue dots. Talking to her she is excited by doing a full gold version – though this will have to wait for a discerning collector to commission it.
Elegantly executed these artworks are on the verge between painterly flatness and sculptural making with the use of found-objects. They are about the freedom in space, as you can hang them horizontally, vertically, on the ceiling, floating in the air; as singles or in groups. Anything goes. Anything is allowed.

Studio New York, experimental cocoons artworks. Courtesy the artist.
Ida individually transforms each cocoon into a small sculpture, so it allows the passing from one identity to another: from the egg-form white cocoon to the open-hand sculpture with six wings (an arm and five fingers) in bright colours.
The objects still possess elements from the previous one like their curved and structured surface. Embracing external and internal form they thrive in possessing both identities.
The art is at once transcendentally primitive embodying a universal oneness of geometric circle, with a subtle play of patterns. A reinvention of Indian mandalas or reminiscent of mosaic in Ancient Greece, an assemblage and repetition of small particles. In modern parlance the repetition in Ida's artwork could be seen as deconstructed pixelation. The artist insists that her artwork doesn't convey meanings but awakens feelings. She says that feelings are stronger than meanings, as often meanings are expressed in words and therefore futile.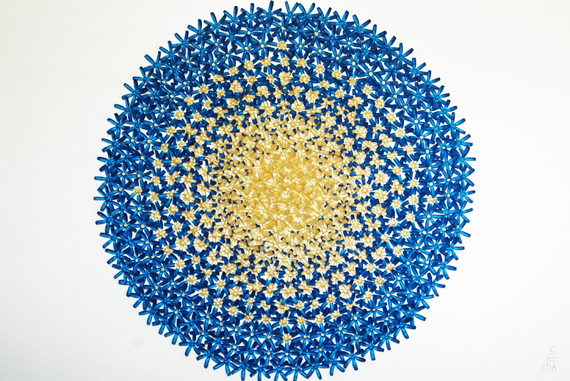 The Birth of an Idea XLI by Ida Ivanka Kubler. Courtesy the artist.
With her artworks you feel at once empowered and caught in hopes, desires, sensualities, play, light, ecstasy, energy, rebirth. And in the moment you make a slight move the three-dimensional qualities of the painting surprises you with a dramatic change. Your gaze seeks relaxation and gets a sense of tactile experience. This tactile experience is what artist says she feels when producing those artworks which seems to be passed on to the viewer. A strong experience open to all.
Golden cocoon necklace by Ida Ivanka Kubler. Courtesy the artist.
Ida's latest project is a collaboration with Rxhibition, a non-profit organization with the mission to ameliorate the healing process within chemotherapy treatment areas in hospitals using art.
The artwork will contain around 500 cocoons. 500 people will be involved in the creating of the artwork and in the financial support for the organization as each cocoon will have the name of the participant inscribed.
Only 5 cocoons will be golden giving the opportunity to be a golden level supporter. It will be Ida's largest artwork from this series so far and it carries the number 65.
The project will be video and photo documented.
Visit Ida Ivanka Kubler Website Here
Categories
Tags