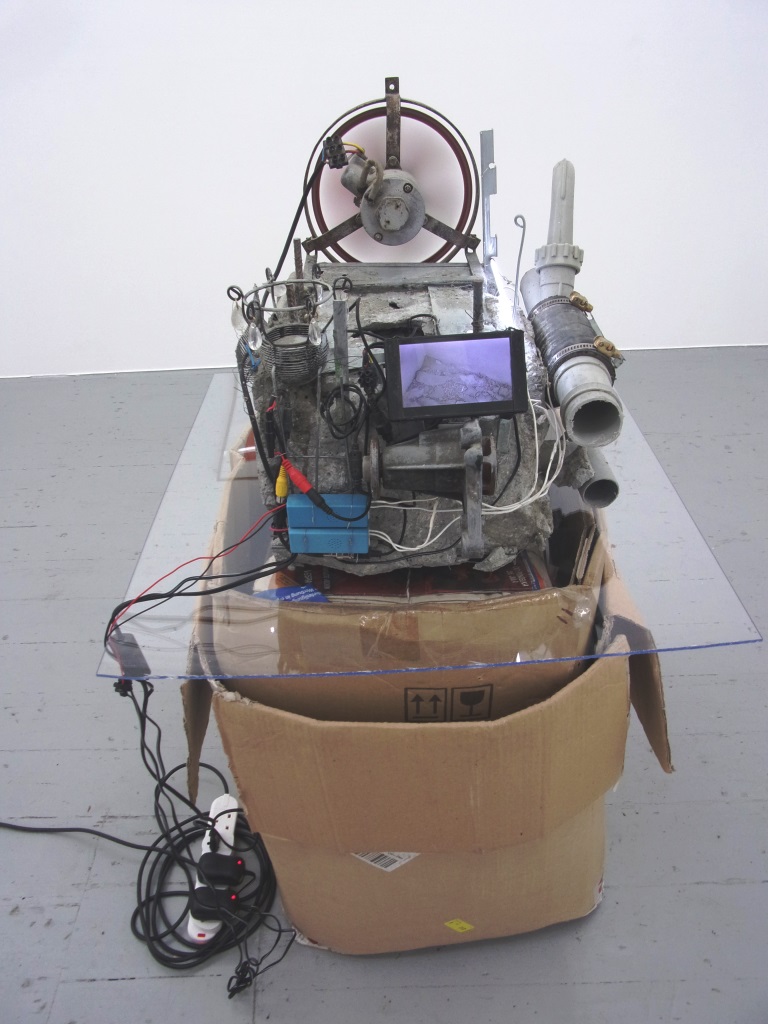 Mathis Altmann: 'Fresh Breeze, Old Smell', 2015 – concrete, metal, wood, mini-cam, lcd-screen, plastic, paper, cold-cathode lamps, electrical fan, carton, plexiglass
CONDO is a tidy concept: instead of struggling to meet the fixed costs of attending an Art Fair and then facing the pressure to sell which comes with that, 16 young foreign* galleries have been invited to share the space of 8 emerging London galleries, so that 24 galleries are represented in a four week festival-come-fair (to 13 Feb – www.condocomplex.org).
There was certainly a buzz when matters got under way on 16th January, when all eight spaces were crowded. and gallerists have told me since that visitors have been double the usual numbers.
My favourite pairing was at the newest gallery, Chewday's in Vauxhall – run by Tobias Czudej, who didn't want a tricky name to stand in the way – with Berlin's Kraupa Tuskany-Zeidler, who didn't, I guess, share that concern. The host's Nicholas Cheveldave's painting-collages festooned with webs made from friendship bracelets (how we're trapped in social media?) meet Daniel Keller's 3D printed digitally sliced riffs on the cairn (ancient meets modern, inter-personal is folded into the techno-corporate?) and that felt like a natural attachment. My other highlight – every home should have one – was Mathis Altmann's weirdly atmospheric pseudo-machines with live-stream views into their concrete innards (from Supplement's Genevan guest Truth and Consequences), one of which made a smell via oil-powering of its primitive fan. All eight spaces were lively, though, and it seems a repeatable experiment, perhaps to be hosted in alternating cities.
* Actually one of sixteen was Seventeen, so I'm counting Haggerston as foreign territory.
Nicholas Cheveldave 'Funny Boy (detail)'. 2015
Most days art Critic Paul Carey-Kent spends hours on the train, traveling between his home in Southampton and his day job in London. Could he, we asked, jot down whatever came into his head?
Categories
Tags