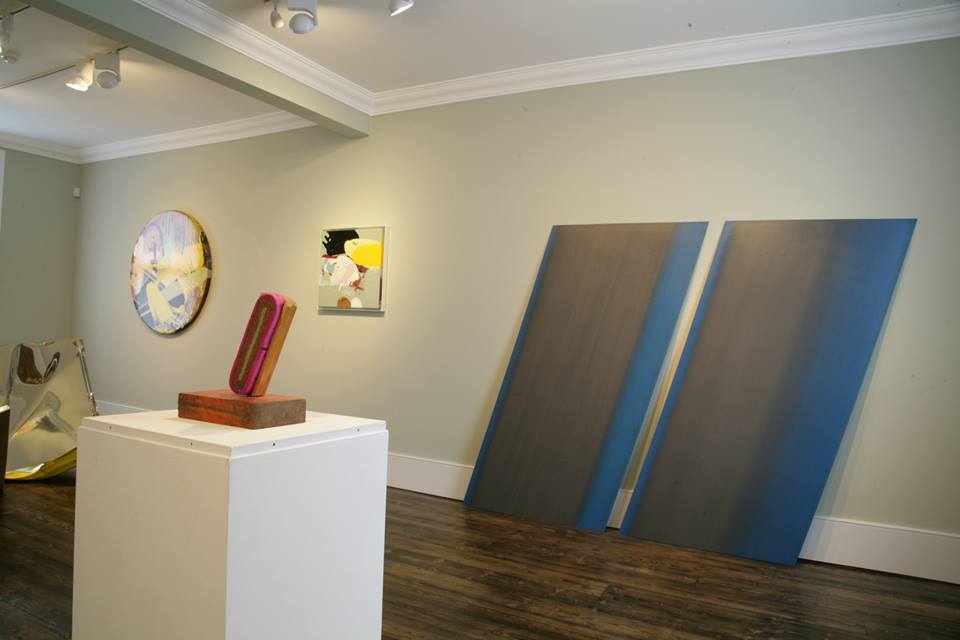 Loukas Morley installation view
It's easy to assume – after all, it's pretty-much true – that London has the only significant commercial exhibitions of contemporary art in England. One exception, though, is the UpDown Gallery in Ramsgate, now three years old. And while I can't honestly recommend Grayson Perry currently, a visit fits well with the Turner Contemporary in Margate. At the UpDown the Cambridge-based Loukas Morley (to 18 Oct, above a diverting show by Martin Grover in the two level space) presents a varied and imaginative retrospective, elegantly tied together. First, Morley has a great eye for finding objects in which to discover art: squashed supermarket baskets, samples of wood veneers, bent curtain rails… Second, that process of discovery carries over into his fully self-made works, in which multiple layers of paint and resin, applied on board by drip and swipe more than by brush, are differentially sanded away to reveal chance gestures or windows onto the base wood, or else left to form monochrome zones. Third, that process of rubbing plays back into the found objects: those curtain rails were polished into pristine distortions; used industrial sanding belts are revealed as found drawings; a sculpturally posed chalk duster looks ready to wipe the belt clear, as well as suggesting a teacher losing control. And, under cover of their being objects, there's also a found painting of sorts: the lids, that is, of four cans of spray paint. This show, relocated, would be in my London top ten.
Loukas Morley: 'Stratum Journey 7 (Pink Circle), 2014 – spirit based pigment, resin on board
Most days art Critic Paul Carey-Kent spends hours on the train, traveling between his home in Southampton and his day job in London. Could he, we asked, jot down whatever came into his head?
About Paul Carey-Kent