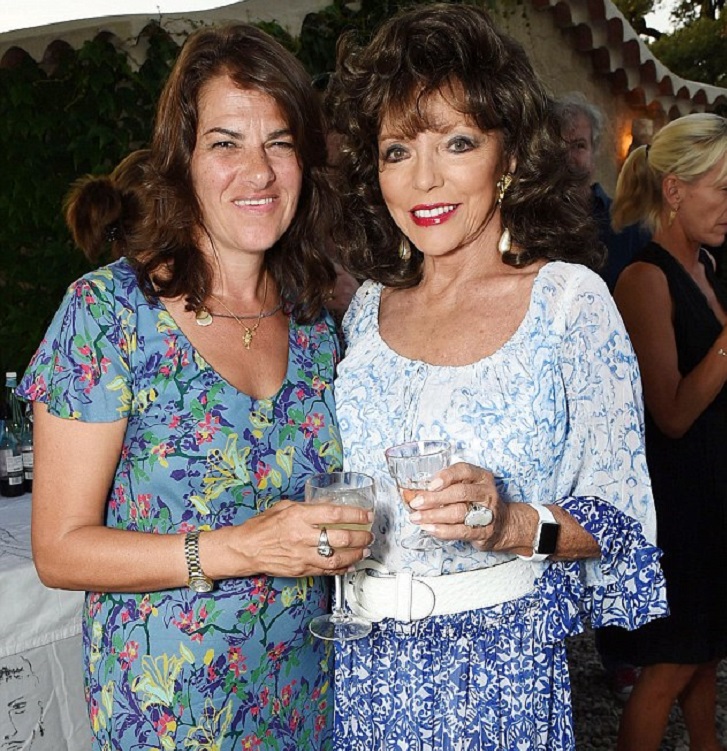 Tracey Emin has the audacity to enjoy herself at her own birthday party, with her friend Dame Joan Collins
Being Tracey Emin is a full time occupation, although probably not as labour intensive as being Gilbert & George. She is saddled with the unenviable task of perpetuating the myth of Mad Tracey from Margate, which is the source of all her power, while also drifting gently into middle age and maturing as an artist to ensure her longevity. So one wonders how she has time for lavish birthday parties, building controversial new houses and judging drawing competitions.
Tracey's birthday is the event of the year, every year. There is nothing more important in a world where everything is, as it always has been, all about Tracey. The Queen's garden parties and the Serpentine summer party are but dim blips in London's social circular when July 3rd rolls around. Last year, the Daily Mail splashed with a priceless pap of Dame Vivian Westwood leaving the party on a bicycle. Tracey's birthday is a celeb-stacked, wall-to-wall spectacle every year.
It's as if it's still 1997 and everybody is riding high on the money-soaked crest of the Cool Britania wave and cream of British celebrity parades in Tracey's ineffable honour. Bob Geldoff, Princess Eugenie, Elton John, Russell Tovy, Tinie Tempah, and, probably, Keith Allen bargaining with a goat in a quiet corner while Alex James snorts cocaine off an empty Crystal bottle. This year was no exception in terms of celebrity turnout, featuring giants such as Joan Collins and Sue Webster, but was – according to the ever-watchful Daily Mail – a more civil affair in the south of France. What a terrible drag it must be to demand and to orchestrate this much fun every year.
Tracey was also in the news recently owing to the outrage caused by a planning application she submitted to Tower Hamlets Council. The plan is for a five story studio residence on Bell Lane, Spitalfields, adjoining her current £4million ranch on Tenter Ground, which will be designed by Sir David Chipperfield. The East End Preservation Society, one of those do-good organisations that strive for authenticity in the metropolis of London by treating their arcane corners of the city as provincial villages, has objected strenuously. The backlash is two-pronged: first, Tracey plans to demolish the listed building on the site, and second, they don't like the look of the new design.
The sticking point is the fact that when she bought Tenter Ground seven years ago, Tracey was at pains to play her usual sentimentality card, saying she wanted to preserve the historic East End and keep it in artisan use. Now they're all in a tis because the bohemian Margate girl turned Tory-sympathiser has become just another East London property developer. People change their minds, especially when they get richer; get over it. What they don't realise is that it's up to Tower Hamlets to make a reasoned judgement on the plans, and Tracey is free to build whatever she sees fit within those limits. What they also don't realise, the aesthetic clods that they are, is that Chipperfield is a damn good architect; I'm sorry to be a wonk about it, but he's one the best in the business and she could only do better with Terry Farrell if she wants a sensitive, sleek, postmodern building in one of London's historic quarters.

The completely decent and very clever design by Sir David Chipperfield that is going to utterly destroy Spitalfields
Tracey showed her patriotic side recently when she agreed to judge a portrait competition for the British Consulate General in New York. The occasion is the fact that on the 9th September Queen Elizabeth II will make history when her tenure on the thrown surpasses the 63 years of Queen Victoria. Youngsters in New York, New Jersey, Pennsylvania and Fairfield County, Connecticut, are invited to submit a two-dimensional portrait of the Queen of England. The winner, judged by Queen Tracey, will have their work displayed in the consulate HQ in New York City. Tracey, of course, is honoured by the privilege and will doubtless choose the most flattering portrait if she is to become Dame Tracey before Her Majesty shuffles off.
All that has happened to Tracey in just a single month of this year; imagine her gruelling schedule of appointments, parties and real estate deals during the other eleven months. And somewhere in all this A-List hijinks she has to fit in making more art because the world is not replete enough with neon signs and scratchy vaginal drawings. I jest, and in doing so I am giving you what you want. But anyone who knows me knows I love Tracey like an international artist to love more than the world. The fact that you want me to deride her is a sublime illustration of just how confused the amalgamation of celebrity and art is. The fact is people have parties, submit planning applications and judge competitions every day and nobody says a word; we're so crushed by the mundane terror of our own lives that we have not the breath to think about the next poor schmuck's deluge of banality.
I'm not going to say it's hard being Tracey Emin because the ghastly truth is that it's hard being alive without obliterating yourself out of sheer torment whoever you are. But Tracey has a particular task, which is all of her own making, since it is the project – in the Sartrean sense – which she has set herself; her essence, like all of ours, follows her existence in a haphazard, tortuous and largely contingent way. Tracey's task is to preserve the tearaway image of a lose young woman even as she saunters through her fifties, use her wealth and cultural standing – and frankly her immense privilege – to act as an ambassador for the arts, and to live her life as an independent tax-paying member of the consumer society. The wild parties, quaint portrait competitions and building a new home are all in turn her means to these ends. Millions of people do it every day and for some reason Tracey is singled out as an object of ridicule no matter what she does, even when she's being normal.
The really shocking thing I have to say here, the thing that will make your blood boil, is that Tracey is misunderstood. The media spectacle behaves as if the parties are purely for the blood-thirsty delight of the Daily Mail, the planning application is a deliberate attempt to destroy historic London and to flaunt her ill-gotten wealth, and the ambassador to the arts shtick is a vacuous attempt to present a veneer of sincerity and good will. None of this is true. Tracey is not that scheming or calculated, and if you think she is, you may well have been asleep for the last 25 years of British art or you may just be myopically obsessed with other people in a vain attempt to deflect your gaze from the turgid rot of your own soul.
The truth is, Tracey is not like that, she cannot be because – in her art and her life, which is one seamless narrative – she is only interested in herself. Not in a selfish way, but in a deep introspective way: first she made art about her life and mind and experiences, then she reaped the benefits to make a better life for herself. The importance of being Tracey is realising early on that getting on with life is the hardest thing of all, but after you've learnt to get on, its smash and grab party time all round, for ever. The importance of being Tracey is nothing more or less than the task we all face every day – to etch some tiny place for ourselves on the face of the world. She is only saying out loud to the world the same thing we all secretly mutter under our final breaths every night: the last thing I said to you is don't leave me here.
Words: Daniel Barnes
Categories
Tags