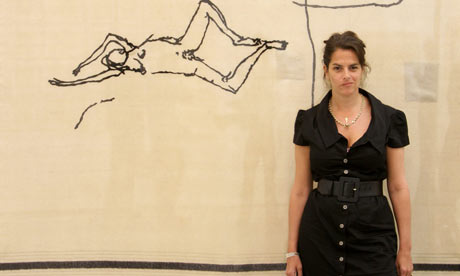 Standing before Tracey Emin's tiny new paintings in the vast galleries of White Cube Bermondsey, the entire reason for art's existence unfurls: every line is a snatch of emotion, every drip a careful meditation, equal parts memory and fantasy, brought from artist to audience in an act of pure communication. Emin will never be Baselitz or Khalo, but nor would she want to be. She just wants to touch your soul, even though you think she's an irritating emotional exhibitionist. But you're wrong. Tracey Emin is the perfect artist, and she is giving you exactly what you want, even if you are too stuck in the nineties to see it.
Emin is the victim of the myth that she necessarily had to perpetuate in order to be understood: the image of Mad Tracey from Margate is the basically true but wilfully exaggerated foundation on which her art is contextualised. And then there is the fact that Emin's reputation as a volatile ball of fury is not altogether unfair, but we should not let personality get in the way of great art. Emin transfigures a lost past into a living present, blurring the line between life and art until it is about nothing other than the universal condition of humanity. If you shut out the noise from the myth of Mad Tracey you will see why she is precisely the kind of artist that you really want.
Emin embodies the very things that people so often complain are missing from contemporary art, namely craft, expression and narrative. In a world where art is manufactured to order, never touched by artists' hand, studded with diamonds, resembles industrial products of little obvious value and insists on some high-minded conceptual grounding, Emin is a breath of fresh air. She treats art as the hand-made expression of a person's inner being; it is as if she is using all the resources of modernity to make art of a romantic, bygone period that died with van Gogh.
Emin prefers embroidery to machine manufactured sculpture, drawing rather than digital imaging, paintings that are the result of years of contemplation, and even neons cast in her own handwriting. It is not just a romantic attachment to traditional materials and processes, everything is forged in the furnace of Emin's hand because she views art as the objective embodiment of the artist's subjective intention. There is a profound respect for the artist's craft as an act of communion with materials and audience alike. Every one of those pencil drawings, monoprints, paintings and gouaches is the laboured fruit of Emin's hand, brought into being from a belief in the necessity of unmediated, personal communication.
This immediacy feels rather quaint in a world where rampant globalisation has caused art's central motif to be grand narratives about abstractions, like capitalism or technology, where humanity appears as a codified puppet in a catastrophic plan. Emin boils the big picture down to the Self as bundle of sensation and feeling. She is an expressionist who explores the richness and vivacity of human emotion: Emin simultaneously constructs an autobiography and unfurls a rigorous analysis of human drama that contains kernels of truth for everyone. Although the work is always about Emin's life and experiences, there is no pretence that it is so exceptional that none of it is ever felt or experienced by any other human being. We see ourselves because to have these emotions articulated in art is to be given the means to explore them. Furthermore, Emin humanises art in an age when it is often obscure, obtuse and concerned with anything but the actual striving of humanity. You might be bored of Emin's tales of abortion, but she is only speaking of her own characterisation of our universal sense of stultifying loss and guilt.
Emin will often say that she never wanted to be an artist, but always longed to be a writer. The crux of it is that Emin is a natural storyteller and it just so happens that the story she is telling is that of the life of Tracey Emin. Every piece of work is a chapter in that story, forming a coherent totality, which most artists, still drunk or at least hungover on postmodernism, eschew in favour of a discursive plot that requires, as Walter Benjamin would say, appreciation in a state of distraction. My Bed, for example, is to be contemplated like a portrait, as a unified whole that tells the entire story in one sitting, precisely as Aristotle advises the writer of tragedy to present the unity of an action. Emin requires that we are sitting comfortably and paying attention, as the saga unfolds we are compelled into a relationship with Emin because her candid nature reveals so much. There is, therefore, nothing conceptual whatsoever in the work – it is plain, sincere storytelling – so that we become utterly subsumed in a world.
All of this has its locus in the fact that Emin understands that there is meaning in materiality and uses that – rather than abstract ideas – as the sole bearer of meaning in her art, which makes it easy to read, since the aesthetic and the meaning are one and the same thing. In a work like Knowing My Enemy, the wood, peeling paint, mottled glass, faded curtains speak of neglect, lost hope and vulnerability to the elements at the same time as embodying in the very core of its being a secret history imparted by the passing of time. Or her famous quilts are composed of swatches of fabric that are culled from her clothes, curtains and furniture, so the materials tell her life story. There is an edifying transparency here, effortlessly achieved through immaculate attention to detail in materiality.
In the end, this is all you really want from art: the gentle touch of the artist's hand, the sincere expression of emotion and a narrative that you can follow, all embedded in an aesthetic that has the weight of art history behind it and a transparency of meaning within it. A whole life unfolds in Emin's work and sometimes it is ugly, but it is also replete with tenderness and affection, just like your sorry life. There is no conceptual trick, no essential reference to Hegel and no spiritual complexity – there is just anguish, love, loss and joy, which are all things that everyone, even people who read the Daily Mail, can understand. If that's not what you want from art, then there's nothing anyone can really do for you.
Words: Daniel Barnes
Categories
Tags