Jean-Baptiste-Ganne:_'Détumescences', 2012
The surprise of a recent trip to Paris was the Musée d'art contemporain du Val de Marne – known as Mac/Val – on the southern outskirts.
This proved to be an immense and superbly appointed space, much bigger than any suburban equivalent in England. The staff were friendly, the documentation good, the café excellent (distinguishing feature: free carrots). There's a capacious permanent collection, but the big draw was 'Chercher le garçon', a multi-media show with no fewer than a hundred male artists, many represented by several works, looking at masculinity today. The in-house curation kept a flow of connections round this complicated network, and often employed the neat trick of co-opting former generations' seminal artists (Duchamp, Pollock and Maplethorpe were prominent) by exploring contemporary artists' views of how they had constructed their masculinity.
Highlights included six paintings by Brain Dawn Chalkley, who pointed me towards the show and film of Simon Faithfull's 'Shy Fountain', 2008, which only comes forth when no-one is present, so bringing a hint of male performance anxiety to the paradoxes of idealist philosophy and linking it to Jean-Baptiste Ganne's 'Détumescences' in which sports trophies have been melted. There were ludicrous moments – Steven Cohen tying a cock to his cock in front of the Eiffel Tower sticks in the mind – but also many familar artists well-contextualised and some interesting discoveries. So I'd recommend checking out MAC/VAL, even if you visit Paris after the men move out on 30 August. Given this was one show in which a lack of female artists made sense, maybe they could find a hundred women to 'Chercher la femme' next year.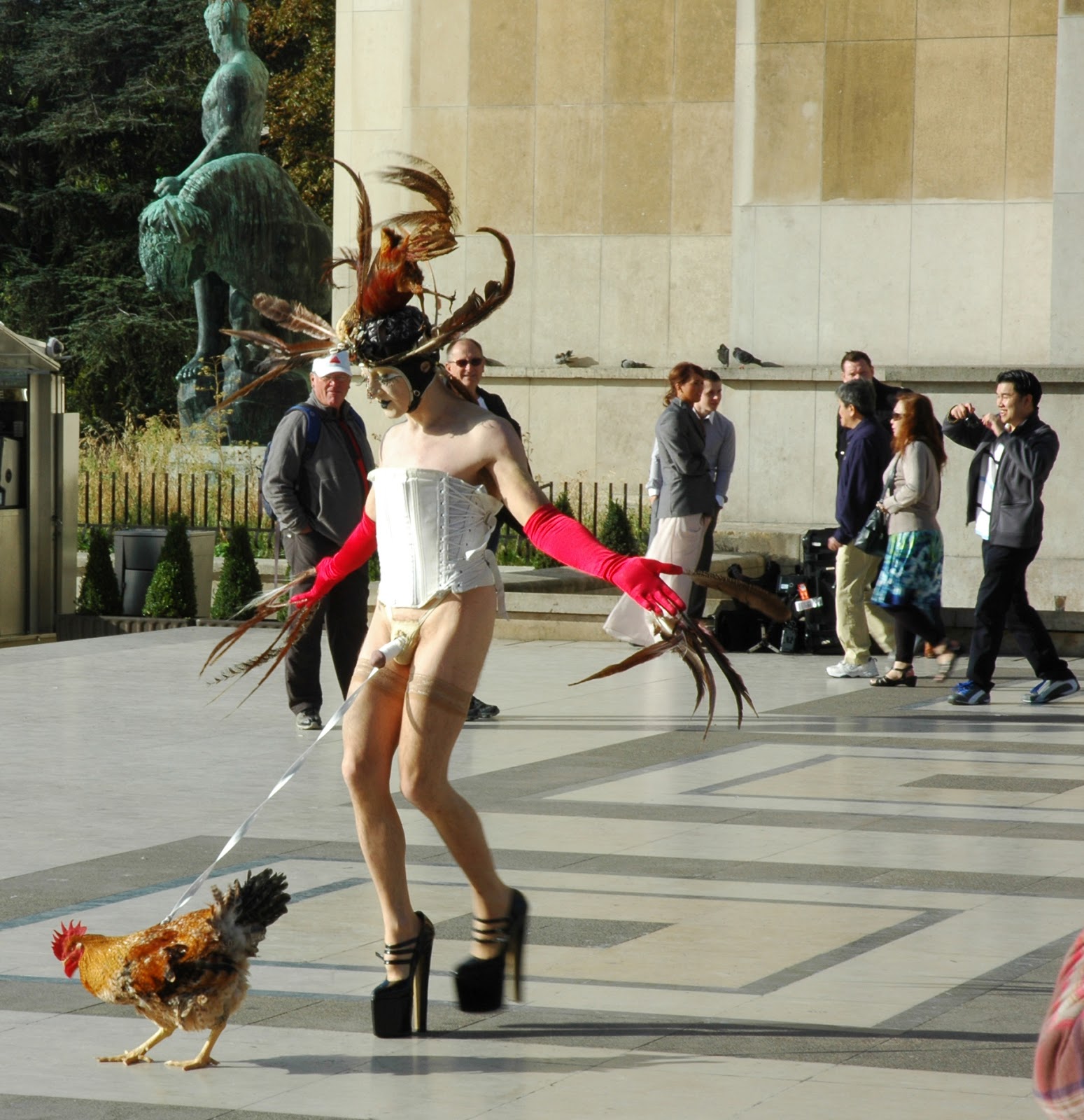 Still from Steven Cohen: 'Coq/Cock', 2013
Most days art Critic Paul Carey-Kent spends hours on the train, traveling between his home in Southampton and his day job in London. Could he, we asked, jot down whatever came into his head?
Categories
Tags