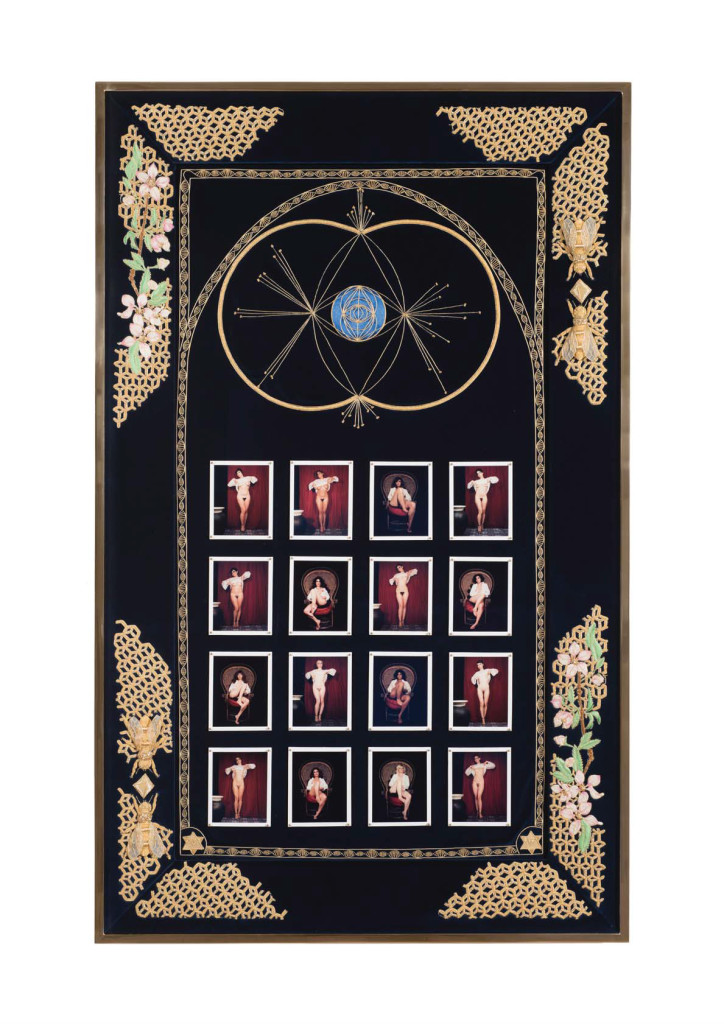 FAD caught up with Sam Roddick at the opening of her exhibition 'Hidden Within' at Michael Hoppen Gallery.
Best known as the original founder of the erotic boutique, Coco de Mer, Roddick has long been exploring our cultural relationship to sex. In this project, which has occupied her for the last couple of years, she turns her attention to the subject of the sexual objectification of women. Roddick takes as her creative muse the twentieth century Italian architect and designer Carlo Mollino, and in particular examines his erotic polaroids through which she seeks to explore the notion of the male gaze and those feelings of shame and anxiety that persist in relation to sex in our society.
For those of us that don't already know, who is Carlo Mollino?
Carlo Mollino is my favourite historical pervert. He was a Famous Architect and furniture designer. He was a stunt pilot, highly skilled skier and an obsessive erotic photographer. Mollino was born in Turin Italy in 1905 and died in 1973.
When was the first time you came across Mollino and what drew you to his work?
I first came across Mollino 13 years ago, I stocked a book of his erotic polaroid's in my shop. As soon as I saw his photographs I was taken back by how alluring they were, at the same time I felt something didn't add up. I am always drawn to things that make me feel uncomfortable. I find the sexual psychology that surrounds him fascinating.
His images are ritualistic/fetishistic, the best example of sexual objectification I had ever seen. When I started to research him I became even more intrigued, he never married, never had any relationships, no children, lived with his parents his whole life. He built a villa specifically to photograph the women in, he owned the clothes they wore, he took thousands and thousands of these images. I realized mollino was chasing perfection, a feminine ideal.
You recently met with Mollino's model, what stories did you gather?
She was fabulous , a slightly rough street version of Elizabeth Taylor. At first she was coy about being a sex worker but asking her the right questions, soon all the barriers came down, I loved this about her. It became clear how physically ugly Mollino was, it wasn't just her who said it but a number of his friends really emphasized the fact he was very, very ugly and he was deeply insecure about his looks. (The weird thing was he doesn't look that ugly in his photos) She said that he was very lonely and she felt very sorry for him. I call him an archetype of "the wounded male" because he was sexually disconnected, incapable of having intimate relationships, denied emotions, very insecure. But he was also was a genius, extremely bright, adventurous and deeply curious about everything.
I love the use of velvet when framing the photographs, it almost comes straight out of the backdrop of the images. What made you want to mix textiles and photography?
I used the velvet, and the proportion of the frames to create an effect of a religious alter. I wanted the photographs to be contextualised in this setting, one of the main contributing factors to our social sexual shame stems from religious attitudes. All the gold embroidered symbols I use are very old and they are found in many cultures. The snakes the bees the sacred geometrical shapes all have hidden meanings, they are all symbols that are associated with women and sexual energy. The most interesting aspect of my research is that ancient philosophy has a much more inspiring concept of sex that our current perspective.
What is the biggest set back or challenge that you had with this project.
I worked with 3 opposing materials – the velvet embroidery – the photographs and the frames – they fought a lot against each other, making it all come together cohesively was a struggle.
What photographic challenges were there in recreating his work?
Directing all the women when they were posing was like pulling a puppet strings. It was like a step by step yoga class, they had absolute no control at all. Some of the poses were physically arduous when the girls are kneeling they are actually elevated, with their bottoms hovering about 4 inches above their ankles. Firstly I would have to get them into the right position and from there correct the rest of their bodies, make sure the shoulders were back the hands flicked at the wrist, the chin up the eyes looking to the left the. I would witness their muscles go into spasm, they all were incredible. Most of the women in my photographs have waxed for years, some of them no longer had the ability to have a full grown bush, so we had to make merkins.
How long has it taken you to create these pieces?
It has taken me two years from the first shoot to actually presenting. The first year I spent creating the photos and hand printing them myself. The second year has been researching designing and creating the frames.
What event in your life big or small prompted a major turning point in your career?
When my mum died I knew I wanted to sell coco de mer. There is an honesty to grief that is undeniable, it was then I knew I wanted to dedicated myself to being an artist. People kept saying don't make any decisions when you're grieving. Now I believe the opposite is true, you should make all your decisions when you are grieving, you have a bullshit monitor on high alert , life is too short for bullshit.
Name 3 artists that have inspired you?
Rodchenko – Judy Chicago's The Dinner Party – Massacio
What is the best piece of advice you have been given?
My mum taught me never read what is written about you in the press – ever (even the good stuff)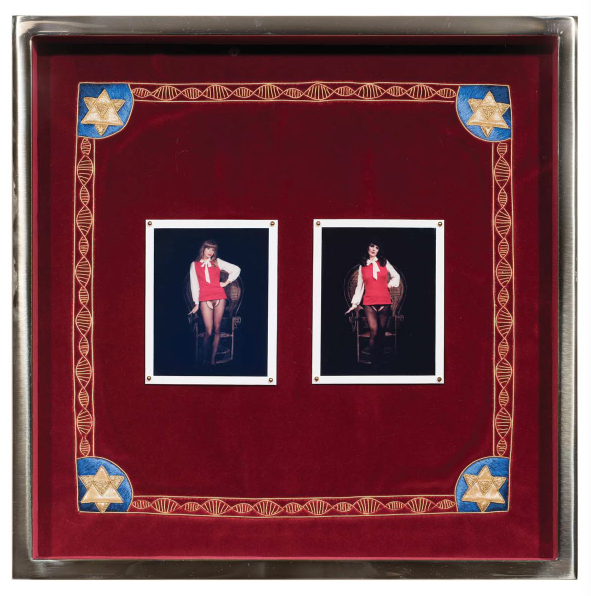 What super power would you have and why?
I would be able to change the way people feel just by thinking of them – I could dissipate anger and turn it into joy, turn depression into pleasure, and dissatisfaction into feeling content. I could even provoke a spontaneous orgasm with the flick of my mind.
What is next for you?
One big fucking holiday.
Hidden Within is open at The Michael Hoppen Gallery 3 Jubilee Place, London SW3 3TD until 1st May 2015
www.michaelhoppengallery.com
Categories
Tags