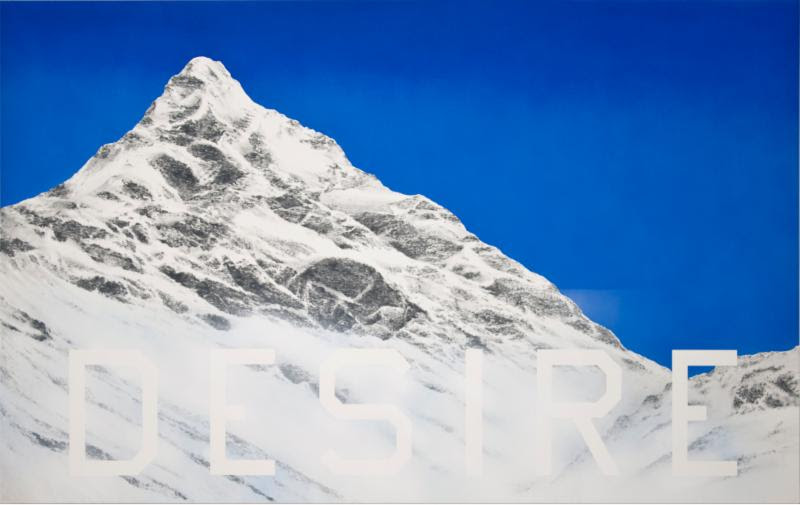 Ed Ruscha, Desire, 2013, acryclic on canvas, 50 × 80 inches (127 × 203.2 cm) © Ed Ruscha
For Art Basel Miami Beach, Jeffrey Deitch and Larry Gagosian are hooking up to present "Desire," an exhibition curated by Diana Widmaier-Picasso, at the Moore Building in the Miami Design District.
"Desire" explores modern and contemporary approaches to eroticism in art. One of the very earliest and most fundamental artistic themes, eroticism has served to reflect the social mores and cultural values of different civilizations. As the representation of eroticism has evolved in society, boundaries are tested, bringing to life artistic fantasies and unprecedented imagery. Eroticism reinvents itself with every subsequent generation. Today, for example, the promiscuous overexposure of nude bodies on the Internet and television has forever altered the very notion of erotic representation.
Eroticism fuses together opposing and complementary concepts: form and feeling, spirit and body, intellect and emotion. It is at once the most accessible and most challenging subject in art. Its portrayal can be theoretical, abstract, romantic, carnal, or all of these combined. It may be infused with humor, anxiety, or terror. It can be subtle or brash, creating tension between artist, subject and viewer. In modern and contemporary art, eroticism often elicits feelings of unease, in the navigation between the male and female gazes, and between voyeurism and self-exposure. Sometimes, the art that explores eroticism in the least expected way possesses the strongest erotic charge.
"Desire" will feature the work of more than fifty artists from modern masters such as Pablo Picasso and Balthus to emerging talents. Joe Coleman, Gaspar Noé, and Tschabalala Self are among those who have created new works specifically for this exhibition. In addition to painting, sculpture, and photography, video installations by Harmony Korine and Jordan Wolfson will be featured.
Artists exhibited include:
Noboyushi Araki, Diego Rivera, Malthus, Allen Jones, Walter Robinson, Vanessa Beecroft, Jeff Koons, Ed Ruscha, Hans Ballmer, Harmony Korine, David Salle, Cecily Brown, Diana Lawson, Jenny Saville, Joe Coleman, Roy Lichtenstein, Kenny Scharf, William Copley, Valerie Marder, Tschabalala Self, R. Crumb, Marilyn Minter, Hajime Sorayama, John Currin, Pierre Moulinier, Eric Stanton, John DeAndrea, Carlo Mollino, Juergen Teller, Urs Fischer, Georg Herold, Helmut Newton, Tom of Finland, Eric Fischl, Gaspar Noé, Andy Warhol, Nan Goldin, Eddie Peake, John Wesley, Keith Haring, Francis Picabia, Jordan Wolfs, Barkley L. Hendricks, Pablo Picasso, Martin Wong, Noritoshi Hirasawa, Richard Prince, Francesca Woodman, Alex Israel & Bret Easton Ellis, Man Ray,Harumi Yamaguchi.
Larry Gagosian and Jeffrey Deitch present "Desire," curated by Diana Widmaier-Picasso, at the Moore Building, Miami Design District, Miami, Florida. On view November 30th through December 4th, 2016.
Larry Gagosian and Jeffrey Deitch have been colleagues since 1979, working with many of the same artists. "Desire" is their second joint exhibition project, following the influential "Unrealism" show in the same space last year.
Diana Widmaier-Picasso is an art historian specializing in Picasso sculptures. She co-curated "Picasso and Marie-Thérèse: l'amour fou" with John Richardson (Gagosian, 2011), and "Picassomania" with Didier Ottinger and Emilie Bouvard (Grand Palais, Paris, 2015). She is the author of numerous essays including "The Provenance of Picasso's Collection of Erotic Japanese Prints," which was collected in the catalogue Secret Images: Picasso and the Japanese Erotic Print, edited by Museu Picasso, Barcelona, 2010 and a book "Picasso: Art can only be erotic" (Prestel, 2005).
The Miami Design District, developed by Craig Robins in partnership with L Real Estate, is a neighborhood dedicated to innovative fashion, design, art, architecture, and dining. It features distinctive architectural projects by Sou Fujimoto, Aranda/Lasch, Johnson Marklee and other leading young architects; and public commissions of art and design by John Baldessari, Buckminster Fuller, Zaha Hadid and Marc Newson.
Categories
Tags