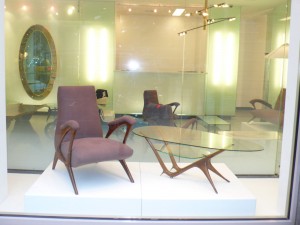 Il Mobile Italiano, an exhibition of the finest examples of 20th century Italian design. Showcasing the work of some of most significant designers of the era, the show will include pieces by Carlo Bugatti, Carlo Mollino, Carlo Zen, Joe Colombo, Gianni Colombo, Gio Ponti, GPA Monti, Ico & Luisa Parisi, Pierluigi Giordani, Vico Magistretti and Vittorio Vallabrega.
During a period of dramatic social and technological change, Italy remained at the forefront of international design throughout the 20th century. Playing a leading role in the automotive, fashion and furniture industries, Italy's contribution to the developing design market was paramount and its products have become icons of the era, from the Fiat 500 to Gio Ponti's Superleggera.
Giordani chairs This show brings together a diverse collection of work from the pre and postwar eras, and will combine landmark designs for mass-production with rare and exceptional designs by some of the period's most celebrated designers. These will include a rare brass and pewter inlaid desk of c.1902 by Carlo Bugatti, an enameled steel and aluminum Iride floor lamp by Ico & Luisa Parisi of c.1970, and a remarkable pair of biomorphic armchairs in walnut of the late 1950's by Pierluigi Giordani.
Sebastian Barquet Gallery was established in New York in 2005 with the intention of providing collectors with access to the finest available examples of 20th Century Design. International in scope, with two locations in New York's Chelsea design district Sebastian Barquet maintains a presence at the principal design fairs worldwide. With a focus on masterworks of American and European design of the 1940's -1980's, the gallery is dedicated to presenting well-curated, museum- quality exhibitions that celebrate the works of established masters while imultaneously showcasing the work of lesser-known designers. The gallery's exhibited artists include international designers who have left an indelible mark on the design landscape, such as Buckminster Fuller, Vladimir Kagan, George Nakashima, Gio Ponti, and Jean Prouvé.
Categories
Tags