Not rugged as in craggy or bewigged looks, but as in hirsuteness hung on the wall. Quite plausibly the world's two leading exponents of the art rug are featured in current London shows. American Georgian Anna Betbeze uses solid flokati – Greek wool rugs with felt bellies – which she burns with charcoal, floods with acid dyes and scalds with water as she develops colours to run through whole fibres, mid-sections or tips to achieve a shaggily layered iridescence. Aesthetic aside, her first London solo show ('Plush Vision' at Luxembourg & Dayan to 2 April) demonstrates the advantages she gains from using rugs for her agreeably elemental production process: they allow various hangs (partly over a partition top; of variable droopiness etc) in a way which canvas would not; create intricate shadows; and, as stainings in the tradition of Helen Frankenthaler, carry the neat inversion that it's brushes, rather than canvas, that the rugs most resemble. Caroline Achaintre also has an international profile: the French-born, German-developed, English resident was in America when the mysteriously titled 'Pacci' was revealed at Arcade's opening of the group show 'Folleree & Folleroo' (to 21 March). Achaintre starts from drawings, and then tufts individual pieces of yarn into a woven canvas base – which she has to do intuitively from the back, meaning that she, too, isn't fully in control. Her more patchwork style tends towards the mask-like, exploiting the semi-accidents to cross-pollinate Primitivism, German Expressionism and the Carnivalesque to arrive at something like a tribal futurism. And do catch (to 3 May) the large room of her wider practice at Tate Britain .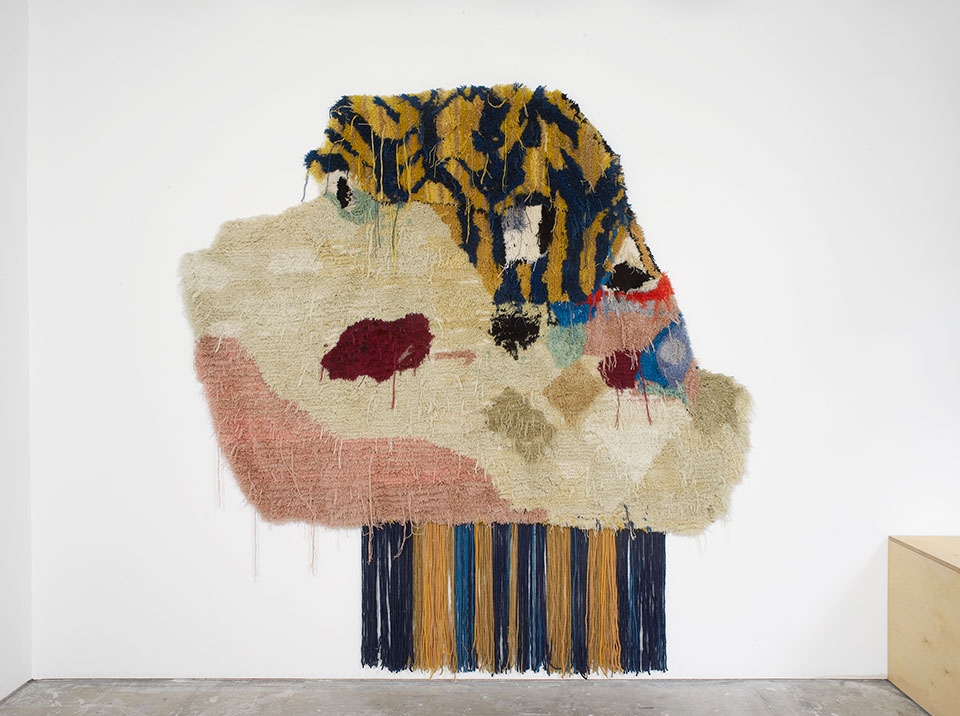 Caroline Achaintre: 'Pacci', 2015
Most days art critic Paul Carey-Kent spends hours on the train, traveling between his home in Southampton and his day job in London. Could he, we asked, jot down whatever came into his head?
Categories
Tags