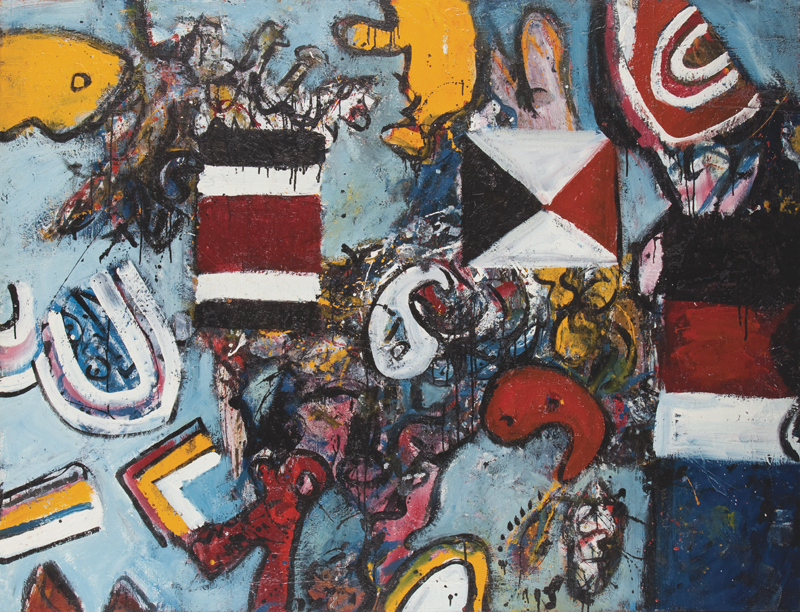 Alan Davie: 'Flag Dream No. 1', 1957 at the Portland Gallery
It's been hard recently to avoid two artists who were internationally famous in the 1950's – 60's, fell out of critical favour, and are now being repositioned as significant enough for comparison with Moore, Hepworth and Bacon – which would lead to an upturn in prices. Alan Davie (Falkirk 1920 – Hertfordshire 2014) died just before his shows opened at Tate Britain, the Portland Gallery, Gimpel Fils (his long-time representatives) and Alan Wheatley. He was arguably the first European – unless we count de Kooning as Dutch – to adopt the heroic action painting mode with success, and the Portland Gallery's strong selection from his unquestionably hot 1957-62 period was decidedly de Kooningesque. You can find Lynn Chadwick (London 1914 – Gloucestershire 2003, so 100 years on) in the Royal Academy courtyard, Blain Southern and Osbourne Samuel. So: is the hype justified? You can argue that (1) they were overrated in the 1950's; (2) they undermined their early reputations by getting stuck in set formulae (Chadwick's shape-heads) or by moving too far from their strengths (Davie's switch from jazzy spontaneity to clearer-cut symbolism); or (3) you might claim – as the galleries obviously do – that they simply passed from fashion, the whims of which disguised their true worth. For me, it's a mixture of all three, but especially (2), for both… but it's nice to have the shows to facilitate forming a view.
Lynn Chadwick: 'Walking Woman', 1984 at the Economist Plaza (Osborne Samuel)
Most days art Critic Paul Carey-Kent spends hours on the train, traveling between his home in Southampton and his day job in Surrey. Could he, we asked, jot down whatever came into his head?
About Paul Carey-Kent