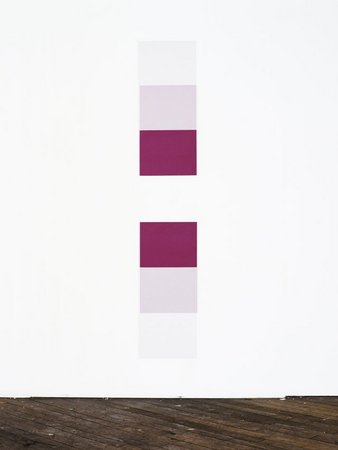 Sheree Hovsepian Sleight of Hand #18, 2012 C-Print 101 x 76 cm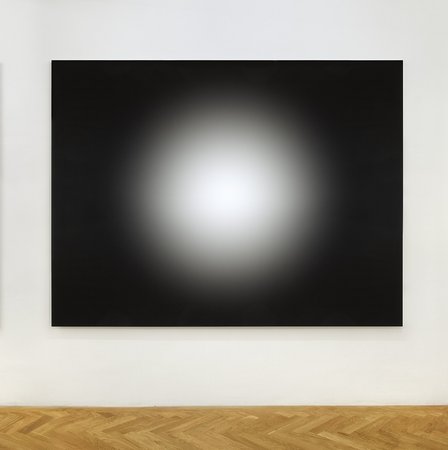 Michael Reisch o.T. (Untitled) 8/013, 2011 Digital C-Print 180 x 240 cm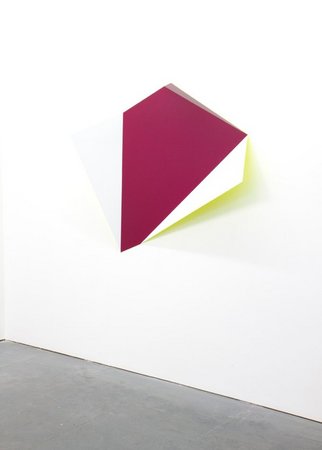 Rana Begum No. 448 – Fold, 2013 Paint on mild steel 112 x 136 x 35 cm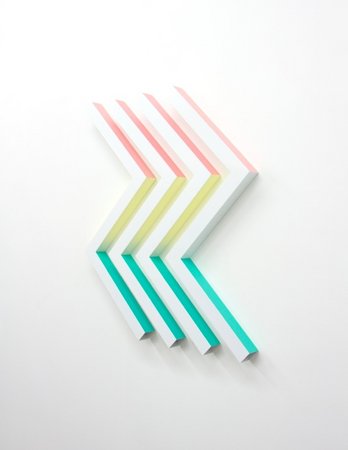 Rana Begum No. 460, 2013 Paint on powder-coated aluminium 80 x 80 x 5 cm
Private View: Wednesday 12th February 6 – 9 pm Exhibition: 13th February – 29th March 2014
A'Rebours and a new beginning
The show A'Rebours celebrates a turning point for BISCHOFF/WEISS: a new beginning as an art consultancy.
Its title is taken from the eponymous book by the turn-of-the-century French writer J K Huysmans (1848-1907), meaning "going against the grain". It comprises works by some of the artists with whom Raphaëlle Bischoff and Paola Weiss worked since the gallery's launch in June 2005: Rana Begum, Aya Haidar, Maya Hewitt, Sheree Hovsepian, Nathaniel Rackowe and Michael Reisch.
By "going against the grain" the duo reassesses a decade as a high-profile gallery, first in the east-end and, since 2010, in the very heart of Mayfair. A'Rebours not only mirrors the past but also introduces the future. In the spirit of simultaneously recollecting and embarking on a new venture, the show associates key works and recent productions by the five artists, who fully engage with the international path carefully designed by the gallery.
Since its creation, BISCHOFF/WEISS has established an artistic dialogue and strong client-base between the Middle East, South East Asia and Eastern Europe. It has always worked closely with advisors, curators, private and public international collections. Curators and artists such as Matt Golden, Julien Fronsacq, Niru Ratnam, George Henry Longly were invited to add insightful contributions to the program. An exciting range of projects and partnerships emerged with international artists such as Guillaume Leblon, Tatiana Trouvé, Isabelle Cornaro, Ruairiadh O'Connell, Eddie Peake, Matthew Smith, Erica Baum, Scott King, Stéphane Dafflon, amongst others. The gallery is proud to have represented – apart from the artists featured in A'Rebours – Raphäel Zarka, Ali Silverstein, James Iveson and Louise Thomas.

The collaboration with the artists of the gallery has been one of commitment, strong affinities, and relentless mutual support. BISCHOFF/WEISS took special projects to art fairs such as Art Basel (Miami), Frieze Art Fair (London), Art Dubai, and Fiac (Paris), amongst other events. Moving to Mayfair proved the gallery's ability to grow and adapt to new realities providing a central positioning in the art scene. In the future, BISCHOFF/WEISS will maintain its relationship with the roster of artists showcased in the gallery and will work with the extended network it has weaved throughout the years.
For more information on the NEW BISCHOFF/WEISS keep checking the website : www.bischoffweiss.com
Raphaelle Bischoff: raphaelle@bischoffweiss.com and Paola Weiss: paola@bischoffweiss.com
About Mark Westall