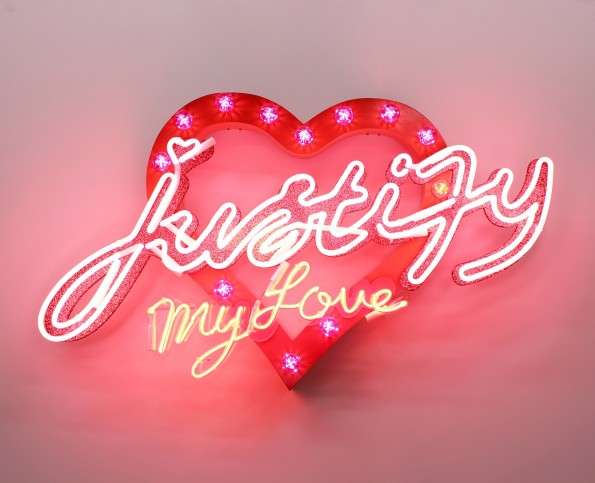 Chris Bracey Justify My Love 2013 Neon, aluminium and carnival light bulbs 67 x 110.7 x 15 cm (26.3 x 43.5 x 5.9″)
1 What artist are you showing at STRARTA in October ?
We are showing works by Chris Bracey, David Buckingham, Sally Fuerst, Pakpoom Silaphan and STATIC.
2 What attracted you to STRARTA ?
Scream have had an intensive international art fair programme this year having shown at Art Stage Singapore, India Art Fair and Scope Basel. It's nice to be involved with a London-based fair and do something on home turf outside of the gallery.
3 Are there any themes in the work you are showing at STRARTA ?
Scream has a distinct identity and there is an emphasis on colour and visual impact. Our artists work with really interesting mediums so we will be exhibiting pieces made of layered glass, vintage metal advertising signs, wooden crates and neon light amongst others so the works on show are unique and should create a bit of a stir.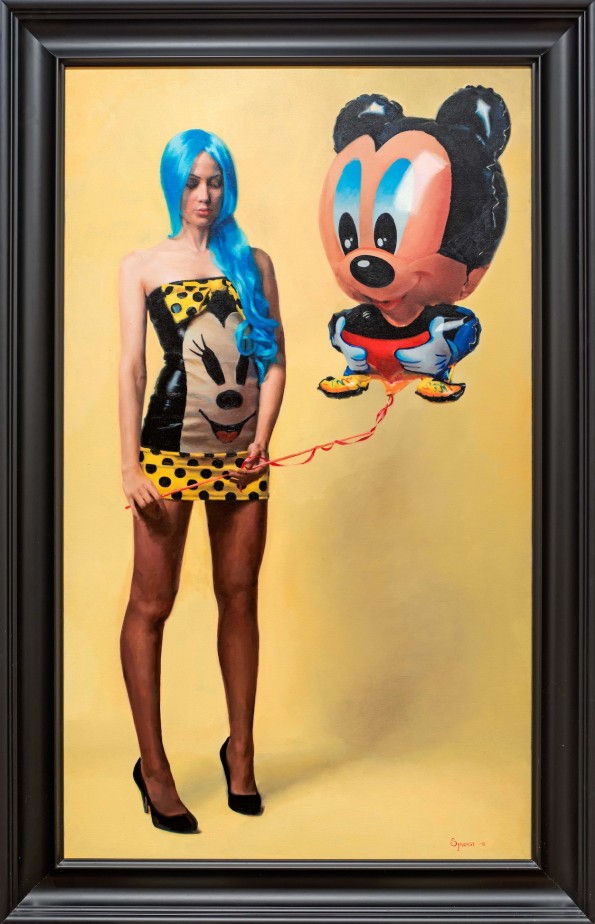 Sally Fuerst Mice 2012 Oil on canvas 122 x 71 cm (48 x 28″)
4 FAD have heard a lot of great things about one of your new artists Sally Fuerst can you tell us a bit more about her.
Sally is only 26 and is a truly gifted painter. Having trained at the Parson's New School and Pratt Institute in New York, she left the US for Italy in 2005. She spent two years at the Florence Academy of Art studying the figure and acquiring the traditional techniques of drawing and painting the human form. Inspired by popular culture and appropriating the style of fashion photography, Fuerst meticulously paints images of beautiful and confident women in playful fancy-dress costumes such as Batman and Robin, or posing with props such as rainbow and mickey mouse balloons, a space hopper or a giant inflatable zebra. Fuerst's approach is cheeky and humorous but the figures are rendered with such skill and diligence that from afar they seem photo-realist. Her paintings skilfully combine the contemporary with the classical. Fuerst quotes artists such as John Currin and John Singer Sargent as influences, and this perfectly illustrates the two strands in her work – the accomplished classical training and the kitsch, Pop sensibility. Scream are delighted to be working with Sally and her paintings are incredibly affordable considering the skill and time they take to complete so I would definitely recommend Sally as an artist to invest in.
5 How long does it take to plan for an art fair ?
Each fair is well-considered and there are many things to take into account and organise so it does take a few months ideally for everything to come together. It's paramount however to give the artists as much time as possible to produce work as this is not something any of us want to compromise and is ultimately the most important aspect.
6 Final question apart from SCREAM which galleries are you most looking forward to seeing at STRARTA ?
As Scream have been selected as one of the flagship galleries of the fair there is only one stand you want to visit – 3B!
STRARTA Art Fair Venue: Saatchi Gallery Duke of York's HQ King's Road London SW3 10th -13th October 2013
strarta.com
Read Part 1 of Melissa's Interview HERE
Categories
Tags