1 You have recently gone through a bit of a reorganisation can you tell us about this ? And what you hope to achieve from this ?
The last 2 years have definitely been a period of growth and expansion for the gallery. We outgrew our premises in Mayfair and moved to Fitzrovia's Eastcastle Street last summer. There is a great collection of galleries in this area and a good community feel – we have Fitzrovia Lates on the last Thursday of every month where all the galleries stay open until 9pm. It's a very vibrant district and we've become an integral part of it. We also launched Scream Editions earlier this year which is an online gallery and publisher purely focusing on high-quality prints and limited editions. Our ethos has always been to make art accessible to all so whatever your budget or taste in art there should be something of interest.
2 How do you find artists to sign up for SCREAM ?
It's very easy to come across new artists and I am constantly visiting exhibitions or researching online.
The trick is finding good artists that fit with our programme and have an interesting dialogue with the other artists we represent. Scream are committed to presenting works that are of a very high level in terms of finish and production and we want the work to be accessible and reach out to a wide audience. However there does need to be some content or narrative to engage the viewer. There are quite a few criteria that need to be met before we commit to showing or representing an artist.
3 How many artists do you now represent ?
We currently work with 10 artists. We want to ensure we give each artist sufficient time and support and I don't want to compromise this.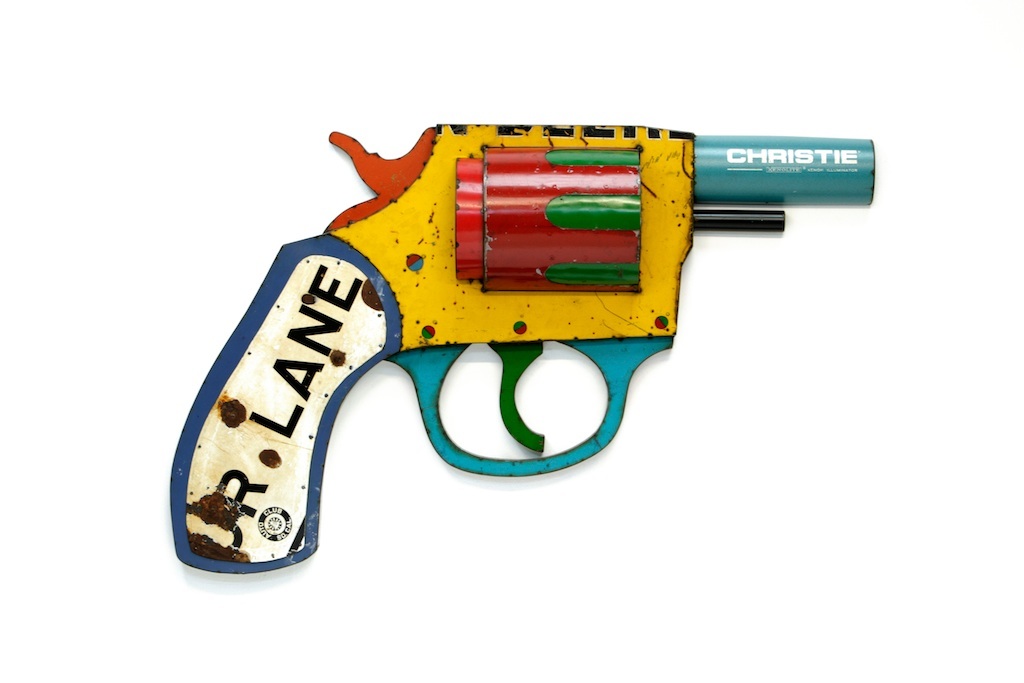 David Buckingham – Sirhan Sirhan
4 Colour and technique/craft seems very important to SCREAM ?
Colour is definitely one of many elements that connect the artists we exhibit and it is one of the distinctive attributes of the gallery. Many of our artists use interesting mediums – such as stickers, found metal, paper, layered glass – and the work is hand-made and labour-intensive, to an almost obsessive degree in some cases. For a long time a large majority of artists have primarily focused on the conceptual aspect of their work or taken an anti-aestheticised approach. Scream identified a desire to return to something hand-made that requires time, skill and patience and we have focused on artists with talent and a deft command of their medium.
5 You recently exhibited in art fairs in India and Singapore is Asia an important market for SCREAM ?
We deliberately adopt a global aspect and not just focus on the London art scene. We work with UK and international artists, including artists from Thailand, China, Japan and Taiwan and also the US and Europe. The work we show has a strong visual impact but also addresses global concerns that unite us all – such as globalisation, consumerism, the reach of mass media for example. This enables us to communicate to a broad audience and the work is received positively by people from all backgrounds and nationalities. We chose to participate in the Singapore and India art fairs as these are interesting emerging markets, but we were also keen to promote our artists around the world and give them a global platform to show their work.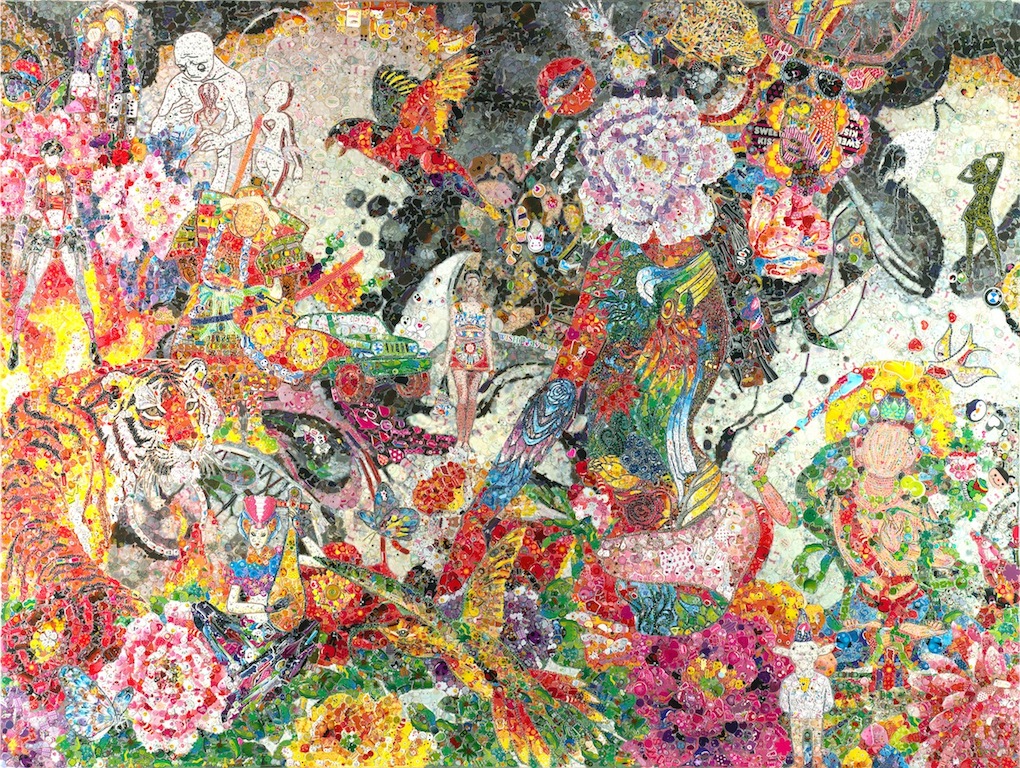 Ye Hongxing – Kaleidoscope No 3
6 What do you have planned for the rest of the year ?
We have a very busy few months coming up. Although every month seems busy over here! Scream have been selected as one of the flagship galleries for the first edition of the Strarta Art Fair at Saatchi Gallery so we're excited about this new venture. At the end of October we open Beijing-based artist Ye Hongxing's second solo show at the gallery. Hongxing creates jewel-like mosaics of a hybrid reality using a collage of stickers on canvas. Having partnered with luxury shoe designer Christian Louboutin with pop-up exhibitions in both Miami and Hong Kong in the last year, her profile and reputation continues to soar as one of China's most relevant and successful contemporary artists. In December we have an interesting group show opening titled 'Telling Tales' which brings together a diverse collection of UK and international artists whose practice is concerned with text and language. It will be another exciting year for the gallery.
7 Finally if you had $250,000 to spend on art which artist or artists would you invest in ?
Only Scream artists of course!

Pakpoom Silaphan – Mandela Smiles on Coke
Categories
Tags