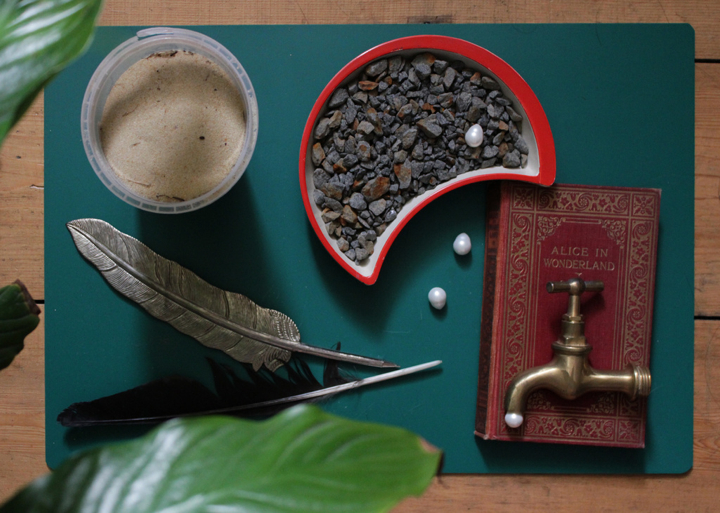 NaoKo TakaHashi Stubbornly Persistent Illusion Chapter 1: Red Planet, 2013
13th September – 20th October 2013 IMT Gallery Unit 2/210 Cambridge Heath Road London E2 9NQ UK www.imagemusictext.com
Japanese contemporary artist reconstructs the Martian landscape to look at the contemporary cultural fascination with science through the hunger for doomsday scenarios and conspiracy theories.
Stubbornly Persistent Illusion Chapter 1: Red Planet is the second solo exhibition by Japanese multimedia artist NaoKo TakaHashi at the gallery.
In this first chapter of Stubbornly Persistent Illusion TakaHashi is going to install "the surface of Mars", as a cultural, scientific and pseudo-scientific environment formed as much from aesthetics of futurological prediction, conspiracy theories and folk culture as through the quasi-tactile media of NASA's Curiosity rover, and the aesthetics of topographical lines and chart recorders.
TakaHashi is known for creating idiosyncratic, off-kilter multi-media installations of environments: amongst them her gallery-in-a-circus-tent installation at Angus-Hughes Gallery in 2012; her life-size park made of corrugated cardboard at IMT Gallery in 2010; and her four-year project Oh Boy! Where are the Seven Colours?, which took place from 2009-2012 at the 3rd AiM International Biennale, Marrakech; the Museo d'Arte Contemporanea della Sicilia, Palermo; Tate Modern, London, and the Palais de Tokyo, Paris, recreating her experiences of travelling through Morocco.
As is usual with TakaHashi's work, the project explores the interplay of communication, aesthetics and with issues of representation, sociocultural identity and documentation played out through games with meaning and truth. In Chapter 1: Red Planet TakaHashi considers how together aesthetics and science forge our view of things beyond our reach, both in space and time, to reveal the ambiguities and inconsistencies of cultural representations.
"People like us, who believe in physics, know that the distinction between past, present, and future is only a stubbornly persistent illusion."
Albert Einstein, 1955
About The Artist
NaoKo TakaHashi (born 1973, Nigata, Japan) studied at the Slade School of Fine Art and Chelsea College of Art and Design, London. She has exhibited and performed widely in the UK, Europe and the Middle East including Tate Modern, London; the Palais de Tokyo, Paris; the Whitechapel Gallery, London; the Centre for Contemporary Art, Glasgow; Riso Museo d'arte Contemporanea Della Sicilia, Palermo; Nikolaj Copenhagen Contemporary Art Centre, Copenhagen; Bozar, Brussels; Darat Al Funun, The Khalid Showman Foundation, Amman, Jordan; Al Ma'mal Foundation for contemporary Art, Jerusalem; the 3rd Thessaloniki Biennale of Contemporary Art, Greece, and in the first major trilingual biennale in North Africa, the 3rd AiM International Biennale, Marrakesh. NaoKo TakaHashi is represented by IMT Gallery.
Stubbornly Persistent Illusion Chapter 1: Red Planet is supported by the Japan Foundation.
Categories
Tags