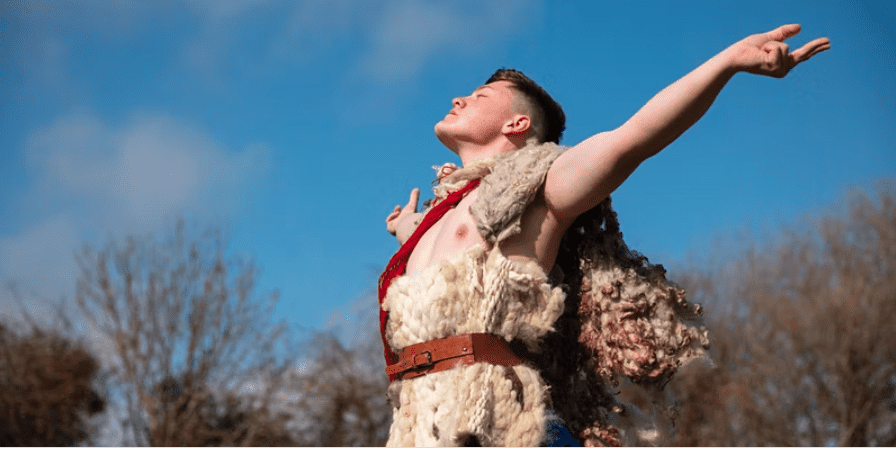 We discover ourselves beside one another, laying within the leaves, beneath the embroidered clover ~ watching the invisible stars. We slide into the spaces of one another, growing into a singular body ~ an elegant, quiet ocean.

Imogen Mansfield, 'Ithir Milis'
IMT Gallery presents a special group exhibition in celebration of queer ecology. The event brings together artworks that examine issues around representing ecofeminism, environmental justice, social ecology, LGBTQIA+ geography, trans and gender non-conforming experiences, and networks of support. The exhibition will be accompanied by a range of programmes to engage the public and raise awareness of LGBTQIA+ Ecology.
Queer ecology is an interdisciplinary collection of terms that provide a framework for articulations of nature in terms of non-normative gender and sexuality. Queer ecology has the potential to reconfigure the material world and can provide new answers to the social and environmental questions that face us all.
Queer ecology combines "the confrontational thrust of queer" (Nicole Seymour) with the interest in biological relationships – mostly through a more cultural than scientific lens. In essence, queer ecology explores the relationship between humans and non-humans (i.e. landscapes, flora and fauna). Yet, through its practitioners, it often engages more specifically with topics such as politics, urbanism, and disabilities. Queer ecology can thereby be applied as a framework to critique cis-heteronormativity and to explore how queering spaces (both literally and figuratively) can help to stave off cultural, political, or ecological destruction.
The exhibition is curated by Anett Kiss a (she/her) and Cas Bradbeer (they/them). Anett is pursuing her Master's degree at the University of Westminster while working as a curatorial assistant for the David Kovats Gallery. Cas is a recent History of Art BA graduate from the Courtauld Institute of Art, where they led the LGBTQIA+ Society for two years. They have been curating exhibitions for community arts centres and have also been delivering talks on LGBTQIA+ art history for institutions like the National Maritime Museum. They are now looking forward to starting in September 2022 on a History of Design MA course with the Royal College of Art and the Victoria & Albert Museum.
Featured artists:
Alberto Maggini, Amelia Fraser-Dale, Anna Candlin, Anya Bliss, Ayshe-Mira Yashin, Bunni, Chang Gao, Chen Yang, Emma Plover, Gideon Horváth, Heather Renée Russ, Imogen Mansfield, Jake Wood, James Chantry, Jean-François Krebs, Jenny Camp, Jordie Hennigar, Marta Ilacqua, Molly Grad, Morgan Swartz, Myla Corvidae, Nhung ?inh, Pati Starzykowski, Paul Harfleet, Ric Stott, River Manning, Sarah Jaworski, Simon Olmetti, Skye Kember and Tamas Abel.
'They/Them/Their: Naturally Not Binary', 16th – 21st August 2022, IMT Gallery, Preview: Tuesday 16 August 7 – 10pm Opening times: 12 – 6pm daily.
Booking via Eventbrite not required but would be nice
About the gallery:
In 2005, after running an experimental space with fellow artists, Lindsay Friend and Mark Jackson teamed up to form IMT. Their mission was, and still is, to provide an independent space that could support artists through a programme determined by neither corporate or governmental agendas but what is deemed by the team as urgent in relation to the contemporary climate.
For over 17 years, IMT has provided a free public programme of critical and innovative contemporary art exhibitions. They commission artists and invite independent curators to take risks and create unique audience experiences. In 2011, IMT became a hybrid being both non-for-profit and representing emerging and established artists with the aim to nurture meaningful relationships and develop careers. The gallery represents David Burrows, Plastique Fantastique and Maggie Roberts. They actively provide a platform for underrepresented practices and a diverse range of critical research, which includes published essays. In 2021 Dr Kirsten Cooke joined the gallery as Curator.
@naturallynotbinary @imtgallery
Categories
Tags