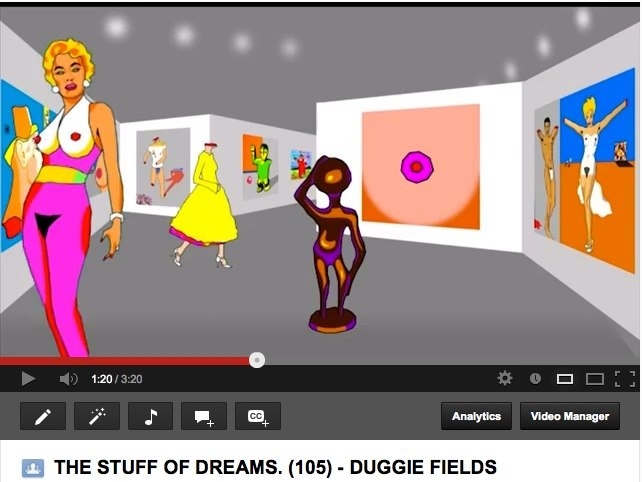 The Stuff Of Dreams Spoken Word Animation
Duggie Fields is a British artist, born in Tidworth in 1945 and resident in London, in the Earls Court area. He spent his youth in the English countryside with his family, then briefly studied architecture at Regent Street Polytechnic. In 1964 Duggie Fields began at the Chelsea School of Art, where he stayed for four years, before leaving with a scholarship that took him on his first visit to the United States, in 1968. During the years at the Chelsea School of Art he lived in the Kensington and Chelsea area.
As a student Fields' work progressed from minimal, conceptual and constructivist phases to a more hard-edge post-Pop figuration. His main influences were at that time Jackson Pollock, Mondrian and comic books, with a special regard to those worked on by Stan Lee. Around 1968 Fields went to live in Earls Court Square sharing a flat with Syd Barrett, who had left Pink Floyd just previous. Fields still lives in the same flat and he works in Barrett's former room using it as his atelier.
By the middle of the 1970s his work included many elements that were later defined as Post-modernism.
In 1983 Duggie Fields was invited by the Shiseido Corporation to Tokyo, where a gallery was created to show his paintings. For the occasion the artist and his work were simultaneously featured in a television, magazine, billboard and subway advertising campaign throughout all Japan.
Duggie Fields has always worked starting from his architecture background, so that at the end of the 1990s, and after a period of studying, he began to use the computer in order to substitute the drafting machine. From this moment he is to describe his work in progress as Maximalist.
More Info: www.duggiefields.com/
You can also submit your work for inclusion on FAD just use our Facebook Page to submit it. Please add info about your work and about yourself Good Luck !
Categories
Tags