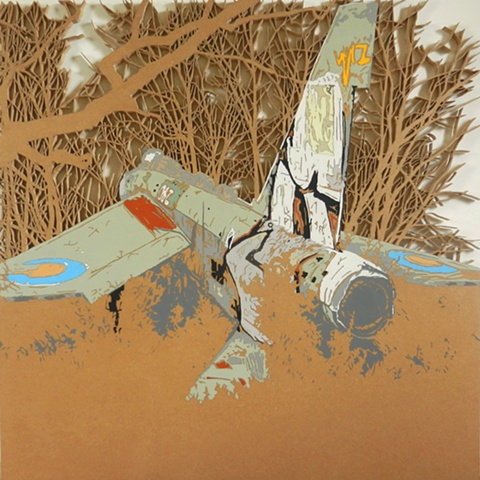 Fighter Jet in Woods, 2012, hand cut MDF & household paint with matt varnish, 122cm x 122cm (Signature Art Prize Piece)
FAD will be bringing you a series of interviews with the selected finalists of the acclaimed and unique Signature Art Prize 2012. In this interview we learn about Matthew Spencer's inspiration and reasoning behind entering in 'Fighter Jet in Woods' which combines medium, process and aesthetics as message. The MDF, household paint and painstakingly slow hand cutting process that he uses gives the work a raw abandoned aesthetic, creating scenes which depict gritty disenchanted visions of man-made structures and waste in woods and forests. Spencer graduated from Bath Spa University with a Master of Fine Art, 2010.
How did you learn about the Prize and what made you want to enter? I saw the Prize advertised on axisweb.org and it looked like a fantastic opportunity to get my work out there.
When and where did you make your entry?
I made it this summer in my studio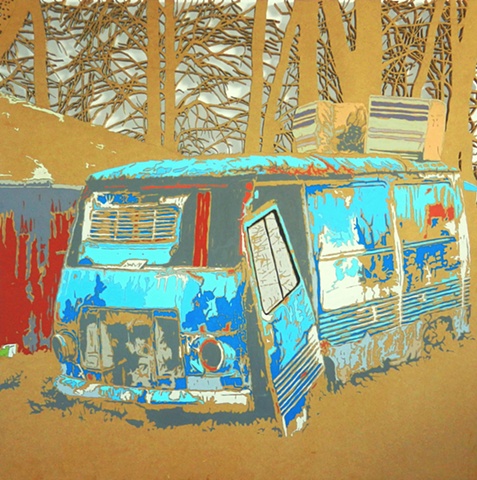 Knackered Van in Forest, hand cut MDF & household paint with matt varnish. 122cm x 122cm
Where do you imagine your entry eventually being hung?
Probably in a more contemporary building with large white walls
Tell us about where you make your work?
At the moment I work up in North Yorkshire in a converted garage
What is your main goal for the coming year?
The most important is definitely to get a studio in London and move down permanently, have a solo show and exhibit my work more outside of the UK.
What is your key inspiration as an artist?
Our landscape, our everyday environments, how our world is represented to us through visual information and how this influences our comprehension of the world around us, including the process's and materials that we form our landscape with and in turn how this forms our sense of identity.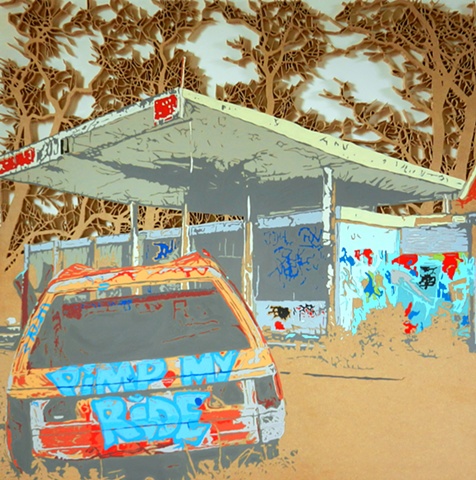 Pimp my Ride, 2012, hand cut MDF & household paint with matt varnish, 122cm x 122cm
Finally, tell me something surprising about yourself?
When I was younger all I wanted was to join the army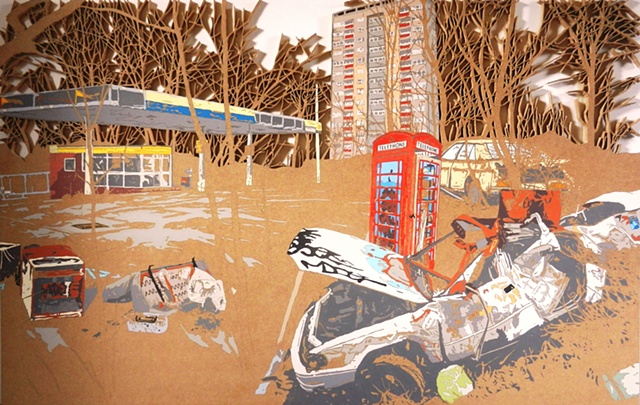 British landscape no. 1, 2012, hand cut MDF & household paint with matt varnish, 105cm x 165cm x 1.8cm
Anything else that we should know about you?
I won the 2011 Southwood NOAC Award for best UK artist under 25 and most recently the NEO Studio Prize. I've currently got work in the Great North Art Show, Ripon, in September I will have work in the Price of Beauty Contemporary Art Auction at the Shard, and upcoming exhibitions include; Winter Pop at the Marburae Gallery and the Zillah Bell Gallery.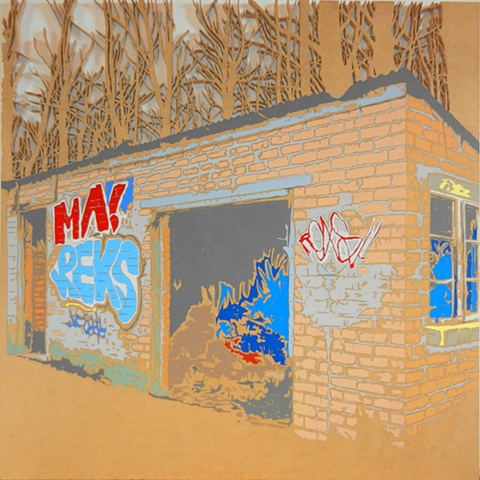 Graffited Building in the woods, 2012, hand cut MDF and household paint, 122cm x 122cm
For more information on Matthew Spencer's Signature Art Prize entry and to see other works please visit DegreeArt
Entering it's fourth year, the celebrated Signature Art Prize presents a fresh and exciting award for the most promising artists of today. The competition invites artists worldwide to apply for a chance to win one of five 1,000.00 cash prizes, representation with DegreeArt, future exhbition opportunities and artistic support, as well as gifts from the prize sponsors.
You can also participate by voting online in the Peoples' Choice Award. Have your say!. The winner will be announced at an evening reception at The Execution Room on Thursday November 1st. The winner of the Peoples' Choice Award will also receive a cash prize of £1,000, DegreeArt representation and prizes from our sponsors.
500 entries – 5 winners – The Signature Art Prize 2012.
Categories
Tags