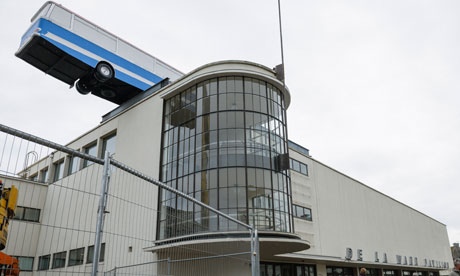 Hang On A Minute Lads, I've Got a Great Idea
The De La Warr Pavilion is pleased to announce its 2012 Rooftop Commission by artist, Richard Wilson.
Based upon the iconic final scene of the 1969 film The Italian Job, in which a coach containing gold bullion and a gang of robbers hovers precariously over a cliff, Hang On A Minute Lads, I've Got a Great Idea expands this myth and spectacle on the rooftop of an equally iconic building.
The title of the work is taken from the final sentence of the film, spoken by actor Michael Caine as he attempts to devise a method of saving both gold and his fellow conspirators from tipping into a steep alpine valley. Theories as to how such a predicament could be solved has given rise to ongoing debate for over forty years. As the camera pans away from the treacherous scene, we hear the throng of male voices singing "We are the Self Preservation Society", a song closely associated with the England football team of the time which, alongside the film's use of the Minis as get-away cars, contributes to The Italian Job's status as a classic, seminal British film.
Richard Wilson's fascination with this subject echoes the artist's previous works where the concept of the 'what if' is brought to reality, often defying formal notions of architecture and engineering, bringing thought-provoking, gravity-defying and on occasion, humorous spectacles to life. Key works include 20:50 (1987), a waist-deep installation of oil, was heralded as "one of the masterpieces of the modern age" by the Guardian, Turning the Place Over (2007), a Liverpool Year of Culture commission and Slice of Reality (2000), a section of ship moored near the Millennium Dome, cut vertically to show its cross-section. These works are beautiful; spectacular in their high precision engineering and conceptual brilliance.
Hang on a minute lads, I've got a great idea is part of the London 2012 Festival, the finale of the Cultural Olympiad.
http://www.dlwp.com/WhatsOn/ExhibitionDetail.aspx?EventId=1495
Categories
Tags