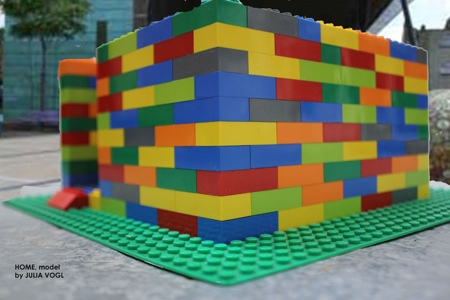 27th July to August 12th PECKHAM SQUARE Open daily 11am-7pm
Julia Vogl In partnership with Southwark Council, Peckham Settlement, Peckham Space and Resonance FM. Supported using public funding by the National Lottery through Arts Council England.
As a society we are less fixed on living in one place. HOME is a large scale public art work, audio and visual, reflecting Peckham residents' ideas of why this city is home. The outcome will be a community built multicoloured brick like public living room. Community interviews will become mp3 tracks embedded in the structure so the public can hear different concepts of home (on headphones). The colour code will reflect the time interviewees have lived in Peckham.
The 10 foot square public living room will host a sound booth enabling public-run interviewing. HOME will be built and used throughout the Olympics (July 27th- August 12th), engaging and being experienced by thousands.
Vogl aims to make a work that reflects Peckham's communities opinions as a whole and them individually while hopefully furthering their connection to where they live- HOME.
Throughout July, Vogl with volunteers will be conducting interviews in all areas of the community (Pulse Fitness, Morrison's, the Library, local pubs and art galleries etc.…). These brief audio interviews will be asking the following three questions: – How long have you lived in the Peckham Area? – Do you consider Peckham your home? Why or why not? – Define home in a word or phrase.
Using art as a platform, the work aims to foster dialogue about pride or lack there of for London. After the riots of last summer, this is a moment to rekindle those emotions in a constructive and creative way. Simultaneously inviting the public to build a work of art, that they can take ownership of and hang out in.
HOME audio archive will be available for the community to listen to at their homes, on www.homeproject2012.com and also aired in 4 segments on Resonance FM, through out the duration of the project.
SUNDAY JULY 8th- interviewing at Peckham Library
THURSDAY JULY 19th- RESONANCE FM airs HOME RECORDINGS (segment 1) 16:30-17:00 pm
THURSDAY JULY 26th- RESONANCE FM airs HOME RECORDINGS (segment 2) 16:30-17:00 pm
FRIDAY JULY 27th- HOME INSTALLATION OPEN TO PUBLIC
FRIDAY JULY 27th- LAUNCH EVENT with PECKHAM SPACE- 18:00-21:00, PECKHAM SQUARE
SATURDAY JULY 28th- SUNDAY AUGUST 12th- OPEN from 11-19:00, daily.
THURSDAY AUGUST 2nd- RESONANCE FM airs HOME RECORDINGS 16:30-17:00 pm
THURSDAY AUGUST 9th- RESONANCE FM airs HOME RECORDINGS 16:30-17:00 pm
SUNDAY AUGUST 12th- Artist talk hosted by Peckham Space, (time TBD)
Read the Julia Vogl interview with FAD
Julia Vogl, is an American and British Artist. Graduating with a MFA from the Slade in 2011, she has exhibited at 176 Zabludowicz collections, The People's Supermarket, The Saatchi Channel 4 New Sensations. Awarded the Aesthetica Art Prize and most recently the Catlin Art Prize and American for the Arts just included her 1000 opinions work in the 2012 Public Art Year in Review top 50 Public Art projects list.
Categories
Tags