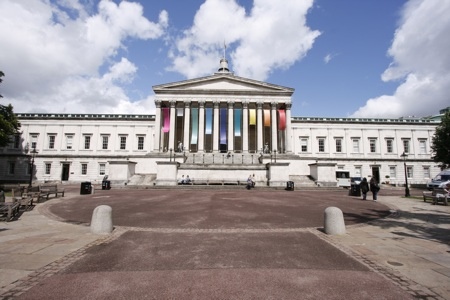 1000 opinions, Julia Vogl (C) Art Catlin
1.If you weren't an artist, what else would you be?
Lost. Roberta Smith of the New York Times once said at a talk when I asked if she had any advice for aspiring artists, " Don't be! Artists don't choose to be, they have to be."
2. Can you tell us more about your work and what are the main ideas you would like to express?
I predominantly make social sculptures that incorporate public engagement, architectural interventions and colour.
I am resolved to create experiences and memories for the viewer, prompting discourse, while creating aesthetically rich works. Inspired by political events, social behaviour, and the community where the art is sited I aim to create works that reveal underlying cultural values.
I believe the power of public art can change a neighborhood, enhancing community safety and pride. I wish to spend my life as an artist who can contribute to society, enrich and challenge communities, while learning about people and places. I will be pursuing this on my next major project, HOME, to coincide with the 2012 Olympics.
Simultaneously I make abstract drawings and collages, a response to my passion for colour, design and architecture. These works have become installations, furniture an textile projects. I like toeing the line between fine art and design. Inspired by the Russian Constructivists, the Minimalists and the De Stijl, the art works have a shared aesthetic with the social sculptures.
3. How do you start the process of making work?
THE ART WORK MUST RESPOND TO SITE OR COMMUNITY
THE ART WORK MUST INVOLVE OF ENGAGE OTHERS
THE ART WORK MUST EMPLOY A STRATEGY OF DÉCOR
4. Do you consider the viewer, when making your work?
Absolutely
5. Name 3 artists that have inspired your work?
Christo & Jeanne Claude, Francis Alys & The Russian Constructovists.
6. Name 3 of your least favourite artists.
Tricky- I go back and forth on artists. I used to be bored by Rothko, his works often does nothing for me, but some of his works are mesmerizing. I feel similarly about Jeff Koons, and Cy Twombly, not to mention much of the 17th century French landscape painters.
7. What defines something as a work of art?
If the person who made it can stand behind it.
8. In times of austerity, do you think art has a moral obligation to respond topically?Regardless of the economic climate, art always has a moral obligation to respond to its environment and time. I believe art can do so in the broadest and most specific of ways. I have always believed that artists are philosophers prompting curiosity and deeper discovery about human life and the world we live in.
9. Anytime, any place – which artist's body would you most like to inhabit?
Ok I realize he was totally insane- but Ray Johnson had this fearlessness about making work, that I would love to better understand. Sonia Delaunay also seemed to have really figured it out, refusing to be pigeon holded. Regardless of every transition in her life, and all the travels she did- she continued to made strong work, pushing innovation in the painting field and later in life in the design world.
10. What is your favourite 'ism'?
DADA
11. What was the most intelligent thing that someone said or wrote about your work?"Too often artists think they are doing a participatory project but the completed artwork has nothing to do with that process. You, on the other hand, seamlessly weave aesthetics and process."- Michele Cohen, former director of Public Art for Public Schools in NYC.
Phyllida Barlow once called me a "Benevolent Dictator." I sort of like that relationship with my works, seeming democratic, and yet not really at all.
12. And the dumbest?
It is not healthy to remember insults, so I try and forget them.
13. Which artists would you most like to rip off, sorry, I mean appropriate as a critique of originality and authorship?
I am always curious what Olfar Eliasson has dremt up. He also is constantly surprising me with the vast mediums he works in, and always so elegantly.
14. Do you care what your art costs? State your reasons!
My work should be worth what someone is willing to pay for it. I want my art to be in the hands of those who really love it, but I hope if they really love it they are willing to pay enough to allow me to eat, have somewhere to sleep and allow me to keep making work. I hate the money side of the art world, and so I spend a lot of my time applying for grants to make unsaleable work- that can be enjoyed by everyone for free.
15. If Moma and the Tate and the Pompidou wanted to acquire one of your works each, which would you want them to have?
I would love them to commission new works, that are designed for their space and the users of those institutions. Tate Modern- I already have some pretty great ideas for the Turbine Hall!
The work featured at the Catlin Art Prize, Let's Hang out- I think would be ideal for a museum environment. In a large museum- with incredibly rich collections, I think you aim for work that can be read as general and personal by a broad audience. I hope my works do this.
16. What's next for you?
I am excited about the Catlin show in May.
HOME- a self initiated project, is in the works to launch in Peckham during the Olympics this summer. A multi-coloured public living room, with audio components, set up in Peckham Square. It is a public work, that will invite all to come and consider what defines home. A year after the riots I hope the work, will create a constructive conversation about pride or lack there of for London and its residents.
More projects are in the works find out more at www.juliavogl.com
Julia Vogl has been shortlisted for the Catlin Prize 2012, the exhibition runs from 3rd-25th May at the Londonewcastle Project Space. www.artcatlin.com
Read Jonny Briggs Interview number ONE:www.fadwebsite.com/jonny-briggs
Read interview number TWO Adeline de Monseignat :www.fadwebsite.com/adeline-de-monseignat
Read interview number THREE Max Dovey
Categories
Tags