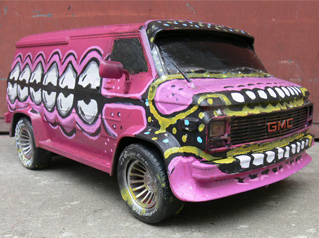 10 internationally renowned urban artists will breathe new life into 10 automobiles destined for the scrapheap. Recycled the best way we know how… with some painterly pimping! All rules and regulations will be tossed to the slip-lane and the artists' unpredictable and unique styles are set to cause a traffic jam! Artists include Ben EINE, Sweetoof, Will Barras, Dr.D, Dan Hillier, Matt Small, Aida, Pablo Delgado, Jorge Rodriguez-Gerada & more…
To 'Pimp Your Ride', Ben EINE is releasing a bumper sticker available from the gallery, via the website, from the preview show or from the Nelly Duff forecourt! Purchasers of the Bumper Sticker from May 16th to June 18th will be automatically entered into a prize-draw to win an original Eine artwork. Lucky winners will be notified on the closing date.
You could drive away with a car… but we suggest you take a bonnet!
St. Peters Estate House Corner of Hackney Road & Warner Place, e2 RSVP essential
www.nellyduff.com
Categories
Tags