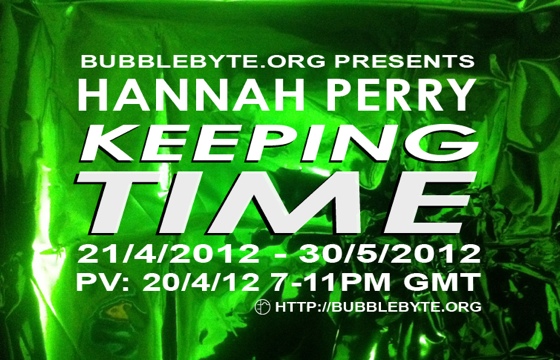 21/04/2012 – 30/05/2012
Private view 20/04/2012 7 pm – 11 pm BST (2 – 6pm EDT / 11am – 3pm PDT)
bubblebyte.org is pleased to present Keeping Time, a solo exhibition by UK artist Hannah Perry.
Working across a variety of medium, including moving image, photography, collage and sculpture, Perry's practice is mainly developed by mixing found VHS footage, YouTube videos and photos from the artist's own, personal archive. This often transpires into a constellation of images taken from teenage pop icons and the Internet, reproducing a quick snapshot of the visual language of young, contemporary culture. Blossoming characters, often depicted in the moment of building their identity, quickly disappear on to the next image, creating a fast, polysensorial narration.
Keeping Time, the artist's first solo show at bubblebyte.org, revolves around the topics of rhythmic time and its hypnotic power, transporting us into an acid dancy world populated by music and film references such as Steve Reich or David
Untitled is an animated hyper-work leading to a series of different artworks and elements. Starting as a random composition of personal objects leaning on the floor, the user is invited to interact with Hannah's world and be transported into new settings; artistic, musical or simply connected to the artist's creative process. Old works and personal influences blend with tools used by the artist in her work, and constitute a conceptual cut and paste, interdependent to one another.
The works Extract 1 and Extract 2, from the work Wonderful While It Lasts, recently presented at the Zabludowicz Collection, are a vibrant concentration of quick images portraying youth culture. Music videos and TV programmes are collaged with family members' interviews, fleetly developing through a sort of synthetic motion accompanied by a strongly immersive soundtrack.
Deeply influenced by music sampling from dance music to hip hop, the outcome of Perry's work is a fresh, visual, rhythmic assemblage representative of an actual momentum.
The private view attendees will receive a downloadable artifact exclusively created by the artist.
Hannah Perry
Born 1984, North West of England lives and works in London
Hannah Perry holds a BA in Fine Art from Goldsmiths College, London and she is currently studying an MFA at the Royal Academy of Art, London.
Perry creates a miscellaneous world of internet images, house beats and young popular culture, cutting and pasting what surrounds her, friends, family and random web findings. Her work has been shown locally and internationally, and recently included in exhibitions at The Zabludowicz Collection, London, Hotel Palenque, Cell Project Space, London, 2012, Les Televisions, French Riviera 1988, 2011. Her work will be part of the exhibition Things That Have Interested Me,
Waterside Contemporary, London, in June and at South London Gallery as part of PAMI Festival in September 2012.
Categories
Tags