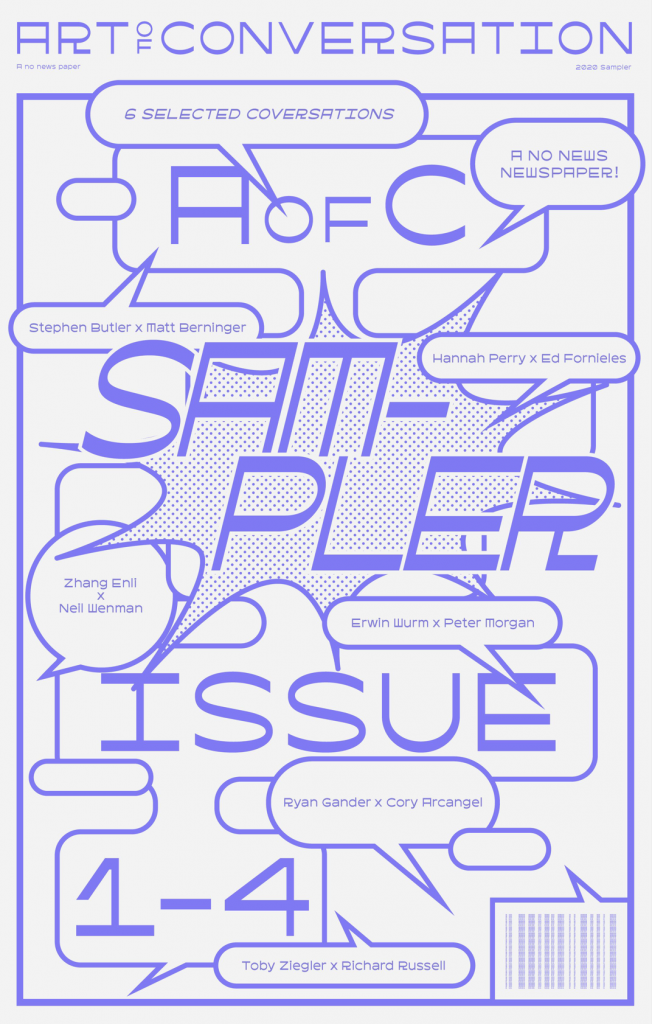 Our sister publication Art of Conversation have just released a FREE digital sampler you can download.
Featuring six conversations from the first four issues of their print newspaper.
They have Ryan Gander and Cory Arcangel talking about their different attitudes to artists who paint (spoiler: it gets quite heated), and also the very different journeys they took to becoming contemporary artists.
There's a lovely conversation between Zhang Enli and his friend and gallerist Neil Wenman which is quite poignant, covering nature, time and peace, which are all part of Enli's practice.
Lead singer of the National Matt Berninger talks to the artist Stephen Butler about words, recovery and the essence of being and living as an artist.
Hannah Perry and Ed Fornieles talk about loneliness and the difficulties and impact of leading the life of a contemporary artist both on family and personal life.
The conceptualist Erwin Wurm and his friend Peter Morgan talk about what it means to be an artist, the value of being an outsider and the definition of success.
And finally, musician and record label owner Richard Russell and artist Toby Ziegler talk about analogue and digital creativity, the difference between the worlds of contemporary art and music, how it was to work together and their long time friendship.
Download your FREE copy of the Art of Conversation digital sampler HERE
Categories
Tags