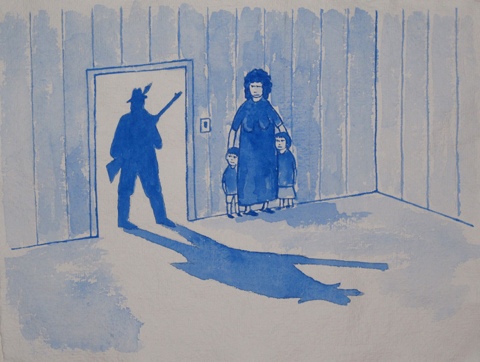 "Fragments, a series of brief shorts" edition of 100 unique drawings, ink on paper, 20 x 15 cm, £ 120 (+vat).
Visit the preview of Marko Maetamm's exhibition on Thursday 23rd February to have a chance to WIN a signed artwork by the artist himself.
To coincide with the opening of the exhibition, NETTIE HORN is launching a new series of limited edition one-off drawings and is offering one of them to the lucky winner of their quiz.
All you will need to do is search for the answers to their 6 questions in the artworks of the exhibition and return the questionnaire to them by 8.30pm. The game is open throughout the preview and the winner will be announced before 9pm…
MARKO MAETAMM Walking in My Hunting Ground
24th FEBRUARY – 1st APRIL 2012?? Preview : Thursday 23rd February 2012, 6 – 9 pm
Marko Mäetamm's work develops through a multidisciplinary practice where the artist's confessions and impassioned outcries come to life in the form of boundless metafictions. Since his early days as an artist, Mäetamm's practice has been nurtured by the magic of human chemistry, by visual sign systems relating to a certain social topography as well as by certain mechanisms which operate between the self and the artistic creation. While deepening an interest in the concerns of daily life, Mäetamm's practice naturally developed towards the intricacies relating to the family, and representing today his main playground.
The storytelling element is the medium through which Mäetamm explores the grey areas between our uncontrollable feelings and the way in which we are expected to repress such emotions. He is interested in those everyday instances, which are on the one hand ideal but on the other are tarnished by the idea that a blink of an eye can separate us from nightmares and disasters. These repressed feelings and fantasies are universally present and yet Mäetamm's way of confronting them is to address them with humour. In this way each project becomes the interpretation of a version of a daily situation where he unavoidably edges towards scenes where multiple cases of "what if's" are enacted. ?
For his second solo show at the gallery, Marko Mäetamm presents two new animations, an ensemble of drawings as well as a series of objects and sculptures, all of which are inspired by a return to childhood role plays around the theme of hunting and chasing. On this occasion the artist invites us on a tour of his territory where certain clues resulting from a human chase mercilessly accumulate. Here and there miniature blue watercolor scenes introducing a hunted family reiterate their drama. Between feelings of ultimate power and childish instinct, the act of hunting – a real symbol of masculinity – recalls the stature of authority and domination but where a sense of order seems to have been slightly disturbed – as evoked by the presence of a disconcerting hunting trophy of the owner's memorabilia. We also revisit tales such as the Little Red Riding Hood or other fantastical creatures such as poisonous plants living deep within the woods.
?Marko Maetamm was born in in 1965 in Viljandi, Estonia; he represented the Estonian Pavilion at the 52nd Venice Biennale. He lives and works in Tallinn, Estonia. ?Recent exhibitions include ESTONIE TONIQUE, Liberte Vabadus 2011, Chateau d'Asnieres, France (2011) ; La Main Numérique, curated by Dominique Païni, Maison d'Art Bernard Anthonioz, Nogent sur Marne, France and National Museum of Fine Arts Taiwan (2010); Rencontres internationales (Paris, Berlin, Madrid), Centre Pompidou, Paris (2010) ; XIII. Brooklyn International Film Festival, New York (2010); Post Flux (in partnership with Centre Pompidou Paris and Festival Pocket Films), Brussels Bozar, Brussels, Belgium (2009).
Categories
Tags